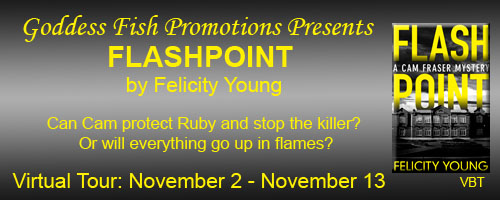 This post is part of a virtual book tour organized by Goddess Fish Promotions. Felicty will be awarding an eCopy of Flashpoint to 3 randomly drawn winners via rafflecopter during the tour. Click on the tour banner to see the other stops on the tour.
How to Handle Negative Criticism
Sending your first manuscript out into the world is like being forced to take your clothes off in front of strangers. You are naked, exposed and very much alone. My first piece of advice would be to be very careful whom you first expose yourself too. Unless your nearest and dearest are experienced literary critics, avoid them. They will either tell you your work is marvelous when it is not, for fear of hurting your feelings, or rip it apart with non-constructive criticism – and possibly damage your relationship forever.
Ideally, you send your manusript to a professional assessor who has no idea who you are. If you have chosen your assessor carefully, they will be someone with credentials that you respect. Often, these skilled professionals will point out what and why certain problems have arisen. Sometimes when these are highlighted to you, a light globe will go off in your head and you'll say to yourself, 'of course, why didn't I see that problem before?'
That's the ideal scenario, and if you can put aside the natural instinct of being defensive, you can learn heaps by adopting this kind of open-minded attitude.
Alternatively, you may not agree that your work warrants such criticism. If that's the case, and you have been as open minded as possible, then don't accept the advice. This is your work after all and no one knows it as well as you.
An effective assessor will balance their assessment with both positive and negative comments. Often, one, well written, sincere paragraph of positive commentary can make up for a page of negative criticism. Don't listen, what ever you do, to someone who does nothing but discourage you.
Once you have polished your ms to the best of your ability you start sending it off to the publishers. Unless you were as lucky as me (luck being the operative word) to have your first publication accepted almost immediately, the rejection letters will start rolling in. Consider your rejection letters to be Purple Hearts, share them with your writing buddies and proudly show off your wounds. How many rejection letters did JK Rowlings get? About ten, I think, and she has since become a literary legend in her own time.
So that's the early days/ weeks/months/years of your writing career over and you now have a publishing contract. You will have to deal with editors who will not always be on your wavelength and you will have to learn to compromise. As with the assessors, these people will be more experienced than you are, and therefore well worth listening to. Don't feel compelled to take on all of the editor's suggestions, but be open-minded, as you were with the assessor. No publishing house likes an arrogant new author – the tantrums can start after the first best seller!
Now the reviews start pouring in — and they might not all be glowing. I tend to have an inner 'worthiness' gauge. If the bad review is from a respected hard copy writer or blogger, although I might wince when I read it, I try to take on board the criticism and make sure I don't make the same mistakes again. If the bad review is by an anonymous critic who can barely string a sentence together, let alone understand the book, I brush it off with a laugh.
I don't think any author, however successful, loses that feeling of vulnerability they had when they first started writing, but we can develop ways of dealing with it. I hope the above tips will help those of you who are embarking on a literary career.
Take the negative criticism on the chin, and whatever happens, don't give up!
You can run from everything but your fears.

Three years after a gang brutally murdered his wife and son, Sergeant Cam Fraser has returned with his daughter Ruby to the country town where he was raised – a town too small for trouble. But then a body is found on the school grounds, badly burned and unrecognisable. Who in Glenroyd could possibly be a murderer? And why?

This violent crime plunges Cam straight into a baffling and deadly investigation, where nothing is as it seems. From shady cop Vince to the secretive Smithsons who run the school to the local bikie gang who may still want him dead, Cam has his hands full with suspects. Not to mention Jo, his daughter's teacher, whom he can't keep his mind off of …

But the danger is coming closer to home, and Cam is running out of time to solve the case. Will he be able to protect Ruby and stop the killer? Or will everything go up in flames?
Enjoy an excerpt:
The atmosphere in the staffroom loomed like a headache. Cam realised it was caused by more than the chemical smell of the surrounding newness, and silently berated himself for allowing Vince to tackle the first round of interviews on his own.
Vince introduced Cam to Anne Smithson, the principal, and her husband Jeffrey, explaining that he'd allowed the other staff members to leave.
Cam remembered reading about the couple in his wife's Old Glenroydians' Magazine. They'd been recruited from the eastern states by the School Board in a last ditch effort to prevent the school from closing down. Assisted by the generous endowment of an old girl, they had, according to the magazine, been performing restorative miracles, including an ambitious building renovation program.
Mr Smithson rose from the table and offered Cam a firm, moist hand but no smile, in keeping with the sobriety of the occasion.
'As I was explaining to the Constable here,' he said, 'we weren't even on the school grounds the day of the fire. We'd been to the city for the day –'
'They have an apartment in the city – all right for some eh, Sarge?' Vince exaggerated a wink. Cam felt the temperature in the room drop several degrees.
Mr Smithson shot Vince a look that suggested he'd just picked him off the sole of his shoe. His wife frowned when Cam shook her hand, telling him with her deep grey eyes that she'd had about as much of the Senior Constable as she could endure.
Mr Smithson continued in a tone of restrained calm. 'The first we knew about the body was when Joanne arrived at Monday's staff meeting, late as always.' He caught his wife's eye in a way that suggested this topic had been discussed before. 'And broke the news.'
Anne Smithson nodded her agreement. 'We've given our statements. May we go home now, Sergeant?'
'I won't keep you much longer, Mrs Smithson. Please bear with me for just five more minutes.'
Anne Smithson pursed her lips, the only sign of impatience she gave. Her ash blonde hair, stretched tight against her skull, was fastened at the back with a tortoise-shell clip. She sat in her straight-backed chair, hands clasped in her lap, her eyes half-closed. Cam wondered if she was reciting her getting-through-appointments-with-ranting-parents mantra. He knew the signs; he'd used the technique often enough himself on tedious witnesses.
Jeffrey smoothed down his thin moustache and beat a soft tattoo on the table's surface, waiting for Cam to finish skimming through the witness statement forms. When Cam met his eye the drumming abruptly stopped. Then, as if deciding the ordeal had lasted long enough, Jeffrey pushed his chair back and climbed to his feet. A small round belly peeped through a gap in his blazer when he indicated the door to his wife with a tilt of his head.
Cam held out his hand for her to stay where she was. 'Mrs Smithson,' he said. 'At the moment the body is unidentifiable, but sometimes people have vague ideas about who a victim could be. Can you make a guess? Have you been aware of any itinerants hanging around the school grounds? Did any of your groundsmen not turn up for work this morning? Have you given anyone permission to camp on the grounds during the school holidays?'
Mrs Smithson's thin fingers reached for the double string of pearls resting on the bosom of her silk blouse. The nervous mannerism did not escape Cam. He had a fleeting glimpse of the kind of vulnerability the headmistress of an elite school would be forced to hide.
'No, Sergeant, although there have been plenty of people coming and going all holidays to work on the renovations. I know there were men here yesterday,' she said. 'I suppose one of the builders might have decided to go for a walk and accidentally started the bushfire.'
Cam turned to Vince. 'Check with the builders. See if there was anyone away from work yesterday who should have been there.'
The big man gave a nod.
Mrs Smithson rose from the table with a waft of Chanel. Cam said, 'Thank you for your cooperation. I don't think we'll be needing to ask you any more questions for the moment.' He smiled. Number 5 had always been his wife's favourite. When she moved to stand by her husband, he noticed she was the taller by about three inches.
Mrs Smithson gave Cam a tight smile back. 'Please turn the lights off when you go.'
Vince grunted out a reply. When the Smithsons turned to leave, he caught Cam's eye and flicked the end of his nose with his finger. Cam ignored him and glanced back to one of the forms on the table. He addressed the departing couple.
'Before you go, I'd like to have a bit more of a chat with Ms Tilly, the science teacher.' He tapped at the form in front of him with his pen. 'It says here she lives in a flat at the school. Mind pointing me in the right direction?'
'I hope it won't take long. We need to get home; it's been a long day,' Mr Smithson said.
'I quite understand. I don't need you to come with me, just tell me where I can find her.'
'This way,' Mr Smithson said, leading Cam away from his wife into the vestibule. He glanced back at the staffroom and gripped Cam's arm. No longer within earshot of his wife, he dropped his previous tone of forced politeness and spoke through clenched teeth.
'My wife and I have done everything in our power to cooperate with the police over this unfortunate incident. I want you to know that we found Constable Petrowski's blunt questioning very disturbing. The details he gave us about the condition of the body were totally unnecessary. It was as if he was deliberately trying to upset us, to bully us into taking some kind of responsibility for this tragic accident.'
Cam worked hard not to show his irritation with Vince. One of the first rules of a preliminary interview is to keep the witnesses on side, talk to them in a relaxed manner, steer the questions in a way that would put them at ease and encourage them to do the talking. It seemed the only thing Vince had encouraged was aggravation. It was going to take a lot of smoothing over to get the Smithsons back on track.
'I apologise on his behalf. I'll have a word with him and I'll be happy to assist if you wish to make a formal complaint,' Cam said.
Mr Smithson thought for a moment. 'I might just do that. I'll discuss the matter with my wife. In the meantime, if you wish to re-address this topic, Sergeant, please ring in advance for an appointment and speak to me. It is not necessary for my wife to hear all the gruesome details. I'm sure I can answer any further questions you might have. She doesn't have to be included.'
As he was also irritated by the man's arrogant tone, Cam could imagine how he and Vince had goaded each other. He shrugged off the hand that gripped his arm.
'I quite understand, Mr Smithson, but I'm afraid I'll probably have to speak to both you and your wife again. Until then, good day, sir.'
About the Author:
Felicity Young was born in Germany and educated in the United Kingdom whilst her parents were posted around the world with the British Army. In 1976 the family settled in Perth. Felicity trained as a nurse followed by an arts degree. In 1990 the family moved from the city and established a Suffolk sheep farm in Gidgegannup WA. Here she studied music, reared orphan kangaroos and started writing.
Website | Blog | Facebook
Buy the book at
Amazon
or
Barnes and Noble
.