This post is part of a virtual book tour organized by the publisher. Enter the Rafflecopter at the end of the post to win a print copy of the book.
5 Things You Might Be Surprised to Learn about Anne Barton

I can't resist the McDonald's monopoly game. Sometimes I get coffee on the way to work just so I can peel those little game pieces off my cup. And coffee's always good too!
My mom gave me my first romance in high school. I think the title was The Wicked Widow, or something like that. I turned up my nose at it, but of course once I started reading, I was completely hooked.
I'm quirky about numbers. So, all my books have 30 chapters because 29 or 31 would be, you know…awkward. (By the way, this doesn't bother me in other books, just my own!) On the flip side, I love it when my word count happens to be a nice round number, or even better, a palindrome!
My husband and I went to the same grade school but didn't date till college.
My cousin Cara Connelly and I are writing partners, and we each won a Golden Heart on the same night. We had the best time celebrating afterward!
About SCANDALOUS SUMMER NIGHTS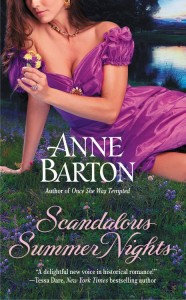 Lady Olivia Sherbourne isn't shy about speaking her mind, except when it comes to James Averill. For ten long years he has been her brother's best friend and her heart's only desire. But when Olivia hears James will soon set sail for an expedition to Egypt, she knows the time has come to make her move. It's now or never . . .
James has always found Olivia bewitchingly attractive, but what kind of gentleman takes up with his best friend's sister? Not that he's thinking particularly gentlemanly thoughts when she appears on his exploratory trip-three hundred miles from home!-and incites a tavern fight. No matter what the devil she's doing there, it's his duty to see her safely back to her family. But how safe will she be when every starlit night brings wicked temptation . . . ?
Amazon
About Anne Barton
Anne Barton began swiping romance novels off her mom's bookshelf as a teenager, so when she had the chance to spend a semester in London-home to her favorite heroes-she packed her bags and promptly fell in love with the city, its history, and its pubs. She dreamed of writing romance, but somehow ended up a software analyst instead.
Fortunately, a few years and a few careers later, Anne found her way back to writing the stories she loves and in 2011 won the Romance Writers of America's Golden Heart® for Regency Historical Romance. She lives in Maryland with her husband (who, sadly, is not a peer of the realm-but a great guy nonetheless) and her three children, who try valiantly not to roll their eyes whenever she quotes Jane Austen. Her weaknesses include reality TV, cute-but-impractical shoes, and caffeinated beverages of all kinds.