Top 5 Things I Love About Writing Paranormal Historical Romance
I get to break the rules.  I'm not a rule breaker by definition. But I do get to break some of the Regency rules with my paranormal historical heroines.  My heroines can be a little feistier, since they're magical, after all.  They might not know how to dress, since they're from a different world. So, if they have a flounce that's out of place, or their hair isn't perfectly styled for the period, I can get away with it.
My human heroes can be shocked by their behavior.  My Regency heroes are all gentlemen, and while they're up for some under-the-covers scandalous behavior of their own, they don't typically flout society. But my magical heroes and heroines might, simply because they don't know any better.
I get to make up my own magic.  Let's face it.  Not a lot of people write about faeries.  So, I get to make up their powers without readers having any preconceived notions about what they can and can't do. It's a lot of fun building the world and giving them powers within it.
I get to use the Regency world.  I love Regency books. I love the clothing. I love the street scenes and the fancy balls.  I love the furniture and the way of speaking.  When I write Regency paranormals, I get to incorporate all the things I love about the Regency into the book.
I still get to have carriage sex.   Seriously, is there anything better?
THE MAGIC BETWEEN US BY TAMMY FALKNER – IN STORES JANUARY 2014

LEAVE A COMMENT TO WIN A PRINT COPY OF THIS BOOK (US/CANADA ONLY)
When These Worlds Collide…
Cecelia Hewitt has lived her whole life in the land of the fae, and she dreams of a future with her childhood sweetheart, Marcus Thorne. When Marcus is called upon to dwell in the human world, it means leaving Cecelia behind and breaking both their hearts…
More Than Sparks May Fly…
Marcus was groomed for leadership in the land of the fae, but now that he has found his human parents, he will inherit his father's title and position in the British ton—and he will marry a human. As love and passion continue to burn between Cecelia and Marcus, the question remains: Can two people fated for different worlds find one to share?
ABOUT THE AUTHOR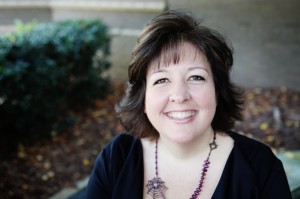 As half of the Lydia Dare writing team, Tammy Falkner has co-written ten books, including A Certain Wolfish Charm and In the Heat of the Bite. A huge fan of Regency England, her regency paranormal series combines the magical elements of both mystical faeries and the glittering regency ton and includes A Lady and Her Magic and The Magic of "I Do." Tammy lives on a farm in rural North Carolina with her husband and a house full of boys, a few dogs, and a cat or two. Visit her website, www.tammyfalkner.com, for more information about all of her books!
To Purchase The Magic Between Us: