Long and Short Reviews welcomes K-lee Klein who is celebrating the recent release of her newest book Unbroken Hearts. Enter the giveaway at the end of the post for a chance to win a copy of the book.
Thanks for being here for my Unbroken Hearts blog tour! And thank you Long & Short Reviews for taking part. Unbroken Hearts, book 2 in the Unbreak My Heart series, was released on October 11th from Dreamspinner Press.
Though it's the second edition, the new Unbroken Hearts contains more than just a polished, rewritten Unbroken Hearts, but also the short Unwrapped Hearts and 25,000 words of new material in the love story between Brett and JT. I hope you enjoy it and please make sure to enter the Rafflecopter draw at the end of the post.
I considered talking about my Top 5 recipes but…I don't cook. Lol. So without further ado, here are the Top 5 things I like to do when I'm not writing.
1. Movies. I love films, especially big action superhero flicks that are best enjoyed in the theatre. I'm one of those weirdos who still buys DVDs of the movies I love. The Captain America films are my favourites and I may have seen each of them at least 5 times in the theatre. I also collect gay films and a lot of comfort watches.
2. Reading. What writer doesn't like to read, at least in my experience? Of course, my reading habits are a little off since I've been stuck in a wind tunnel of fanficiton for a few years now. There's just something about the familiarity of the characters and the fact I already love them with all my heart. Anyone ever heard of Stucky? They're totally my OTP. 😉
3. Music. Live music (I'm a concert hound), music in the car, or just crutch-dancing in my living room and being judged by my cats–music is very important in my life. I have several stories featuring musicians because I love writing them too. I've even written songs for some of my books, Unbreak My Heart & Unbroken Hearts included.
4. Spending time with my kids. They're all in their 20s (coughcough—and 1 is 30) and even though we live in the same city, can a mom ever see her kid enough? I have a girl & 2 boys and we're all very close. We go for dinner or play crazy (inappropriate) games. And we go on holiday every year together to a little cabin by a lake. This year we're spending time Christmas in Mexico. I can't wait!
5. Travelling. Whether with my family, my husband, or by myself, I love going packing up and hitting the road—preferably on a plane, train or cruise ship. I'm not big at being in the car, especially since I've messed-up both knees. Traveling can be painful now but it's hella worth it every time.
Country singer turned rancher Brett Taylor fought his way out of the bottle, so he could have JT Campbell in his life. JT's patience, intelligence, and humor broke through Brett's walls of depression, and now the once-isolated rancher and his young California guy in search of himself are together on Brett's Texas ranch.

While Brett and JT are more in love than ever, they're still dealing with past baggage and learning how to move forward. Brett's former lover casts a long shadow over their lives—one JT tries to pretend doesn't bother him. Can Brett soothe his fears with the sort of sappy, sentimental Valentine's Day JT was taught to shun growing up—but secretly always wanted?

When Halloween rolls around, a costumed night out at the local bar might lead to another romantic first. And on Christmas morning, JT awakes to some sweet loving and the most meaningful gift he could ever imagine. The New Year truly brings a new beginning—ushered in by some silly, sparkly, and sexy fun.

One year. Four important holidays. Two men who have worked hard for the love and trust they share and the bright future that's finally within their grasp.
About the Author: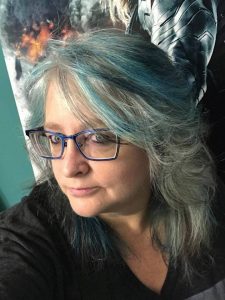 K-lee Klein loves guys with long hair and tattoos, and you'll often find her front and center at her favorite rock concerts. She has bounced around Western Canada all her life, but will always consider the solitude and beauty of the British Columbian mountains home. Her life is blessed as the proud mother of three now-grown but still spoiled kids, the servant of two bossy felines, and the wife of a truly patient husband.
Her writing muse is terribly temperamental, so to keep him close by and in check, she had him inked on her left calf. The gorgeous, long-haired, mostly naked, kneeling angel that resulted is truly a work of art, although he's still a handful and hopelessly uncontrollable. She writes on his schedule and inspiration.
K-lee tends to fall easily into obsessions. When something grabs her attention, she jumps into it headfirst with complete abandon. Actors, musicians, superheroes, fictional characters, and brainwashed assassins all hold spots on her cannot-get-enough list. She once followed Thirty Seconds to Mars around the United States and Canada and saw them perform fourteen times that year. Obsession sometimes leads to ideas for her kneeling angel to turn into stories.
Although an introvert in person, she's extroverted online and has met many wonderful friends there, sometimes with the added fun of meeting them in person at gay romance conferences. She's grateful for all the people in her life who accept her as she is and support her through her ups and downs as mom, wife, and joyfully obsessed writer.
Website | Blog | Twitter | Facebook | Facebook author/reader group | Goodreads
Buy the book at Dreamspinner Press or Amazon.