This post is part of a virtual book tour organized by the
publisher
. A randomly drawn winner via Rafflecopter will receive
The Hellions of High Street
series:
Proper young ladies of the ton-especially ones who have very small dowries-are not encouraged to have an interest in intellectual pursuits. Indeed, the only things they are encouraged to pursue are eligible bachelors. So, the headstrong Sloane sisters must keep their passions a secret. Ah, but secret passions are wont to lead a lady into trouble . . .
Five Things I Wish I Knew About Publishing Before I Signed My First Contract
1. A wry sense of humor is essential to survival.
2. Keep a suit of armor close at hand, even if you don't write Medieval romances.
3. Chocolate is an author's best friend (because comfort trumps calories!)
4. It's not just you—all authors have very odd quirks!
5. Don't read your Amazon reviews. Let your friends do it and send you all the glowing ones.
Passionately Yours, Book Three, just released
With her older sisters both happily married, Caro Sloane yearns for a romantic adventure of her own. Unfortunately the muddy, sulfur-scented waters of Bath seem the least likely setting for love or excitement. But the aspiring young poet soon finds inspiration when she runs into a familiar-and achingly handsome-Scottish laird.

Visiting Bath with his sickly sister, Alec McClellan is shocked to be reunited with Caro Sloane. He hasn't been able to forget the English beauty since their brief but exhilarating first meeting. But Bath is not nearly as serene as it appears, and soon Alec must protect Caro from a danger that threatens to extinguish the sparks flying between them. Little does he know that a bit of danger is exactly what Caro is looking for . . .
Buy the book at Amazon, B&N, iBooks, GooglePlay, Kobo, or BAM
Sinfully Yours, Book Two

After an eventful Season, Anna Sloane longs for some peace and quiet to pursue her writing. Though her plots might be full of harrowing adventure and heated passion, she'd much prefer to leave such exploits on the page rather than experience them in real life. Or so she thinks until she encounters the darkly dissolute-and gorgeously charming-Marquess of Davenport.

Davenport has a reputation as a notorious rake whose only forte is wanton seduction. However the real reason he's a guest at the same remote Scottish castle has nothing to do with Anna . . . until a series of mysterious threats leave him no choice but to turn to her for help in stopping a dangerous conspiracy. As desire erupts between them, Davenport soon learns he's not the only one using a carefully crafted image to hide his true talents. And he's more than ready to show Anna that sometimes reality can be even better than her wildest imaginings . . .
Buy the book at Amazon, B&N, iBooks, GooglePlay, Kobo, or BAM
Scandalously Yours, Book One

The eldest of the three Sloane sisters, Olivia is unafraid to question the boundaries of Society-even if it does frequently land her in trouble. Disdaining the glittery world of balls and courtship, Olivia prefers to spend her time writing fiery political essays under a pseudonym for London's leading newspaper. But when her columns attract the attention of the oh-so-proper Earl of Wrexham, Olivia suddenly finds herself dancing on the razor's edge of scandal. With the help of her sisters, she tries to stay one step ahead of trouble . . .

However, after a series of madcap misadventures, Wrexham, a former military hero who is fighting for social reform in Parliament, discovers Olivia's secret. To her surprise, he proposes a temporary alliance to help win passage of his bill. Passion flares between them, but when a political enemy kidnaps the earl's young son, they must make some dangerous decisions . . . and trust that love will conquer all.
Buy the book at Amazon, B&N, iBooks, GooglePlay, BAM, or Kobo
About the Author: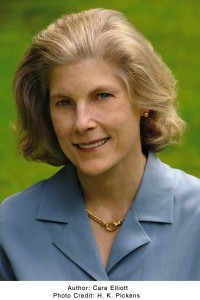 Cara Elliott started writing Western novels at the age of five. However, she traded in her cowboy boots for Regency high-top Hessians after reading Pride and Prejudice in junior high school and hasn't looked back. She graduated from Yale University, and she now lives and works in New York City.
a Rafflecopter giveaway