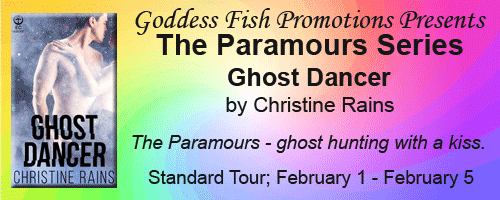 This post is part of a virtual book tour organized by
Goddess Fish Promotions
. Christine Rains will be awarding a $20 Amazon or Barnes and Noble GC to a randomly drawn winner via rafflecopter during the tour. Click on the tour banner to see the other stops on the tour.
FIVE THINGS EVERY STEAMY SUPERNATURAL ROMANCE NEEDS
By Christine Rains
Mixing the right elements for an erotic paranormal romance is like creating an exotic drink. A little bit of the spicy and something mysterious to entice you take a second sip. A dollop of sweetness and a heaping spoonful of fierce heart. All of it balanced just right. On the rocks, if you want extra chills.
Here are five important elements needed to brew a story in this genre to perfection:
1. Believability on every level. Give us characters that are real. No flawless heroes and heroines. Readers want to see their strengths and weaknesses. And we don't want them to jump into bed with each other just for the sake of having sex in the story. Give us honest reasons why they can't resist one another. The characters need to live in a believable world too. Oh yes, something supernatural is happening, but the heroine still has her coffee in the morning and is addicted to late night talk radio.
2. Less physical description, more emotions. It is tempting to write every sensual move by the lovers and every creepy sound, but some of an intimate act and the whereabouts of the ghost can be left to the reader's imagination. We don't need every pleasurable twitch and heavy breath described. But what's going through the protagonist's mind? How does it make them feel? Internal dialogue and emotional surges reveal a lot about the characters.
3. Use all five senses. This just isn't for the heated moments. A sweet romantic gesture or the paranormal twist benefit from these descriptions too. Scent and sound are sometimes more powerful triggers than what one sees. Be sure to use the sixth sense if any of your characters have it!
4. Intrigue. Characters with mysterious pasts or unusual sexual quirks. A mystery around the spirit trapped in a gazebo. Hook readers with the extraordinary and draw them through with their curiosity. Play with the what if questions and sprinkle in tantalizing possibilities. Yet be sure the ending is a surprise even more satisfying than the phenomenal sex.
5. Tight tension. Holding all the reins taut in this genre is a difficult task. We have the romance in which the characters need emotional conflict. Whether it be something within or without causing it, their relationship must be a bumpy ride. The sexual tension is a separate entity than the romance itself. Keep up that desire with subtle peeks and dirty fantasies. Each intimate moment must be more passionate than the last. And then we have the supernatural tension. The mystery and fear, the unknown looming over their heads. The stakes get higher with each chapter until everything explodes in one grand climax.
Shake, stir, and wiggle. You've got a delicious read.
Ghost Dancer (The Paramours #1)
When Nina Azure's talent as a ghost dancer doesn't persuade a handsome phantom to talk, she entices him with sizzling sexual energy. Ben Moore's spirit is tied to this world with guilt, but he breaks his self-imposed silence for the beautiful Nina. Lust makes him fully physical and she loses herself to desire. She must help him carry on to the afterlife, but her attraction to him is immensely powerful. She must push aside her own feelings and let him go—and perhaps find romance among the living.
Poltergeist's Pleasure (The Paramours #2):
Claire McKinney has a theory that poltergeists aren't evil spirits or negative energy. When she locates a powerful vortex at the center of a haunting, she discovers a gorgeous man trapped inside. Zendal cannot escape on his own, but if Claire can create enough sexual energy with him, he will be able to break free. Intense as their passion is, it does not release him from the vortex. Claire finds herself caught not only by the ominous portal, but by Zendal's carnal zeal as well. Can she extricate them from the trap or will they forever be its prisoners?
Lovelorn Spirits (The Paramours #3):
Vivian Ray does not like working with the suave Miles Walker, but he's the best medium in the paranormal business. When they are possessed by a pair of passionate ghosts, Vivian and Miles realize they might have feelings for one another. But it's difficult to separate their own emotions apart from the spirits', and Vivian doesn't want to believe she's in anything more than lust with Miles. There's something much more dangerous after them, though, and if they can't help the ghosts work through their past, the investigators could lose their own lives
Enjoy an excerpt from The Poltergeist's Pleasure:
There was one thing that always got a poltergeist's attention: sex. Not the boring old vanilla kind either. It had to be down and dirty, raunchy and passionate. Like the way newlyweds behaved. And the sort Claire was about to provide.
The Paramours had set up their ghost hunting equipment earlier in the day. A video camera stood at either end of the conservatively decorated house. Its open concept allowed for a complete view of all the activity.
Vivian fiddled with the thermal imaging camera, setting it on the kitchen counter and bending over to slide the cords out of the way. Her cute ass pointed upward and wiggled as she wedged the cords in between the shelves to where they could not be moved.
Claire patted her friend's behind and let her hand linger. "Those new jeans look good on you. Are we ready to go yet?"
With the electronics in place, Vivian batted at Claire's hand. She straightened and raised her brows with a silent question.
Yes, they were starting the test already. While Vivian could be cool and methodical about their investigations, Claire preferred to wing it. She loved surprising the spooks to get a reaction—and her friends, too.
About the Author: 
Christine Rains is a writer, blogger, and geek mom. She's married to her best friend and fellow geek, and they have one brilliant son. Christine has four degrees which help nothing with motherhood, but make her a great Jeopardy player. She's a member of Untethered Realms and S.C.I.F.I. (South Central Indiana Fiction Interface). She has one novel and several short stories and novellas published. The Paramours is her second erotic series with Ellora's Cave. Be on the lookout for more in the near future.
Please visit her website and blog.

You can also find Christine on Twitter, Facebook, Pinterest, and Goodreads.
BUY LINKS:
Ghost Dancer:  Ellora's Cave * Amazon * Kobo * Goodreads
Poltergeist's Pleasure:  Ellora's Cave * Amazon * Kobo * Goodreads
Lovelorn Spirits:
Ellora's Cave * Amazon * Kobo * Goodreads