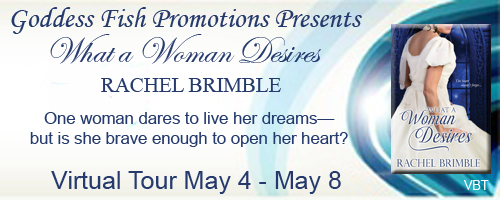 This post is part of a virtual book tour organized by
Goddess Fish Promotions
. Rachel Brimble will be awarding a signed paperback copy of What A Woman Desires & tote bag – open internationally. Click on the tour banner to see the other stops on the tour.
5 Things That Every Reader Should Find in Historical romance…
Here are five things I believe every reader wants to find between the pages of a historical romance:
1) A sense of time
It's important that the reader feels grounded in history as soon as they begin to read – or at least by the end of the first page…ideally, the first paragraph. How do authors do this? For me, it's all about the language used in dialogue or the objects present in the scene. Using old English or adding an object rarely, or better still, never used today will go a long way to 'showing' the reader, the story is set in yesteryear.
2) A sense of place
Setting is vital in historical romance – it is the author's job to create as rich a setting as they possibly can. Buildings, horses, carriages, balls, lighting and even a cobbled street can bring the setting alive. The more the reader pictures in their mind, the quicker they will read. After all, it will be like watching a movie!
3) Costume
Another vital ingredient in historical romance – there is a reason why we call historical movies and TV shows, "costume dramas." Clothes are vitally important to bring color and romance to a historical novel. The dresses, bustle and hoops, cravats, boots and jewellery are a simple way to transport a reader back in time.
4) Old-fashioned Romance
Historical romance gives the author and reader a chance to indulge in that old-fashioned gallantry that, if I'm honest, I still love to experience in today's world. In my historical romances, I take full advantage of my male cast opening doors, pulling out chairs, kissing gloved hands and generally treating the females as genteelly as possible…without being sickly sweet, of course!
5) And finally…social conventions and restrictions
For me, this is what historical romance is all about – showing those conventions and restrictions that are no longer in society. I often use one or two as the premise for my novels and watch how my hero and heroine fight against them, or overcome them, in order to achieve their goals. I love writing about strong women who wish to expand their lives and change things for women…with the hero's full approval and support. It's often that support and encouragement that makes me fall head over heels in love with my hero.
From country girl to actress of the stage, one woman dares to live her dreams—but is she brave enough to open her heart…?

Monica Danes always wanted more than the village of Biddestone had to offer. After a failed courtship to a man of her parents' choosing, she fled for the city of Bath and never looked back. Today, Monica is the undisputed queen of the theater—a wealthy, independent woman. But when she is called home in the wake of tragedy, Monica returns—intending to leave again as soon as possible.

Thomas Ashby has been a groom at the Danes estate since he was a boy—and has been enamored with Monica for almost as long. He knows he isn't a suitable match for his master's daughter, despite the special bond he and Monica have always shared—and their undeniable attraction. But now that she's returned, Thomas has one last chance to prove himself worthy—and to show Monica a life, and a love, she won't want to give up…
Enjoy an excerpt:
Monica stared at the man's partially revealed profile, obscured by the shadow of his hat. Familiarity she couldn't place swept over her. He was tall, almost a foot taller than her, his shoulders broad and his biceps thick. Her gaze drifted along the sinewy forearms revealed by his rolled shirtsleeves. A laborer. She lifted her gaze to his face as he glared at their attackers. His jaw was chiseled despite the stubble that grazed it. She swallowed as shameful intimidation and attraction rolled through her. She imagined his eyes were the deepest blue. . . .
"Get up."
The sound of his deep, rough voice a second time sliced through her appraisal and Monica stiffened.
"Get up now," he growled.
Her breath knotted in the center of her chest. "Thomas?"
He turned and their gazes locked for the briefest moment before he looked to the men once more. It was barely a second, maybe two, that he'd looked at her, but the intensity of his gaze lingered on Monica's skin, burning white-hot heat through her clothes to sear deep into her flesh just the way it had years before. Her heart picked up speed and her body warmed with a desire she hadn't known in so very long. To trust a man implicitly, to know he cared for her and those closest to her was a rarity she'd taken for granted throughout the years she'd lived in Biddestone.
Her time away had taught her more than Thomas would ever understand. Shame pinched hot at her cheeks. No matter her previous connection with him, the men she'd met since had made her doubt her instincts and not dare to trust again. Yet, the life lessons she'd endured would do nothing to soothe the undoubted scar she'd left on Thomas's sense of loyalty by leaving Marksville and not once looking back.
About the Author: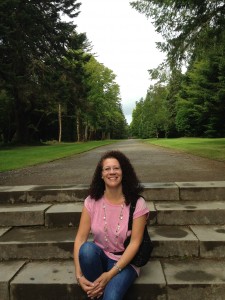 Rachel lives with her husband and two teenage daughters in a small town near Bath in the UK. After having several novels published by small US presses, she secured agent representation in 2011. In 2012, she sold two books to Harlequin Superromance and a further three in 2013. She also writes Victorian romance for Kensington–her debut was released in April 2013, followed by a second in January 2014 and the third is released Jan 2015.
Rachel is a member of the Romantic Novelists Association and Romance Writers of America, and was selected to mentor the Superromance finalist of So You Think You Can Write 2014 contest. When she isn't writing, you'll find Rachel with her head in a book or walking the beautiful English countryside with her family and beloved black Lab, Max. Her dream place to live is Bourton-on-the-Water in South West England.
She likes nothing more than connecting and chatting with her readers and fellow romance writers. Rachel would love to hear from you!
Website | Blog | Twitter | Facebook | Facebook Street Team
Buy the book at Amazon.