Long and Short Reviews welcomes BG Thomas who is celebrating the recent release of Getting His Man.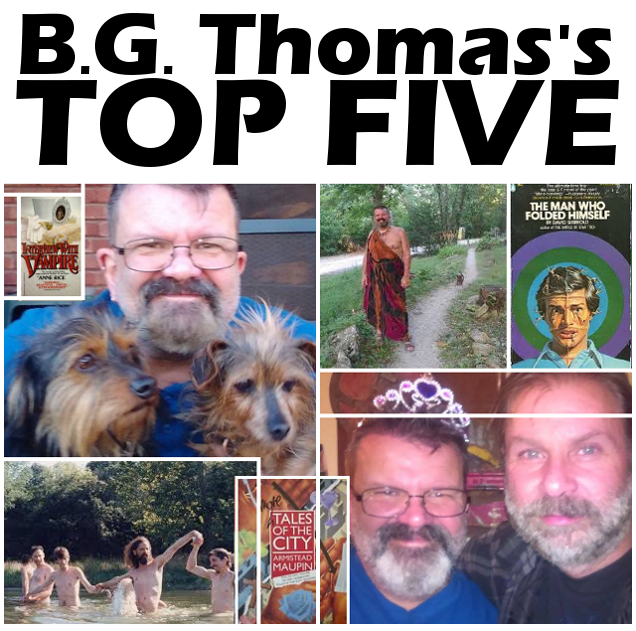 Hello Everyone!
And thank you for having me here today at Long and Short Reviews. It's a pleasure. And as a part of that, I've been asked to do a Top Five! And I've chosen to do a list of the top five things that I like to do when not writing.
A few of these are going to be pretty standard. Sorry. I don't want to be boring. Only honest. A few others? Maybe not so boring? Let me know!
Here we go…and not necessarily in order:
1) Spending time with my dogs, Sarah Jane and Oliver. I am a dog man through and through. Maybe it's the total devotion. Maybe it's their heart deep innocence and love. Maybe it's the fact that no matter how bad a day might be, coming home to them and their loving enthusiasm, their "Daddy is home! Daddy is home!" I don't know. But they have taught me the sacredness of all life.
2) Reading. Duh, right? But for goodness sake, it's true. I always have a book with me. And I read so many different types of books. Mostly fiction I will say. But I've read nonfiction as well. Right now, I am reading Eating Animals, which I am afraid might turn me into a vegetarian. It's pretty scary. Even more than a Stephen King book, which I might add is my favorite author. And it's his advice that to be the best writer you can be, you should read, read, read! Luckily, I do that because I want to. Because I love it. And even if I am having a crappy day, I can go anywhere in the world with a good book. Favorite books? Here are five of my top favs!: The Stand by Stephen King. Tales of the City by Armistead Maupin. The Man Who Folded Himself by David Gerrold (he made up tribbles and this is the best time travel story I've ever read!). Interview With the Vampire by Anne Rice. The Lord of the Rings by J.R.R. Tolkien. And two bonus books, Fevre Dream and The Armageddon Rag by George R.R. Martin.
3) Skinny Dipping! In my book Summer Lover, a naïve young man winds up going to an event called the Heartland Queer Men's Festival. He is not comfortable with who he is and suffers from something called "body dysmorphia." He is very thin and hates his body. When he finds out that no one wears anything when they go swimming, he swears that the last thing he is going to do is go skinny dipping! Me? I'm pretty uncomfortable with my body as well. I'm am pretty stocky. And every year I go to something called Midwest Men's Festival and I didn't want to get naked in front of anyone! But Scott and I discovered something. The men at these events don't judge you by your body. Only your heart. And going skinny dipping with your gay brothers is one of the most freeing things I've ever done in my life. Whether under a hot July sun or at night under a million stars. It is an unforgettable experience.
4) Which leads me to another of my favorite things to do when I am not writing. Going to Midwest Men's Festival. I was surprised at what I found when I met these queer men. It wasn't some wild romp in the woods like some people had said when they found out I was going. What I found was love. Brotherhood. A deeper understanding of queerness. A brotherhood unlike anything I've ever experienced. Self-love. Support. Confidence in myself. Belief in myself. And the knowledge I could do anything. I am so thankful for MMF!
5) Spending time with my husband. He's a loner where I am a social person. So he needs lots of alone time where as I need to be with people. Therefore I don't spend nearly as much time with him as I would like to. So when he comes up out of his man cave in the basement of our home and wants to spend time with me? I drop everything. Even if I have a deadline right around the corner. If it is going out to eat or Walmart or traveling or going to a movie or whatever. He is first in my life. He is the romance in this romance writer's life. He is my knight in shining armor. And the reason I believe in love.
And there you go!
Hope you liked it. And you know what? It was my husband that gave me the idea for my new novel. He was the one who said, "You ever thought about writing a novel about a bounty hunter who falls in love with the man he has to hunt down?" Well that idea made me sit up and take notice! And not long after that….
A love story worthy of an old movie… with a new twist.

Artie needs a hero, a man like those he's always revered in Golden Age films. His drug-dealing jerk of a roommate got him arrested, and since his savior isn't likely to sweep in and save the day, Artie calls a bail bondsman.

August has always imagined himself a hero from a black-and-white movie, but he's never found a man willing to let him play that role—at least not until he gets the call from Artie.

Both of their dreams might come true, but not before August must use his skills as a bounty hunter as well as a bondsman. Artie is on the run for his life, and August must protect him and help him clear his name. Only then can they both finally get their man.
That novel is out right now and just ready for you to read. And hey, after you're done reading it, I would love to hear what you think!
Love, Namaste, and Happy Holidays!
BG "Ben" Thomas
About the Author:
B.G. Thomas lives in Kansas City with his husband of more than a decade and their fabulous dogs Sarah Jane and Oliver. He is blessed to have a lovely daughter as well as many extraordinary friends. He has a great passion for life.
B.G. loves romance, comedies, fantasy, science fiction, and even horror—as far as he is concerned, as long as the stories are character driven and entertaining, it doesn't matter the genre. He has gone to literature conventions his entire adult life where he's been lucky enough to meet many of his favorite writers. He has made up stories since he was a child; it is where he finds his joy.
In the nineties, he wrote for gay adult magazines but stopped because the editors wanted all sex without plot. "The sex is never as important as the characters," he says. "Who cares what they are doing if we don't care about them?" Excited about the growing male/male romance market, he began writing again. He submitted a novella and was thrilled when it was accepted in four days. Since then the romantic tales have poured out of him. "It's like I'm somehow making up for a lifetime's worth of story-telling!"
In 2015 he made an entry every day in his blog "365 Days of Silver," where he found something every day to be grateful for. You can find it right here: https://365daysofsilver.wordpress.com/
"Leap, and the net will appear" is his personal philosophy and his message. "It is never too late," he testifies. "Pursue your dreams. They will come true!"
Website
Buy the book at Dreamspinner Press, Amazon, or Amazon UK.