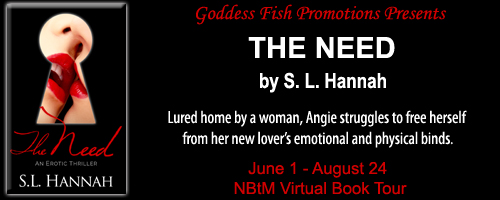 This post is part of a virtual book tour organized by
Goddess Fish Promotions
. S.L. Hannah will be awarding one commenter a paperback copy of The Need (U.S./Canada only for book) and one commenter a $20 Amazon or Barnes and Noble GC to a randomly drawn winner via rafflecopter during the tour. Click on the tour banner to see the other stops on the tour.
Five Lessons I Learned From My Villain
1. "What's your gut telling you?" – Heather, Chapter 1
In life, many of us tend to overanalyze any given situation, which can often lead to indecision and stagnation. One of the themes in this book is digging deep into your primal instincts, and going with your gut.
2. "How do you think we learn about ourselves, Angie? By being comfortable and not pushing our boundaries? By always feeling safe?" – Heather, Chapter 9
Exploration can be a scary thing. It is easier to settle into the comfort of a known quantity. Once we explore, we grow, and there's often no turning back.
3. "You think everything's so black and white." – Heather, Chapter 12
The Need explores many grey areas of right and wrong in various situations. It pushes the limits of our social norms and dares us to ponder outside our boundaries. That type of exploration, of acceptable versus unacceptable, makes us feel more "normal".
4. "If everybody understood the value of being uninhibited, the world would be a lot less obscene." – Heather, Chapter 16
Obscenity offends the prevalent morality of the time, but our morality is constantly shifting just like the second hands of a clock. "To thine own self be true" is Polonius's last piece of advice to his son Laertes in Shakespeare's play, Hamlet, and that is another theme in The Need.
5. "Love and hate are a lot alike. It's indifference that pulls people apart." – Heather, Chapter 24
Strong emotions move us into action, for better or for worse. Those strong emotions keep us invested in a relationship. It is when we lose those strong emotions, when we do not feel anymore, but instead experience a void of emotion, that a relationship ends.
Stood up by her boyfriend, she goes home with a woman…

Straight-laced coed Angie has never felt daring enough to…experiment. Until tonight. The skin around Heather's lips is soft, unlike the stubble Erik lets grow in, and the night unfolds like an erotic dream, tapping into an unexplored part of Angie's body and mind.

But Heather's seduction turns into a nightmare when Angie wakes up tied to the bed and is told she can't leave. Alternately seduced and tormented by her lover-turned-captor, Angie is pulled ever deeper into a twisted world of pain-for-pleasure and multimedia exploits. As the stakes rise, both women give into a desire for connections neither has had, and Angie's struggle to escape becomes a bigger dilemma: Would she leave if she could?

Winner of the Golden Palm Contest for New Adult Romance, this erotic thriller dares to explore the darker side of our fantasies and their sometimes unintended consequences.
Enjoy an Excerpt:
Her taut frame is sandwiched between an attractive couple. They don't look much older than me, but they look fashionable and carefree, like they belong in a place like this. She's suggestively pushing back and forth to the DJ's evocative beats, letting her blonde mane bathe in the crest of the girl's neck, until the guy grabs it and pulls it back, like he doesn't want to get left out of anything. Their hands wander freely. It's almost as if they're not on a dance floor, but in a bedroom. Doing it standing up. She pulls the girl in tightly. She's commanding. How I wish I was.

I turn my gaze back to my near-empty drink and the cell phone next to it. Still no response from my boyfriend to my voicemail and several text messages and it's almost midnight. Where is he? I swirl the ice cubes in my glass.

He knows I'm not really into nightclubs. The drinking, the posturing…it makes Erik feel like he's part of a squad. It makes me feel like I don't fit in. But I don't want to disappoint him, or myself. I can't spend all of college immersed in books. These are supposed to be the defining years of my life, brimming with experiences that you reference forever, experiences that help you figure out who you really are.

I look back up at the mirrored wall. She has this look on her face, like there's nowhere else she'd rather be. As if time has stopped just for her, so that she can feel every tensed, slick muscle, hear every throb of desire. Will I ever feel that?
About the Author: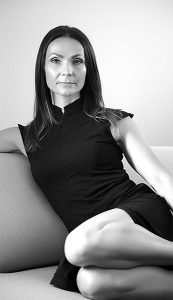 S.L. Hannah was born in Poland, grew up in Canada, and moved to Southern California to pursue her love of single-engine airplanes. The Need is her first erotic thriller. The manuscript won the 2013 Florida Romance Writers Golden Palm Contest for New Adult Romance, and is an adaptation of a screenplay about a woman struggling to free herself from her lover's physical and emotional binds. Buzz about the break-out novel calls it "one powerful piece of writing…creepy as hell." S.L. Hannah lives in Los Angeles, CA. When she's not writing fiction, she continues to solve the aviation problems of the world.
Website | Facebook | Twitter | YouTube | Instagram
Buy the book at Amazon, All Romance eBooks, Kobo, Barnes and Noble, or iBooks.