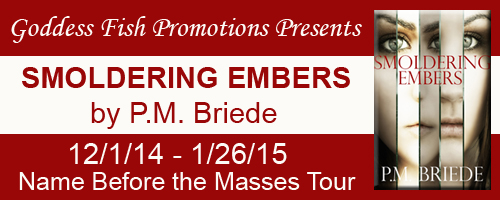 This post is part of a virtual book tour organized by
Goddess Fish Promotions
. The auther will be awarding a $15 Amazon/BN GC to a randomly drawn winner via rafflecopter during the tour. Click on the tour banner to see the other stops on the tour.
Fire in the Charlotte Grace series
When I started writing the Charlotte Grace series, the books were untitled. I had no clear route to where the story was going to go. I just sat down and let it write itself. But I always knew that fire was going to play an important thematic role in the series.
There's so much about fire that can be used metaphorically in a story. It's destructive. Fire burns. Fire kills. Fire suffocates. But it's also redemptive. Fire cleanses. Fire renews. Fire purifies. The fire is almost a character itself. But fire is also sexy. It's hot and seductive in its beauty. It's dangerous and can change the course of your life if you get too close.
So when it came time to naming the books, I stuck with the theme. Smoldering Embers introduces you to this world and these characters and you learn how interwoven they are with each other. Flames that were ignited years earlier, were just waiting for the right spark to rekindle connections. The story follows the path of Charlotte Grace's life as she survives a most devastating detour, the loss of her husband. Her pain and loneliness, her recovery and trepidation about restarting her life, it is all explored.
Which now leads us to the men in her life. First there's Wesley Breaux, her true life constant. They've been best friends since they were fourteen but Wesley has always wanted more. Now that Charlotte is ready to leave her grief behind, Wesley is ready to force her to see him as more than a friend. His blond hair, with just a hint of silver, gives him a sophisticated air. The boyish features of his youth have matured into a handsome face with intelligent and mischievous brown eyes. He and Charlotte have a connection that neither can deny once Wesley begins adding romance and seduction to their friendship.
Excerpt from Smoldering Embers:
Unable to look at him for fear that he'd sweep me away again; I headed towards the hall to get ready myself. "I don't know what to say, Wesley. I'm not …"

"… ready now. I know, but I think that soon you will be." I hoped that his words were true, but should that step be taken with Wesley? Was it worth it to risk our friendship? All I knew was that there was a lot to sort through and figure out. The span of an hour had changed everything. Caught up in my own pondering, I didn't know that Wesley had walked up behind me until he touched the small of my back. His lips grazed my ear when he softly and tenderly whispered, "I have so much to tell you. Don't make me wait long."
But in his way is Olivier Cheval. A sexy southern gentlemen who is everything an art fanatic like Charlotte could want. He's musical and dances. He's smooth and undeniably charming. His eyes are the deepest shade of green and truly a gateway to his soul. A conflicted soul paired with a calming aura, Charlotte just doesn't know what to make of the conundrum that is Olivier.
Excerpt from Smoldering Embers:
I felt him lightly press his face against the space behind my ear. His breath sent a fervent tickle down to the pit of my stomach. The flush I felt didn't restrict itself to my face but stole throughout my body like it was on fire. "Why is it that the only times I've been able to speak to you lately, there have been entirely too many people around?" he whispered. A burn erupted on my lower back and trailed his fingers until the rested on my hip.
The answer to which man can ultimately heal Charlotte's broken heart and help make sense of the otherworldly nonsense that seems to be surrounding her can only be answered in Smoldering Embers.
"Death is only the beginning." You hear that all the time. Maybe it is, for the soul who passes on. But what about the ones who are left behind?

I lost my husband unexpectedly in a tragic accident and now have to move back to my childhood home in New Orleans. Thank God for my friends Wesley and Paige. I'd be absolutely lost without them. As I pick up the pieces of what is left of my life, we settle back into our old routines. That is until I hire Olivier to work for me. Now my world is once again turning upside down as the people I'm closest to, old and new, shed the skin of what is familiar and ultimately redefine the nature of our relationships. Couple all of this with the return of my debilitating headaches and ominous dreams of green fire, and well, I'm just at a loss.

What do you do when what you thought you knew turns out to be wrong? What do you do when you find out you can't trust the people closest to you? What do you do when you keep trying to move forward but life keeps getting in the way? And given all of this, how am I supposed to figure out who Charlotte Grace is now?
About the Author: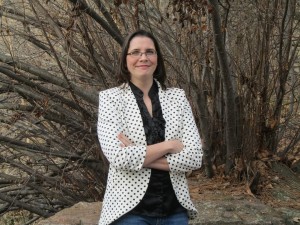 I am a lover of all things artistic. I grew up surrounded by the performing arts both as a spectator and performer. That love of creation and design is the fuel for my writing now. Being able to create and entertain is a dream come true.
The imagination is a powerful thing, able to take you places you never dreamed. I write realistic fantasy. The idea of the possible having impossible explanations fascinates me. That idea is the driving force behind the Charlotte Grace series.
If you are interested in receiving updates when I release new books, please visit me on Facebook or follow me on Twitter @PMBriede.
Buy the book at Amazon, Smashwords, Barnes and Noble, or Goodreads.