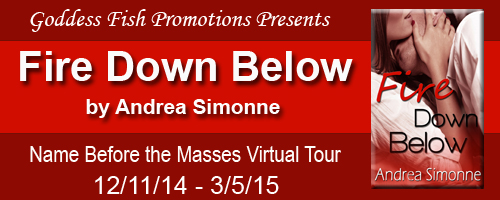 This post is part of a virtual book tour organized by
Goddess Fish Promotions
. Andrea will be awarding a $25 Amazon or B/N GC to a randomly drawn winner via rafflecopter during the tour. Click on the tour banner to see the other stops on the tour.
Choosing between two hot guys? Not a bad way to turn thirty-five….

Running into an old boyfriend is bad enough, but why does it always happen when you look your worst? Kate Alexander is wearing gray sweats, no makeup, and feels as glamorous as a pile of dirty laundry when she runs into her hunky ex, Ben Mathews. Ben is the only man who's ever asked her to marry him. And now still single, and closing in on her thirty-fifth birthday, Kate suspects her shelf life is nearing its expiration date. Though Ben once broke her heart she's convinced fate has brought them together for a second chance at love.

The problem is Declan O'Connor, a sexy Irishman. Kate considers him a friend—except she's been having some very un-friend like thoughts about him. They shared a hot kiss one night, before Ben reentered her life, and now she can't stop thinking about it. Despite the attraction with Ben, Kate is remembering her old resentments all too well. But then Ben asks her to marry him again, and her second chance has finally arrived. Is this what she really wants though?

From Seattle to Dublin, from the old to the new, Kate is caught between playing it safe or playing with fire.
Enjoy an excerpt:
"I'm glad we're together again," he murmurs, kissing me softly. His fingertips trail down my body creating little sparks on my skin.
I'm still aware that we're outside naked. Ben obviously doesn't care though and I wonder if he sleeps out here a lot. It would be just like him. He's like a dog that refuses to be kept indoors.
"What are you thinking about?" he asks, sensing my distraction.
"You. I was wondering if you sleep out here a lot."
He chuckles softly. "I do. Crazy huh? Sleeping on my deck. You're finding out all my secrets tonight. I love sleeping under the stars."
"I don't think I've ever slept under the stars."
"Are you serious?" Ben looks shocked. "Never?"
"I was a Girl Scout when I was a kid and went camping with them once, but that's the only time." What I don't add is that I hated it. All the bugs and dirt. It was awful.
"You were a Girl Scout? I'll bet you were cute. But I can't believe you haven't gone camping since then." He buries his face in my neck. "We'll have to fix that. I'd love to go camping and sleep under the stars with you in my arms every night."
"Sounds great."
"Really?" He strokes my cheek. "Let's do it. We'll go when I get back from California."
He kisses me slow and deliberate. I wrap myself around him, dizzy from wanting him again. The past fades away in a smoky haze and the present is bright and clear. There are stars overheard, and I have to admit, the view is beautiful. I decide that I'm even looking forward to going camping with Ben.
Sort of.
About the Author: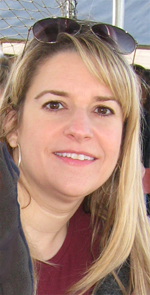 Andrea Simonne grew up as an army brat and discovered she had a talent for creating personas at each new school. The most memorable was a surfer chick named "Ace" who never touched a surf board in her life, but had an impressive collection of puka shell necklaces. Eventually she turned her imagination towards writing. Andrea still enjoys creating personas, though these days they occupy her books. She currently makes her home in the Pacific Northwest with her husband and two sons.
Website | Twitter | Facebook | Goodreads
Buy the book at Amazon, Barnes and Noble, Kobo, or iTunes.