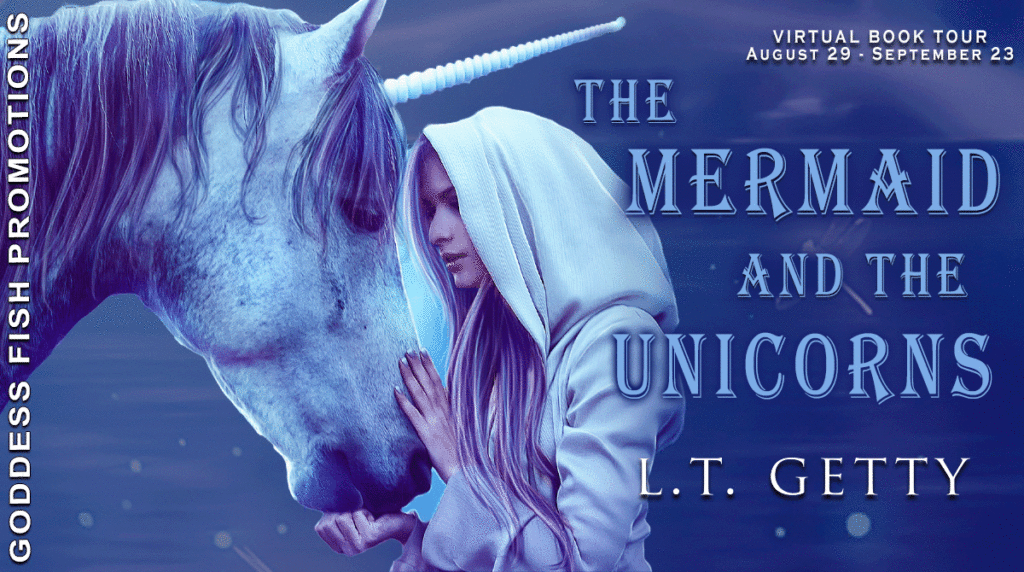 This post is part of a virtual book tour organized by Goddess Fish Promotions. L.T. Getty will be awarding a $20 Amazon/BN GC to a randomly drawn winner via rafflecopter during the tour. Click on the tour banner to see the other stops on the tour.
Finding Covers: Premades and Commissioned
I just want to give a preamble that I've been published through Champagne Books and we don't get a final say in our covers, but we do get to give style sheets and advised the artists what our heroes and heroines look like, time period etc. Even though this article might not be completely relevant to those seeking traditional publishers, I think if you are going through a publishing house and they ask for what you imagine for the cover, it's a lot easier if you have a small portfolio of covers you think look great, ones you don't like, as well as the style of your novel. And just remember: Every author on the planet eventually gets the cover They Hate. Just don't be a jerk about it.
The point of any book cover is to sell your books. I think most authors are trying to build their brand, and while we've all been snookered by bad advertising and are all told from a young age don't judge a book by its cover, often times that cover is what gives a general idea of what a story is about in a short amount of time.
You may know more than me and be able to design your own or work with someone who can make beautiful and appropriate covers, but we're going to assume that the average person here doesn't know where to start.
Finding the cover to The Mermaid and the Unicorns was a fluke. I guess I'm basic because I have an Etsy account, and I think I was either liking other premade covers for other projects or looking for stock images when I stumbled across the cover that I thought was appropriate. I asked friends and took the plunge, and let's just say I'm very happy with the purchase.
My one niece wants an illustrated-style variant, but that's another conversation.
Here's how it originally looked when I stumbled across the original, or shall I say, Immortal Princess?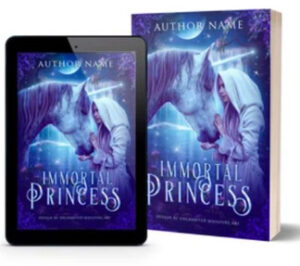 I had to ditch the pretty design in the corners for the print book final, mostly because of the formatting requirements. Only twenty print copies with those misaligned covers exist.
But let's pretend that this perfect cover sold minutes before I took the plunge and is no longer available. Where would I find a cover?
The first thing I would do is look at books with cover art I like, even if you think it's not necessarily for the project I currently have in mind. Build a portfolio because, I have more than one project in me, aaaand if I happen to stumble across something that is close, but say a little off (I wrote a series that has a Pegasus, not a unicorn) wouldn't it just be awful if I were to follow that artist, and if they say stuff on Facebook along the lines of, "So what is everyone writing now?" and I tell them how much I love winged horses – maybe that'll inspire something. Could be the wrong genre, say more adult than middle grade, or they make the best cover and it's out of your price range or someone beats you to it.
There'll be other covers. Chill.
Don't worry about price ranges at this time, just find covers you like and figure out who the artists are. Odds are, the more spectacular the cover the higher the price, and I'm not going to tell you what your budget ought to be, but be honest. If your budget is $200, there's no shame in going to a Facebook group that does say, Paranormal Romance and saying what your budget is, and things you like: The hero is a blond vampire, you wouldn't mind a motorcycle, hate the color yellow, etc. Generally speaking though, if you are purchasing multiple covers at once, say a trilogy, the artist usually offers a three-set at a deal as opposed to selling each individual cover that looks like it could be a set. Talk to them ahead of time if you are doing a series and you want the same model. This isn't always possible, but sticking with the same artist, asking for a similar feel may be your other better option. I promise not to discuss variants, but: there's zero shame in taking say, 6 years to produce a trilogy, having the original covers, and then switching the series as a whole to a more unified look once the original is done. I know, I want matchy-matchy covers for my bookshelf too, but I think that's more realistic if you don't know when Book 2 is coming out (or "Aaaah it's four books"). Those of us who read Indie get it. My preference isn't to use the same models on every cover and obscure their faces, but that's another conversation yet again.
Premade covers will generally run you less money than commissioned works. Just because a cover is premade, doesn't mean that it's set in stone. If you really like an image, but pretend there's a dragon or a wolf there that doesn't belong in your story – contact the artist. Just be advised that if you delay and ask questions, someone else might snap up the picture. Font choices for the title and the name can be changed, and you can request to see different font styles, and this is where I would commission a friend or two to compare and contrast, not only at full size but as a tiny little thumbnail too. Before I purchased Immortal Princess, I advised I would like a wrap and we communicated and she asked if there was anything else I'd like. Because I self-published, I own the rights to the image and can use the picture as I see fit. She said to get back to her when I was ready with a final spine width, and she custom made everything for that specific format.
This cost a little extra ($40) but we reused the background for the back wrap and I just had to send her the text I wanted. She asked me what I liked, what I didn't, and I wanted to keep it simple and clean. If I were to ask her for a more custom background image, say, "Hey, I saw this image. Can you do a more mermaid style?" You can't see her shop but that was an option, but I decided that the background was stunning, so I was okay using it again.
When you are going in with commissions, I think it's good to provide as many visual ideas of what you like and don't like. Now, if you go in with Art Nouveau in mind but are going in with someone who does gritty realism, don't expect them to be able to do what someone else does.
I have art, I just need to slap on some font
Okay, you might be able to do this, and to be fair this is probably the easiest thing you can do by yourself. Actually, let's take a minute: I Can Do This. I'm not professional and a professional will laugh at me, but I can tinker and look somewhat professional enough to fool most people. Depending on your background and how much you have goofed around with various programs, maybe you can too. I think if you go through all the trouble of having a professional grade novel, you should spend the $$ on a graphic artist who knows how to stage font. Why is this important?
Because if you are using the internet at all for sales, a graphic artist who isn't doing a slap job is going to make your title visible when people are browsing through titles. Believe me, it's all good and well that most people think I have a beautiful cover, but they need to know the title and the author name if they have a chance of finding it. Go ahead and search for "Mermaid and Unicorns Book". I don't even show up on the first page unless they get the entire first title, "The Mermaid and the Unicorns".
I'm not going to tell you this picture makes a great thumbnail or hey that looks crowded, for all I know you sell most of your books in person at conferences so you're not worried about how funny it looks scrunched when it's reduced to 8% of its original size on a website. All I'm saying is that what would spend me probably a good solid evening and some tears going over font choices a graphic artist who does this regularly could probably whip up and make look pretty for a relatively low cost. My time is worth something to me, so I'll usually pony up the money so I can spend my time wisely, like avoiding getting back to my editor.
I don't want photo manipulations, I want an artist. Like, traditional paint or a more comic style. Where do I find them?
Okay, this is going to sound like it's very specific but hear me out:
Your Local Comic Con.
Now before you say, "But I don't write science-fiction and fantasy" don't worry, there's plenty of comics for every genre. The thing though, is that if I were to go to a large publisher artist who does beautiful illustrations, they're probably well out of my price range.
The guy who is selling fan art at the forgotten part of the con though, unless he's making a lot of $$, ask. It never hurts to ask. Odds are they're selling fan art because it makes them more money than their original work. But if you're looking through their portfolio, and you see the original stuff is in the style you like, ask. You may need to hire this person to do the line art, another person to color (digital or traditional) and another person to do the title font, or you may get it all wrapped into one.
Can I use my own photos for the artist to use?
Talk to the artist. I have never done this but I've seen it done. This would probably be a commission, not a premade though.
Alright, this has gone on long enough so I'll stop. If it's not considered spam, how about I leave links to some Facebook groups in the comments below? Also, post some of your favourite covers and give love to the artists.
Daphne's a typical mermaid, and at least according to her, that's a problem. She's courageous and has a beautiful singing voice, but lacks the power of an elemental, the ability to command water with the sound of her voice. Jealous of her best friend, she makes a deal with a sea-witch, only to be betrayed, in place of her beautiful tail and flukes Daphne's left beached with a pair of human legs. The spell keeping Daphne looking human will become permanent, unless Daphne can hunt down and bring the scheming Lorelei a unicorn horn before the next full moon.

Unable to reach her friends and family for help, Daphne doesn't know how to walk, much less where to find a unicorn or how to catch one. Even if she's successful, Daphne's still not sure if she can trust Lorelei and her pint-sized kraken to keep their end of the bargain and let her return to the sea.
Enjoy an Excerpt
"You'll see lots as you travel from place to place," Daphne told the small dolphin. "Come, your mother won't forgive me if I let you roam from the pod."
Why hurry? Echor asked as he swam, spinning around different plants and sponges that grew along the rocks, before focusing in on a vibrant snail. It was not a very old reef, though it was well inhabited by many vividly-colored, small fish. The young dolphin seemed to take pleasure in disturbing them and watching them scurry into their small hiding crevices and among the anemones. You're so lucky that you get to stay in your town all the time. This part of the sea is so beautiful!
"I think it would be neat to see so much of the ocean," Daphne said, thinking of her small town of Thranda. Unlike the dolphins, who often travelled long distances in a single day, most merfolk lived in towns unless they left their communities to hunt or travel to another community. She had known members of his family since she was a little mermaid, and only got to see them a few times a year when they passed through her home to feed in a nearby bay. She heard a series of warnings behind her—the other dolphins had detected something with their echolocation. Unless it was something exceptionally large, they should have been safe within the pod, but Echor was very young. "Echor, let's return to your family." The young dolphin had wandered off while Daphne had turned her head, chasing a seal that had left her bob, trying to swim away from Echor.
"Echor!" Daphne called, swimming after him. She caught up to him, then looked over her shoulder as she heard a familiar sound. An orca! Daphne suppressed a shudder. It was large, but far enough away for her to find a hiding space. Still, killer whales almost always travelled in groups. The killer whale dove when he spotted her. She knew the others would want to help, but they were no match for an orca. He swam quickly towards her and Echor. Daphne knew she would be hard pressed to out-swim the large creature.
Hide! the orca told her.
Daphne then saw the immense shadow and wooden keel of a ship following the orca. The killer whale dove deep, though the water was too clear and shallow to truly hide his massive form. A harpoon followed him, missed, and was quickly pulled back to the surface by a rope. Another harpoon plunged into the water, and then another. The rough waters churned green and grey in the ship's wake, and Echor's warning chatter only told her that there was another human vessel. It came from Daphne's left, and it dragged a net behind it.
About the Author: L.T. Getty is a rural paramedic from Manitoba. She enjoys writing science fiction and fantasy and generally being creative.
Website | Goodreads
The book is on sale for only $0.99 at
Amazon
,
Amazon CA
,
Kobo
, or
Barnes and Noble
.