This post is part of a virtual book tour organized by
Goddess Fish Promotions
. Laura will be awarding a $25 Gift Certificate to The Wild Rose Press to a randomly drawn commenter during the tour. Click on the tour banner to see the other stops on the tour.
FIGHTING THE GOOD FIGHT
Many of us have causes in which we believe, and they can be as varied as our personalities. Empathy, like love, streams from the heart and though at the best moments our hearts may communicate with one another each love – or cause – is very personal. Some of us may focus on animal welfare and be brought to tears by images of dogs and cats malingering in bleak concrete pens. Some may pour our energies into saving children at risk, and some join the fight to cure disease. Across our globe, from shielding endangered animals or assisting the homeless to battling against fracking and protecting the environment, there are hundreds of reasons for us to stand on our hind legs and howl.
And in our society, we see nothing wrong with standing on those hind legs, right? Since the day Henry David Thoreau went to jail rather than pay a tax in which he didn't believe to the battle for Civil Rights and the sit-ins of the '70s, it's been our right to speak out, protest and act on things that move us to outrage. Indeed, the far-off splash of tea going into Boston Harbor grants us that right.
But what if it weren't so? What if we inhabited a world wherein our overlords could come along and seize our homes, steal food from our children's mouths and punish us with absolute authority? What if the simple act of keeping our families fed endangered our lives; if we'd seen neighbors hauled away and deprived of a hand for taking game we're told belongs to the King; if we could not act on our outrage, but had to try and go to sleep every night choking it down?
This is the world in which I needed to immerse myself when I wrote Champion of Sherwood: The Guardians of Sherwood Trilogy Book Two, my latest release for The Wild Rose Press. I wanted to acclimatize myself with the social structure within which my characters existed in the Nottingham, England of 1235. It was a place that strictly divided the Saxon peasantry and the Norman nobility, where a man might work his whole life on a patch of ground yet not own it, where he could be punished for failing to lower his gaze when his "betters" rode by and where he had no right to speak his mind. My heroine Linnet – the granddaughter of Robin Hood – knows her life is set. As one of three guardians of Sherwood, she is destined to become a leader in this fight for social justice. The last thing she expects is to develop feelings for Gareth de Vavasour, the young Norman knight seized and held for ransom by her fellow outlaws. He's the enemy, right?
And Gareth, captured along with a fortune in tax money, treated harshly and well aware of the hatred all around him, knows only what his uncle, the Sheriff of Nottingham, thinks of these Saxons: vermin, he calls them, in need of extermination. It would be madness for Gareth to think of changing sides and fighting with the outlaws, even for the sake of love …
How many of us would be able to forgive an enemy after being sorely wronged? How many of us, like Gareth and Linnet, would put our hearts on the line – especially if it could cost our lives? I hope you'll come and walk with Gareth and Linnet for a while in Sherwood, fight that good fight and discover just what choice you'd make.
When Gareth de Vavasour, nephew of the Sheriff of Nottingham, is captured by the outlaws of Sherwood Forest and held for ransom, he knows he will be fortunate to escape with his life. Amid the magic and danger that surround him, he soon realizes his true peril lies in the beautiful dark eyes of Linnet, the Saxon healer sent to tend his wounds.

Granddaughter of Robin Hood, Linnet has always known she is destined to become a guardian of Sherwood Forest, along with her sister and a close childhood companion. She believes her life well settled until the arrival of Gareth. Then all her loyalties are tested even as her heart is forced to choose between love and the ties of duty, while Sherwood declares its own champion.
About the Author: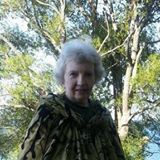 Born and raised in Western New York, Laura Strickland has pursued lifelong interests in lore, legend, magic and music, all reflected in her writing. Though her imagination often takes her to far off places, she is usually happiest at home not far from Lake Ontario, with her husband and her "fur" child, a rescue dog. Currently she is at work on the third book of the Guardians of Sherwood series.
Publisher: http://www.wildrosepublishing.com/maincatalog_v151/index.php?main_page=index&manufacturers_id=1042
Amazon: http://www.amazon.com/Laura-Strickland/e/B001KHSACW/ref=ntt_athr_dp_pel_1