Long and Short Reviews welcomes
Debbie Mason
as she stops in on the last day of her book tour to celebrate the release of
Starlight Bridge
. Enter the Rafflecopter at the end of the post for a chance to win a copy of the book.
Favorite ways to celebrate the arrival of spring
Spring cleaning! It's about the only time I actually enjoy cleaning, especially closets and drawers. It's the perfect time to purge.
Since spring signifies a time of new beginnings, I give myself a do-over on all the New Year's resolutions I didn't keep.
I love to celebrate spring by filling our home with pots of tulips, daffodils, pansies, and pussy willows. The pussy willows are in memory of my grandfather who always had a vase full by the fireplace in spring.
I love Easter, and decorating and planning for the holiday is probably my favorite way to celebrate the season.
A family favorite is to plant grass seed in a pretty container two weeks before Easter. It's the perfect way to display the eggs the grandbabies painted and serves as the centerpiece for Easter brunch.
A second chance for romance…

Hidden in Graystone Manor is a book containing all the dark secrets of Harmony Harbor, and Ava DiRossi is determined to find it. No one—especially not her ex-husband, Griffin Gallagher—can ever discover what really tore her life apart all those years ago. With Griffin back in town, it's more important than ever that she find the book before someone else does. Because her ex is still angry with her for leaving him. And he still has no idea Ava never stopped loving him…

Ava is no longer the vibrant, happy woman Griffin had once loved and married, and he would do anything to bring back the sparkle to her brilliant green eyes. But what's never changed are the sexy sparks of attraction between Ava and Griffin, and he won't give her up again without a fight. He knows there's the real possibility of a future together…if the truth doesn't burn the bridge between them forever.
About the Author: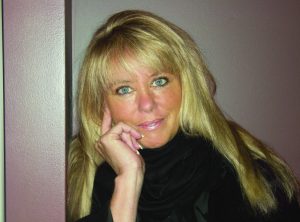 Debbie Mason is the USA Today bestselling author of the Christmas, Colorado and Harmony Harbor series. Her books have been praised for their "likable characters, clever dialogue and juicy plots" (RT Book Reviews). When she isn't writing or reading, Debbie enjoys spending time with her very own real-life hero, three wonderful children, two adorable grandbabies, and a yappy Yorkie named Bella in Ontario, Canada.
Website | Facebook | Twitter | Pinterest | Goodreads
Buy the book at Walmart, Target, Amazon, Barnes & Noble, Books-A-Million, Google Play, iBooks, Indiebound, or Kobo.