This post is part of a virtual book tour organized by the publisher. Enter the Rafflecopter at the end of the post for a chance to win a copy of the book.
Favorite summer activities
I live in Florida, so it's summer all year-round here! I love, love, love going to the beach and luckily only live about 20 minutes away, so I'm at the beach as often as I can get there. I swim in the ocean, run or walk on the sand, and always stay for the sunset.
The first book in New York Times and USA Today bestselling author Shirley Jump's new series featuring the O'Bannon sisters.

Bridget O'Bannon is ready for a do-over. After years of pretending she had a happy marriage and denying that she missed the friends and family she'd left behind, she's headed home to restart her life.

But working alongside her family every day at their bakery isn't as easy as whipping up her favorite chocolate peanut butter cake. Her mother won't give her a moment's peace, and her sister Abby is keeping secrets of her own. And there doesn't seem to be enough frosting in the world to smooth over the cracks forming between them.

Bridget can see the recipe for a happy life—including the possibility of a new romance—written out before her, but first she and her family will need to lay bare their secrets and rediscover the most elusive ingredients of all: forgiveness, laughter, and love.
Enjoy an Excerpt
The door let out a little tweet-tweet when Bridget entered the shop. She wandered the aisles, past the stacked bags of birdseed, the elaborate concrete birdbaths, enough binoculars to stock a Peeping Tom convention, and hundreds of birdhouses, in every imaginable shape, size, and color. There were mini replicas of the White House, the Leaning Tower of Pisa, and even Windsor Castle.
"There's enough here that you'd never have to leave your house to visit the seven wonders of the world."
Bridget turned. A tall man in a dark suit stood beside her. He held two different bird feeders and had a book tucked under one arm. But it was his smile she noticed—nice, warm, friendly.
"How do you know which one to buy?" she asked.
"I don't. That's why I got two."
Bridget laughed, the sound still feeling foreign and wrong. She sobered and turned back to the long row of bird feeders. They all looked like different versions of the exact same thing. Birds of all shape and feather were pictured on the boxes, but none of them looked like hummingbirds.
"What are you looking for?" he asked.
"I have this hummingbird in my yard, and I wanted to feed him," Bridget said.
"Hummingbirds are something I know a little about. Blue jays and wrens, not so much, which is why I'm hedging my bets with a double purchase." The man held up the two different feeders in his hands. "I'm sorry, I haven't introduced myself." He put one of the bird feeders on a nearby shelf and then extended his right hand. "Garrett Andrews."
She shook his hand and realized it was the first time she had touched a man since her husband had died. It was weird, but nice too. Garrett had a firm, warm handshake, over a second after it began. "Bridget Masterson…uh, O'Bannon. No, Masterson."
His grin quirked. "Are you in WitSec or something?"
"WitSec?"
"Witness protection. Considering you've forgotten your last name."
"Oh, no, it's not that. I just…well, my husband just died and well…" She shook her head. Why was she telling a perfect stranger all of this?
"I'm sorry." His gaze softened. "My wife died two years ago. When something like that happens, it's as if your entire identity is ripped away. Who are you, when you're just one of a half?"
"Exactly," she murmured, and then turned back to the feeders. "So…hummingbirds?"
About the Author: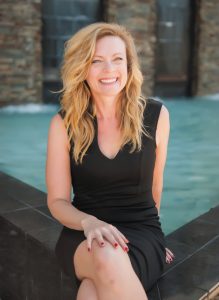 When she's not writing books, New York Times and USA Today bestselling author Shirley Jump competes in triathlons, mostly because all that training lets her justify mid-day naps and a second slice of chocolate cake. She's published more than 60 books in 24 languages, although she's too geographically challenged to find any of those countries on a map.
Website | Facebook | Twitter | Goodreads
Buy the book at Amazon, Barnes & Noble, Books-A-Million, Google Play, iBooks, IndieBound, or Kobo.