Sharon Sala's first book in her new series, Blessings, Georgia, You and Only You, released today and Sharon is here to chat with us a bit. Enter the Rafflecopter to win a copy of I'll Stand By You.
Favorite Southern Food
Oh, this is easy for me. Fried okra and fresh tomatoes straight out of the garden…still slightly warm from the sun.
Fried okra takes me back to my childhood, helping my mother dig the shallow rows in the garden and then dropping the seeds into the ground. Waiting impatiently for those seeds to germinate and then break through the crust of plowed ground and grow big and tall so those long green stalks will start blooming and then set the blooms that turn into long green upright spears. I'm somewhat allergic to the leaves and stalks, so I always had to wear gloves and long sleeves when I went to cut okra, but I never cared if they made me itch. The fried okra was always worth it. If you have never tasted fresh okra , cut into little chunks, rolled in cornmeal and fried in a big ole' cast iron skillet, you have missed a treat.
And planting tomatoes to go with it was a matter of course. But not those little bitty patio tomatoes…or cherry tomatoes. Planting beefsteak tomatoes that grow so big and red that the juice runs down the insides of your arms as you peel them to slice.
That's southern eating at its finest.
And now that I've written this, I am officially hungry for fried okra and fresh tomatoes.
Summertime better hurry up this year!
Welcome to Book One in the Blessings, Georgia series of Southern contemporary romance from New York Times and USA Today bestselling author Sharon Sala. With the support of her handsome, unassuming friend Mike Dalton, LilyAnne Bronte is finally ready to put the past in the past.

It's never too late

Mike Dalton has secretly loved LilyAnn Bronte since they were all children together in the small town of Blessings, Georgia. But one fateful day T.J. Lachlan roars into town and starts showering LilyAnn with his charm, and Mike feels his dream of them being more than friends slipping away.

To find the love you missed

LilyAnn, as anyone in Blessings will tell you, let herself go after her fiancée was killed in Iraq. The attention of the handsome new guy shocks her into a revelation: she's ready to live again, and maybe the best is yet to come. The thing is, everybody in Blessings is sure it's Mike and LilyAnn who belong together—and they're willing to do whatever it takes to make LilyAnn realize the love of her life has been by her side all along.
About the Author: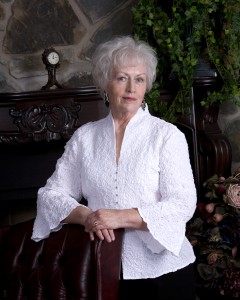 Sharon Sala, who has also written under the name Dinah McCall, has 85-plus books in print, published in four different genres—Romance, Young Adult, Western, and Women's Fiction, and her Young Adult books have been optioned for film. She has been named a RITA finalist seven times by Romance Writers of America, and in 2011 they named her the recipient of the Nora Roberts Lifetime Achievement Award. Her books are New York Times, USA Today, Publishers Weekly bestsellers and published in many different languages. She lives in Oklahoma, the state where she was born.
Website | Facebook | Twitter Goodreads
Buy the book at Amazon, Barnes and Noble, or iBooks.