Favorite Paranormal Creatures and a ContestFor as long as I can remember, I've been a fan of the paranormal. Growing up I enjoyed horror movies and classic horror fiction. Later I developed a taste for paranormal romance and action shows and movies with a paranormal twist.
I'd like to share five of my paranormal favorites and my top three reasons for liking them.
1. Vampires
*They have long lives during which they can experience so much.
*They're powerful physically and psychically.
*Vampire legends and traditional vampire characteristics are the most fun to contradict when writing stories.
2. Werewolves
*They're the wildest of the wild.
*They're a perfect combination of human and beast.
*Depending on the story, they're the best protectors.
3. Centaurs
*They're the prettiest human-beast combination–a beautiful man or woman and a magnificent equine.
*You can ride them, if they'll let you.
*They emanate strength, honor and dignity.
4. Aliens
*They probably exist somewhere.
*They make you think about how big the universe truly is.
*In alien romances, the possibilities are endless.
5. Reformed Demons
*I can't resist stories of revenge and redemption.
*They're the ultimate antihero.
*They've overcome evil, so they know how to fight it.
There are lots of other fascinating paranormal creatures, but these some of my favorites. My Whisper series is about a town built for the supernatural by the supernatural. Some of these creatures, along with many others, are residents of Whisper. The town is home to vampires, wraiths, werewolves, various shifters, aliens, ghouls and more. It was a lot of fun to write about a place where many paranormal beings live in harmony.
What are some of your favorite paranormal creatures? Do you think they'd get along in a town filled with other supernatural beings?
Contest
To enter this contest you must be 18 or over.
To enter for the chance to win a pdf download of a Kate Hill or Saloni Quinby Changeling Press ebook (winner's choice of title), please comment. The contest will run for three days from the day of this post. At the end of that time, a winner will be selected from the comments. Thank you!
Whisper 4: Black Catby Kate Hill
(M/M Vampire/Shapeshifter)
From Changeling Press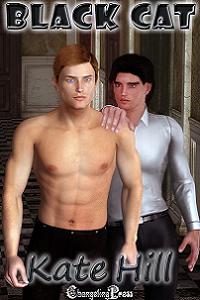 Vampire Edmond Chancellor and cat shifter Tobias Crawford have had a not-so-secret affair for over three hundred years. Edmond wants to bond with Tobias permanently, but Tobias has reasons for keeping his distance.

On a chilly December night, both men turn to past memories for guidance, but it's a present danger that makes them realize that time is precious, even to men who are practically immortal.
The following excerpt from Black Cat is for readers 18 and over.
It was dark outside and although Edmond was a night person, there was nowhere else he'd rather be at the moment than here in bed with Tobias. His lover's head rested against his shoulder and Edmond caressed his sable hair.

"Thank you," Tobias said, pressing a tender kiss to Edmond's chest. "For joining the rescue."

Edmond's brow furrowed. Cupping Tobias' chin, he stared into his eyes. "You doubted I'd come for you?"

"I'm not your responsibility."

"I wasn't yours, but how many times have you watched my back?"

For the first time Edmond could remember, the cat shifter was speechless. Edmond took the opportunity to kiss him.

When it broke, Tobias had regained his voice enough to whisper, "Make love to me."

"You're sure you're ready?"

"I've never been more ready in my life." Tobias straddled Edmond and kissed him.
Previous books in the Whisper series:
Whisper 1: Dragon's Bar
Whisper 2: Bronzed
Whisper 3: Mating Call
About the Author: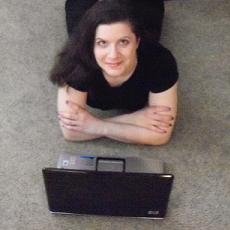 Always a fan of romance and the paranormal, Kate Hill started writing over twenty years ago for pleasure. Her first story, a short erotic vampire tale, was accepted for publication in 1996. Since then she has sold over one hundred short stories, novellas and novels.
When she's not working on her books, Kate enjoys reading, working out and spending time with her family and pets.
She enjoys hearing from readers and she can be contacted at katehill@sprintmail.com. Visit Kate online at http://www.kate-hill.com.