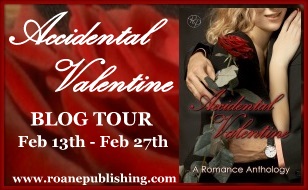 This post is part of a virtual book tour sponsored by
Roane Publishing
. A randomly drawn winner via Rafflecopter will receive a paperback copy of
Accidental Valentine
and a $10 Amazon Gift Card. Click on the tour banner to see the other stops on the tour.
The authors of this anthology have agreed to share their two favorite meals for us.
Claire Gillian: I love to go a Mongolian Grill type restaurant where you assemble your own fresh ingredients and the chefs stir fry it on this massive grill while you wait. I don't have to cook or clean up, always a plus, and it's fairly healthy eating with no hidden MSG or excessive oils or other fats. After that I really enjoy making my yearly Thanksgiving spread, with a roasted turkey, yeast rolls made from scratch and slathered with creamy butter, an array of root and green vegetables and something sinfully decadent for dessert. Yum! I'm hungry now!
Katrina Sizemore: My favorite meals are homemade meatballs with spaghetti, and steak.
Jaylee Austin: Favorite meals are any dish I didn't have to prepare. Cooking is the least favorite activity I like to do. If I never have to prepare another meal I'd be on top of the world. Two favorite dishes are my fresh cranberries with brandy, coconut sugar, orange juice or peel and nuts. Yummy! And Chicken tortilla soup.
S.L. Hughson: My most favorite meals are all about the gravy. Top choice: buttermilk biscuits slathered with sausage gravy. Close second: chicken fried steak, mashed potatoes – both drowned beneath country gravy – and green beans. I eat like a Southern girl, don't I?
Wendy Sparrow: Eggplant Parmesan made by someone else. Food that I don't have to agonize over getting right—and I never can seem to with eggplant—is the best sort of food. Then, of course Key Lime pie for dessert. Nothing makes me happy like good Key Lime pie.
Guiding Hearts by Claire Gillian: Is a lonely woman's GPS sentient or is her subconscious taking her by the hand to help heal a scarred heart?

When Jemma Ernst's GPS malfunctions and sends her to the home of handsome and engaging Gabriel Nash, she writes it off as a fluke. But she can't seem to reprogram him out of her thoughts nor her GPS.

Better Latte Than Never by Katrina Sizemore: Single and cold on Valentine's Day, Hailey Merritt is not looking forward to working all day at the coffee shop while everyone around her is cheery with romance and she's stuck trying to figure out her next step in life.

But, when a special bouquet arrives for her from a secret admirer, she decides to reserve judgment on this holiday and find whomever sent the flowers.

Maybe Cupid has a plan to make this her favorite Valentine's Day ever.

Dream Architect by S.L. Hughson: Taylor and Sons Custom Design keeps ASHLIN TAYLOR at arm's length from her dream job. If only she were a son, she could follow her architectural dream. In the Taylor creed, girls get married and boys have careers. DYLAN CUTRIGHT focuses on finishing college and landing an architectural engineering job in a large firm. Minus emotional ties.

After their accidental encounter, their attraction is amplified during their work interaction. Unlike her family, Dylan encourages Ashlin to pursue her dream by enrolling in college. He even argues her case with Uncle Mike. All of this support confuses Ashlin because when she moves closer to him, he rebuffs her for reasons she can only speculate about.

Valentine's Day might be the perfect opportunity for Ashlin to make him notice her. They are working together – alone – on the most romantic day of the year. Dylan builds her dream of career, but will he ever lower his walls and become more than just the man IN her dreams?

One Hot Angel by Jaylee Austin: Oblivious to Tiffany Jenkins in three short weeks her life will end—unless she makes the perfect choice. Will she chose revenge and expose her ex-husband? Or chose love and surrender her heart to the only man who can save her?

Rock My Bones by Wendy Sparrow: Jared has been eyeing the sexy mural painter from inside the museum's paleontology lab, but she's way out of his league. He can't let her paint that obviously misplaced fern, though…even if it means initiating contact.

You could call her a paleontology groupie, but Shay Meyers is interested in a more modern specimen. An adult male Homo Sapien to be exact—one who needs to be dragged out of his lab for a practical course in mating rituals. If she's lucky, this will be the Valentine's Day she rocks his bones.

Buy the book at  Roane Publishing, Createspace, Amazon, Amazon (UK),  Bookstrand, Smashwords, or Barnes & Noble.