Long and Short Reviews welcomes Kianna Alexander whose newest book Back to Your Love was recently released. Leave a comment for a chance to win a copy of the book. Also, read our review here.
In Back To Your Love, heroine Dr. Imani Grant is a young, successful dermatologist with her own practice. We love reading about smart women, especially ones that aren't afraid to pick up a scalpel! So, we asked Kianna about her favorite female doctors from pop culture!
Kianna:
1. Jane Seymour as Dr. Micheala Quinn on Dr. Quinn, Medicine Woman
This is the ONLY television series that I own, in its entirety, on DVD. I just love the historical setting of late nineteenth century Colorado Springs, and all the compelling things that come along with it. And what's not to love about Dr. Micheala Quinn, she's about as fearless and determined as a person can be, and always managed to do what she thought was right regardless of the odds stacked against her.
2. Dr. Viveca Lancaster from Vivid, by Beverly Jenkins
Another fearless woman doctor facing adversity in a difficult period in American history, Dr. Lancaster travels a great distance to take on the open position of town doctor, only to be insulted and rebuffed by mayor Nate Grayson. What's Nate's problem with Viveca, you ask? His problem is mainly that she isn't a man. Of course, Nate ends up being Viveca's hero, and their courtship is fiery to say the least. There's a point in the story where she shoots his hat clean off his head. Classic.
3. Chandra Wilson as Dr. Miranda Bailey on Grey's Anatomy
Please be advised that I haven't seen this show in the last five or six seasons, so this is based off the early seasons. I love Miranda's straight talking, shoot from the hip attitude. If it wasn't for her, those crazy, sex crazed interns and residents would never have accomplished anything (other than getting busy in the on-call room). She's something of a buffer for their reckless behavior, and could always be counted on to get them in line and get their butts out of a sling.
So, what are some of your favorites?
Xavier Whitted, CPA and city council candidate is excited to get away to the Crystal Coast for his best friend's wedding. He is shocked when he runs into his high school sweetheart there, the only woman he ever truly loved.

Dr. Imani Grant is just about ready to open her own dermatology practice when a serious wrench is put in her plans—in the form of Xavier Whitted. Old feelings resurface along with old secrets from the past. Imani isn't willing to go there, until Xavier starts a new campaign: win Imani back—no matter what it takes.
Enjoy the book's playlist
https://embed.spotify.com/?uri=spotify:user:sourcebookspublicity:playlist:2TplBDuHIiRRbBfiI7WrYU
About the Author: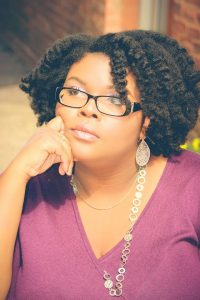 Like any good Southern belle, Kianna Alexander wears many hats: loving wife, doting mama, advice-dispensing sister, and gabbing girlfriend. She's a voracious reader, history nerd and craft fanatic. Kianna lives in North Carolina with her husband, two kids, and a collection of well-loved vintage 80's Barbie dolls.
Website | Facebook | Twitter | Goodreads
Buy the book at online bookstores.