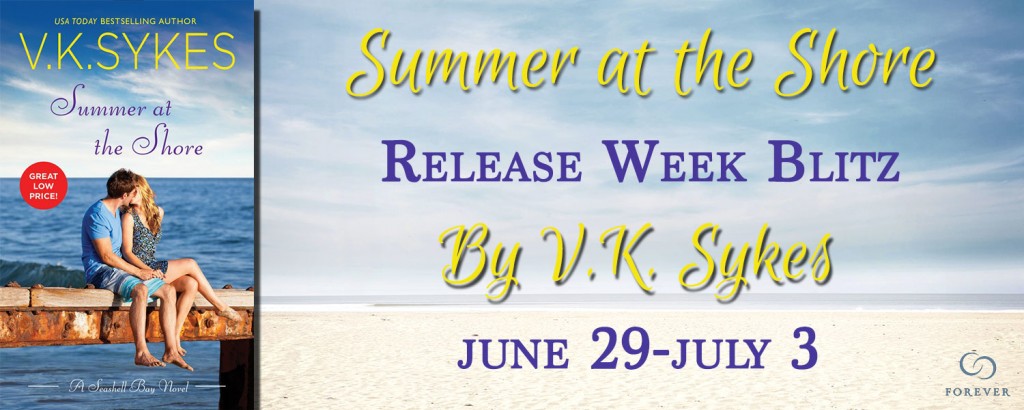 This post is part of a virtual book tour organized by the publishers. Enter the Rafflecopter below to win a copy of
Summer at the Shore
.
Favorite Dessert recipes for VK Sykes (picked by Vanessa)
1. Apple Pie – starting with Randy's favorite. It's all about the pastry. A tender, flaky piecrust is a thing of beauty. When you find a good recipe, you stick with it.
2. Chocolate cake – My favorite. First of all…chocolate. And second, because there are just so many different variations on chocolate cake. You can never get bored!
3. Blueberry crisp – simple ingredients that bake into the perfect summer dessert. And you can even convince yourself it's (sort of) healthy.
4. Salted caramel gelato – okay, not really a recipe, but we both love it. An insanely good comb of sweet, salty, and creamy.
5. Lemon bisque – a lemony, mousse-like dessert with a graham cracker and pecan crust. This was my favorite dessert when I was a kid, and I often asked my mother to make it instead of cake (see #1) for my birthday. Now when I have lemon bisque, it reminds me of my mother and my childhood!
JUST A SUMMER FLING?

Morgan Merrifield sacrificed her teaching career to try to save her family's bed-and-breakfast and care for her younger sister. She can't let herself get distracted by Ryan Butler. After all, the rugged ex-Special Forces soldier is only in Seashell Bay for the summer. But her longtime crush soon flares into real desire-and with one irresistible kiss, she's swept away.

Ryan values his freedom. As much as he wants Morgan, he's not ready to settle down with anyone, much less in sleepy Seashell Bay. But his code of honor doesn't allow him to leave a woman in distress-and she's in desperate need of help to fix the inn. It only takes one day working under the same roof and Ryan is already hoping for a lifetime of hot summer nights . . .
About the Author: V. K. Sykes is a wife/husband writing team -Vanessa Kelly and Randall Sykes – who write romantic suspense and single-title contemporary romance. One of the great things they appreciate about being writers is that they can work anywhere so Vanessa and Randy split their time between Ontario, Canada, in the summer and Florida in the winter. Both locations have shores just as beautiful as the imaginary Seashell Bay.
Website | Twitter | Facebook | Goodreads
Buy the book at
Amazon
,
Barnes and Noble
,
iTunes
,
Kobo
, or
BAM
.