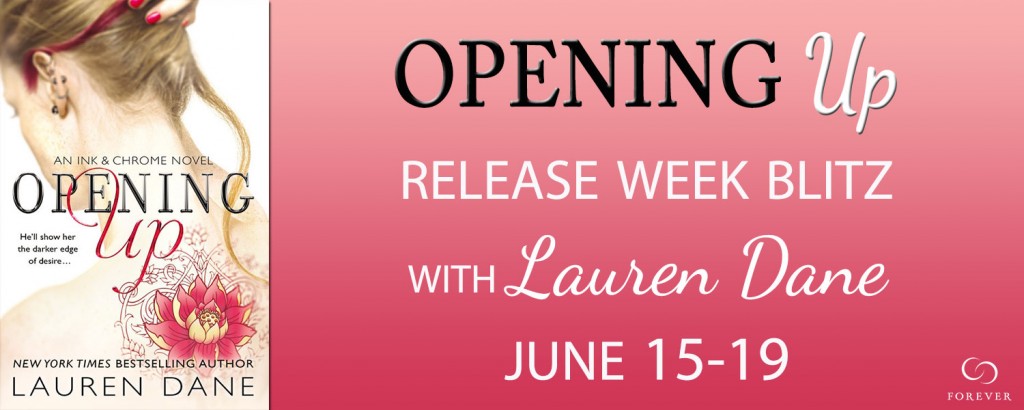 This post is part of a virtual book tour organized by
the publisher
. Enter the Rafflecopter at the end of the post to win a copy of
Opening Up
.
Favorite Books On Writing
by Lauren Dane
1. A lot of authors most likely mention Stephen King's
On Writing
– and there's a reason for that (as well as its inclusion on my list). This book isn't so much a primer on how to write a book, but how to be a writer. More specifically, the story of Stephen King as a writer. The distinction makes it an engaging read rather than a how-to manual. There's so much great advice and information to be found in the book I still pick it up and thumb through it.
2. Anne Lamott's Bird By Bird – which shares a sense of being about a writer rather than writing. Lamott has a voice I adore (Operating Instructions is one of my favorite books about being a parenting)
Here's where I veer offroad even more – I have books on writing, lots of them. But I'm not sure they teach anyone how to write, exactly. They're full of exercises and advice and those things are important. Until they aren't. Which is to say a lot of writing books are big on rules, which are important to know, but aren't necessarily about the act of creation.
So the rest of my list are books I consider master classes on writing fiction and taught me more about being a writer than any book on process.
3. J.D. Robb's Naked In Death – this book is all about the subtle touches between this couple of lost souls, one powerful, wealthy and handsome, the other a homicide cop with a huge chip on her shoulder and a great deal of painful backstory. The way Roberts builds the undeniable and utterly believable chemistry and connection between the hero and heroine with deft, small details that create such three dimensional people you really care about is a master class. Fantastic dialog. Eve's friendship with Mavis and Feeney give the reader a lot of information that Eve would never be able to about the Eve beneath the armor.
4. Jennifer Crusie's Welcome To Temptation – humor is really difficult to get right and books where humor is so well knitted with the hero and heroine's uncomfortable journey is nearly impossible. Sexy humor too? Unimaginable! And yet, Crusie manages to do it over and over and WTT is a testament to pacing, character development, sexy chemistry and such a funny, smart voice. I've read this book three dozen times at least and the sex scenes in it are ones I refer to all the time when I give classes about writing sex because they're so well done.
5. William Gibson's Neuromancer – Some people write fifteen beautiful, ornate sentences to set a scene. Neuromancer takes all those beautiful words, skins them down to their barest, sharpest point and gives you, instead of fifteen, two sentences that still paint an incredible picture. Case is a messed up, totally damaged protagonist in a really dark world. When it comes to worldbuilding, this book is one of the best (as are the books that follow also set in the Sprawl Trilogy). You may not always like the characters you're reading about, but you want to know their story. Which is a really hard thing to do and that's why it's on this list.
The men of Twisted Steel are great with their hands. And they're not afraid to get dirty.

Asa Barrons is never lonely for long. Co-owner of the Twisted Steel custom motorcycle shop, he works hard and plays harder. But he never allows his after-hours affairs to interfere with business-until he meets racing royalty PJ Colman. While the blue-eyed blonde is all princess on the outside, on the inside Asa can see that this woman is ready to take a walk on the wild side.

PJ knows trouble when she sees it, and Asa is the complete package: fast bike, killer ink, and a sinfully sexy smile that has her imagining things nice girls never do. She talks her way onto the Twisted Steel team to prove her painting skill, and soon learns that Asa is eager to show off some skills of his own.

With the help of Asa's expert touch, PJ is initiated into a world of wicked desire. No limits. No inhibitions. No turning back. But as perfect as their passion seems, a new challenge awaits, forcing them to ask just how far they are willing to go . . .
Don't miss FALLING UNDER, book #2 in the Ink & Chrome series, on sale August 4, 2015!
Duke Bradshaw, co-owner of the Twisted Steel custom motorcycle and hot rod shop, may devote his days to chrome and leather, but his nights belong to Carmella. His sultry redheaded neighbor has a smile like an angel and a body built for sin, and for the past year both have dominated Duke's dreams. When a problem at Twisted Steel requires a fast fix, Duke sees his chance to finally make his fantasy a reality.

Ever since she first heard the low rumble of his engine, Carmella Rossi has wondered if Duke Bradshaw handles his women as expertly as he handles his bike. When he shows up at her door offering her a much-needed job at his shop, she gets her chance to find out. Beneath Duke's masterful touch, Carmella soon submits to a world of unimaginable pleasure.

But history has taught Carmella how bad a boy boy can be. If she doesn't put on the brakes fast, her hard-bodied heartbreaker could drive her right over the edge . . .
About the Author: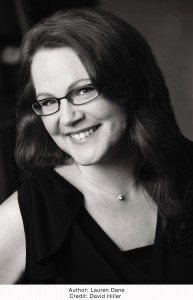 The story goes like this: While on pregnancy bed rest, Lauren Dane had plenty of down time, so her husband took her comments about "giving that writing thing a serious go" to heart and brought home a secondhand laptop. She wrote her first book on it. Today, Lauren is a New York Times and USA Today bestselling author of more than 60 novels and novellas across several genres.
Website | Facebook | Twitter | Goodreads
Buy Opening Up at Amazon, B&N, iBooks, GooglePlay, Kobo, or BAM
Pre-order Falling Under at  Amazon, B&N, iBooks, GooglePlay, Kobo, or BAM