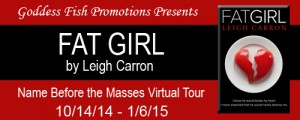 This post is part of a virtual book tour organized by
Goddess Fish Promotions
. Leigh will be awarding a digital copy of
Fat Girl
to a randomly drawn commenter at each stop. A Grand Prize of a $50 Visa or Amazon GC, an autographed copy of FAT GIRL and an invitation to discuss the book with the winner via phone or online will be awarded to a randomly winner. All prizes will be awarded via rafflecopter during the tour.
Welcome to Long and Short Reviews. Is there a story behind this book or any of the characters you'd like to share with us?
I wrote Fat Girl with my heart, so there are little bits of my life in the story and sprinklings of people I know in each of the characters.
What was the inspiration for this book?
I wanted to write a sexy romance involving a real heroine with real issues. A woman other women could relate to on some level.
Whether a size 6 or 26, most of us have a fat girl whispering untruths in our ear. She's the voice that tells us we're not good enough, pretty enough, skinny enough, perfect enough. She compares us to the unrealistic and plastic version of perfection and tells us that we don't quite measure up. That somehow we are less desirable, less worthy, less lovable. And for far too long, just like my character, Dee, I listened to her. Seeing what was wrong with me, instead of what was right.
Fat Girl is a provocative romance about the tumultuous and passionate relationship between former lovers; the secrets that ripped them apart and the family ties that re-connect them. But it is also the story of a woman's journey to find what we all want and need, unconditional love and self-acceptance.
I found inspiration among the pages of Dee and Micah's story, and I hope readers will too.
If you used a real setting, how intimate are you with it? Have you been there just to visit or have you lived there? Or did you do a lot of research about it?
Fat Girl is set in Chicago, a city with plenty of character, history and grit. However, with no first hand experience, my references and descriptions are based on research. And the suburbs/small towns featured in the book are purely fictional.
Did you fall in love with your hero(es)? Why?
Dee and Micah (Mick) were so much a part of me that I did fall in love with them. They are strong, yet vulnerable and beautifully flawed. Mick is very protective; a man that feels a heavy sense of responsibility for the people he cares about. It drives his decisions and choices, good and bad. Dee doesn't let many people get past the tough exterior. Her armor, a safe guard for her insecurities and painful past. Yet she has this huge capacity for love, if she'd just let herself risk it.
How long did it take to write this book and how long before you found a publisher?
It's been a long, winding road. The characters came to me about 4 years ago. Initially just flirting and teasing. But eventually I stopped playing around and wrote the thing, only to scrap it. I just wasn't feeling the storyline. So I went back to the drawing board and finished another version. However, I wrote it in the third person narrative. A style I usually enjoy, but something felt as though it were missing. Once again, back I went, this time trying it from both Dee and Micah's first person POVs. And that was it! I heard their voices so clearly, the characters and story felt right.
That revision took me a year. But after having it professionally edited and proofed, I immediately self-published through Amazon, Kobo and Smashwords. There was never a question for me on the publishing aspect. I like to have creative control…control in general. Self-publishing as a newbie was the only way I could get that. Some days it's tough to balance marketing with writing, but I am learning a ton and love being hands on.
What was the toughest part about writing this book? Did any characters misbehave and if so, how?
The toughest part was finally letting the story go. Having faith that I had done enough.
My characters stayed true to their personalities and life experiences, so I wouldn't say they misbehaved as much as they sometimes made choices that I didn't agree with. Such as the secret Dee kept from Mick for 15 years and her continued resistance to tell him the truth even after he walks back into her life. Dee is much more self-contained than I am. I would have fired the truth at Mick with ten barrels of ammunition! Lol. But that's me.
If this book became a movie, who would you cast to play the parts?
I don't know is my honest answer. There isn't any actor or actress who makes me say, that's my Dee or Micah. Maybe readers could help me out here. Who would you cast to play the leads? In the meantime, I do have a soundtrack that I would use if Fat Girl were a movie.
What do you like to do when you need a break from writing?
When I take a break, I enjoy hanging with family and friends and reading. When I need a break, it's usually because my mind is overthinking or I'm stuck. What I usually do then is wash my hands, take a shower or walk by the lake (when it's not subzero weather in Toronto). It seems water is my muse.
Where do you usually write? Do you write in silence or with music or other background sounds?
My office is my writing sanctuary. No music. Nothing. I thrive on the quiet; it allows me to better concentrate on my characters' voices.
Tell us a little more about what makes you tick.
Family, friends, fine chocolate, frozen mixed drinks, having purpose, good books and time to write. I'm not that complicated.
Is this book part of a series and if so, tell us about the series please.
Fat Girl is the first book in the Perfectly Imperfect series. As I mentioned earlier, I love characters that are beautifully flawed. The little nicks, scuffs, and chips offer dimension. They're more interesting, more appealing. The imperfections are in fact perfect because they make you who you are.
Fat Girl is a two-parter that will conclude with A Naked Beauty. Next, will come the stories of Dee's friends. Feisty Jordyn will finally meet her match in Color Blind. And we'll see if the sophisticated and cultured Lexie will marry the man of her mother's dreams or rebel against her upbringing and walk on the dark side.
Thank you for the opportunity to chat about Fat Girl. It's been fun.
Years after fleeing small-town Springvale, Illinois, Deanna Chase has picked up the pieces of her shattered heart and built a new life for herself as a child advocacy lawyer. Her food addiction is quasi under control, her secrets are buried, and she has even made a tenuous peace with her plus-size body. Until…

Micah Peters—the very sexy and now famous man she fled— walks through her office door and sends Dee reeling. His demand that she help a young boy caught in a custody battle will reunite her with the past she left behind.

Torn between duty and self-preservation, Dee isn't easy to convince. But when obligation wins, the former lovers get more than they bargained for—a searing passion that burns hotter than ever and startling revelations about what really happened the fateful night she left.

Will the truth set Dee free to love again? Or will past hurts and lingering insecurities destine her to walk away from her heart again, this time for good?

Fat Girl is the first book in this provocative two-part series about love and self-acceptance.
Enjoy an excerpt:
"Mick…"
My hand slides up her neck, testing the rapid beat of her pulse.
"Don't," Dee breathes, but the protest sounds as weak as my will to withstand her.
I lower my head and skim my lips along her bare shoulder. The fragrance of her soft, quivering skin seduces my senses.
"I've never gotten the smell of you out of my head…or the taste of you."
Her breath hitches and I pull the sound deep into my mouth. I might regret my weakness later, but the silk of her lips, the sweet flavor I've never forgotten, spins my head, and trumps all rational thought or common sense.
I tug the band from her hair and grab two fistfuls of curls. And Dee's right with me. No token resistance. No pretense. She gives back, just the way I need it. Hot and mindless. Going up on her toes, she winds her arms around my neck and molds her body to mine. Our tongues collide in a rush of longing. Tasting, tangling.
No woman has ever filled me so completely, to the exclusion of everything else. In that moment of frenzy, the past, my anger, and her transgressions are all white noise against the clamor of something louder and more powerful roaring in my blood.
I crush her back into the counter and muscle my thigh between her legs, leaving no doubt as to how badly I want her. Releasing my grip from the twist of curls I cup her unfettered breasts through the thin material and squeeze their ripe fullness. The nipples harden to bullets beneath my palms, and when I whisk my thumbs across the peaks, Dee's breathy moans drive me full throttle.
About the Author: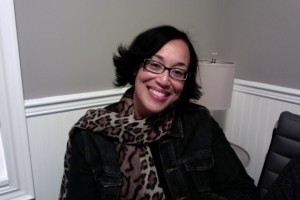 An American living in Canada. Chocolate snob. Recovering yo-yo dieter. Devoted mom and wife, blessed with a brilliantly witty daughter and unintentionally humorous husband. My wacky family feed my creativity and fuel my passion. Most nights, you will find me either curled up with a great book or, more often, sitting at my computer, tapping out the countless visions in my head.
To me, there is nothing better in a narrative than perfectly flawed but strong characters and intense romance that is sexy, deep, and sensual. Mm…I liken such stories to a box of Godiva. Decadent and delicious! You can't stop at just one. In fact, I'm now hard at work on my next novel—A Naked Beauty, the conclusion to Fat Girl.
Website ~ Facebook ~ Twitter ~ Goodreads
Buy the book at
Amazon
,
Kobo
, or
Smashwords
.