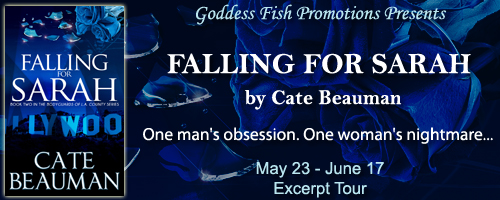 This post is part of a virtual book tour organized by
Goddess Fish Promotions
. Cate will be awarding a $25 Amazon or B/N GC to a randomly drawn winner via rafflecopter during the tour. Click on the tour banner to see the other stops on the tour.
Widow Sarah Johnson struggled to pick up the pieces after her life was ripped apart. After two years of grieving, she's found contentment in her thriving business as photographer to Hollywood's A-list and in raising her angel-faced daughter, Kylee… until bodyguard and long-time friend Ethan Cooke changes everything with a searing moonlight kiss.

Sarah's world turns upside down as she struggles with her unexpected attraction to Ethan and the guilt of betraying her husband's memory. But when blue roses and disturbing notes start appearing on her doorstep, she has no choice but to lean on Ethan as he fights to save her from a stalker that won't stop until he has what he prizes most.
Enjoy an exclusive excerpt:
Sarah ran toward the enormous gazebo with Kylee in her arms—a tricky feat in heels. "We're here. We're here. I'm so sorry we're late," she said to no one in particular as she climbed the steps to the center. A boisterous crowd of fifty milled about, and she relaxed. It was clear there was no hurry here. Hunter, clad in a white button-down and black slacks, spoke to the officiant while Morgan, stunning in her simple, sleeveless cocktail dress—the same bold green as her eyes—chatted with her parents and Hunter's mother.
"I guess we're not so late after all." Sarah settled Kylee on her hip and smoothed her pink thigh-length dress. "Let's go tell Uncle Hunter we're ready whenever he is." She took a step forward and stopped, captivated by the spectacular view. The full moon rising high cast a glow upon thousands of flowers surrounding the gazebo. She walked to the edge, caught up in the beauty as the distant thunder of the Pacific hundreds of feet below added to the magic. "Oh, sweetheart, it's amazing."
Kylee's blue eyes brightened. "I want to pick the fwowers."
"We can't, honey." She watched her daughter's smile dim. "They don't belong to us. We can pick flowers at home."
"O-tay." Kylee gasped and let out a sudden squeal of delight as she held out her arms.
Sarah jumped and turned as Ethan, handsome in charcoal gray slacks and a white polo, swooped forward and grabbed Kylee, settling her on his hip.
"Hey there, kiddo." He kissed her chubby cheek. "Don't you look pretty tonight."
"Dis is my new dress," Kylee preened, tugging none too gently on the delicate, pale blue silk.
"You look like a princess. A pretty princess should have a flower." He walked with her to the side of the gazebo and leaned over, picking a creamy white carnation.
About the Author: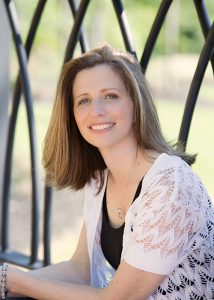 International bestselling author Cate Beauman is known for her full-length, action-packed romantic suspense series, The Bodyguards of L.A. County. Her novels have been nominated for the National Excellence in Romance Fiction Award, National Indie Excellence Award, Golden Quill Award, Writers Touch Award, and have been named Readers Favorite Five Star books. In 2015, JUSTICE FOR ABBY was selected as the Readers' Favorite International Book Award Gold Medalist, while SAVING SOPHIE took the Silver Medal. SAVING SOPHIE was also selected as the 2015 Readers Crown Award winner for Romantic Suspense and FALLING FOR SARAH received the silver medal for the 2014 Readers' Favorite Awards.
Cate makes her home in North Carolina with her husband, two boys, and their St. Bernards, Bear and Jack. Currently Cate is working on Deceiving Bella, the eleventh novel in her popular Bodyguards series.
Newsletter | Website | Facebook | Twitter | Amazon Author Page | Goodreads
Buy the book at Amazon, Barnes and Noble, iBooks, or Kobo.