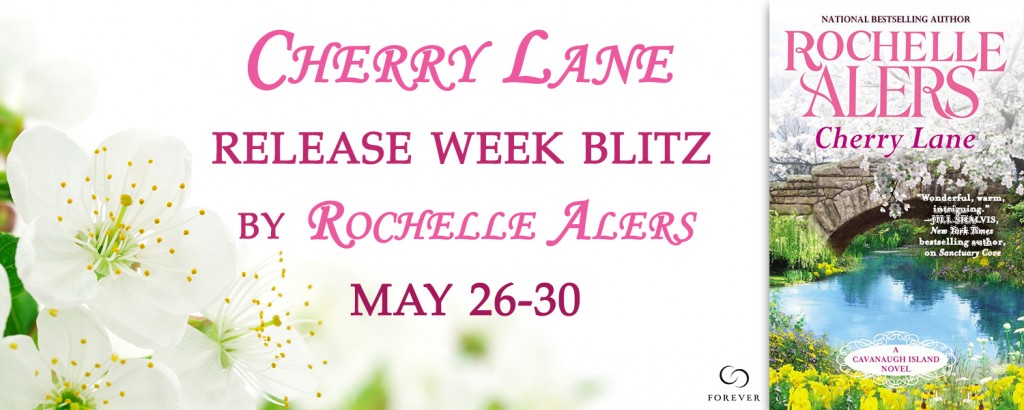 This post is part of a virtual book tour organized by the publisher. Enter the Rafflecopter below to win a copy of
Cherry Lane
.
Strangest Experiences …
there are several encounters with readers I remember vividly in my twenty-six years of writing. The first is the feedback from a reader condemning my soul to Hell. She chastised me for allowing my hero and heroine to make love when they weren't married to each other. The word she used was fornicating. She told me, "I'll pray for you, because I don't want you to burn in Hell because of your books." I graciously thanked her for her prayers and was grateful to escape further wrath unscathed. Several years later I incurred her disdain again when she wrote to tell me she'd believed I had redeemed myself when penning "VOWS." This novel began with a dream sequence wherein the married couple were making love. However, the dream was a flashback. But her joy was short-lived when she discovers the couple do make love before they marry after an eight-day whirlwind romance. This time I had no comeback, because if she knew I include love scenes between unmarried couples, then why did she continue to read me? Can you hear the crickets?  I had two other experiences that aren't as strange as they are heartfelt. A reader approached me to say she'd been in an abusive relationship for years but after reading "HIDEAWAY," she finally found the strength to leave her abuser. The heroine in this novel sacrificed her own happiness to help her husband achieve political success, but when their daughter is kidnapped she offers herself in exchange for the child. That pivotal scene demonstrates how a woman can summoned inner strength to determine not only her life but also her future. Another poignant encounter with a reader occurred after the publication of "HOME SWEET HOME." In this novel a poorly executed dance move cost the heroine her career, an unborn child, and her marriage. She falls in love with a man from a large family but when he mentions marriage and children she ends their relationship. She is forced to tell him she can't give him a child, but he turns the tables on her when he says there too many children languishing in foster homes waiting for parents and a loving home. The reader, like the heroine, refuses to marry the love of her life because she is sterile. After reading "HOME SWEET HOME" she finally reveals her infertility but is open to adoption if he still wants to marry her. She wrote me two months later with the news they'd married and had begun the process of becoming foster parents with the intent of adopting a child. As a writer I never know how my characters' experiences will impact a reader's life and/or future. To quote the late-great James Michener: "I was brought up in the great tradition of the late 19th century: that a writer never complains, never explains, and never disdains."
In New York City, attorney Devon Gilmore devoted all her time and energy to fast-track her career. She lost her boyfriend . . . but found herself with a surprise baby on the way. To begin a new life, Devon needs a place to settle down-a place like Cavanaugh Island, where the pace is slow, the weather is fine, and the men are even finer. From the moment David Sullivan meets Devon, he knows he can't fight the laws of attraction. Whether it's helping fix up the old cottage she just bought on Cherry Lane or working together on a pro bono legal case, he can't help feeling a little protective. But will the most eligible bachelor in town be ready for an instant family? Only if he can convince Devon to put her heart on the line one more time-for all time.
About the Author: Bestselling author, Rochelle Alers has nearly two million copies of her novels in print. She is also the recipient of numerous awards, including the Gold Pen Award, the Emma Award, Vivian Stephens Award for Excellence in Romance Writing, the Romantic Times Career Achievement Award and the Zora Neale Hurston Literary Award. AUTH. WEBSITE: http://www.rochellealers.org/ AUTH. TWITTER ID: @RochelleAlers AUTH. FACEBOOK: http://facebook.com/pages/Rochelle-Alers/296022117172443 Amazon: http://amzn.to/1zMtiHH B&N: http://bit.ly/1PoHOHi iBooks: http://apple.co/1zAY3yS GooglePlay: http://bit.ly/1EgqCO1 Kobo: http://bit.ly/1H0RVCV BAM: http://bit.ly/1Khn1DU a Rafflecopter giveaway