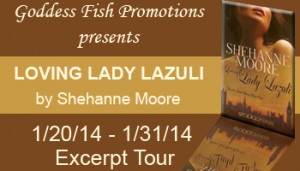 This post is part of a virtual book tour organized by
Goddess Fish Promotions
. Shehanne will be awarding a $10 Amazon GC to a randomly drawn commenter during the tour. Click on the tour banner to see the rest of the stops on the tour.
Only one man in England can identify her. Unfortunately he's living next door.

Ten years ago sixteen year old Sapphire, the greatest jewel thief England has ever known, ruined Lord Devorlane Hawley's life. Now she's dead and buried, all the respectable widow, Cassidy Armstrong, wants is the chance to prove who she really is.

But not only does her new neighbor believe he knows that exactly, he's hell-bent on revenge. All he needs is the actual proof. So when he asks her to choose between being his mistress, or dangling on the end of a rope, only Sapphire can decide…

What's left for a woman with nowhere left to go, but to stay exactly where she is?

And hope, that when it comes to neighbors, Devorlane Hawley won't prove to be the one from hell.
Enjoy this exclusive excerpt:
"No. Lord Hawley it's all right. I'm going to stay." Her gaze edged to what stood on the bedside cabinet. "If we pour some of that brandy there in the basin, we can at least clean that wound with it. Maybe even get some down his throat."
"'E will be all right in the morning, Miss. Truly."
Why did Charlie hesitate? His face turned a little paler in the candlelight?
"'E always is. But I don't think you should give 'im any of that. Knowin' Dev, 'e's probably 'ad a bucketful already. Do you want ter make 'im worse?"
"Whether he has or not, I don't see it would do any harm to clean this wound up, Charlie. We can't leave him like this."
Reaching for the bottle she pulled the cork off. The smell wasn't exactly what she expected. It was brandy. Yes. But there was an underlying odor she couldn't quite place. She sniffed. Then she held it to her nose and sniffed again.
Before Charlie could stop her she yanked the cabinet drawer open. Why she reached for that particular one she didn't know. Only that she did.
What greeted her, clinking about inside, the bottles, were things she did not need to have had any personal experience of to know what they were and why Charlie didn't want her seeing them. She lifted her chin.
"Just how long has Lord Hawley been an opium addict, Charlie?"
About the Author: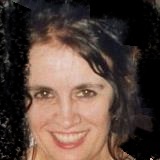 Shehanne Moore writes gritty, witty, historical romance, set wherever takes her fancy. What hasn't she worked at while pursuing her dream of becoming a published author? Shehanne still lives in Scotland, with her husband Mr Shey. She has two daughters. When not writing intriguing historical romance, where goals and desires of sassy, unconventional heroines and ruthless men, mean worlds collide, she plays the odd musical instrument and loves what in any other country, would not be defined, as hill-walking.
Her second book featuring a hottie scottie, His Judas Bride was recently released.
Blog ~ Pinterest ~ Twitter ~ Website ~ Facebook