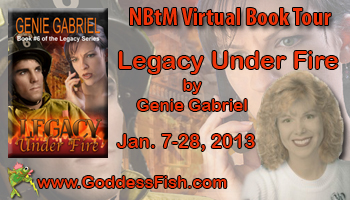 This post is part of a Virtual Book Tour organized by Goddess Fish Promotions. Genie Gabriel will award a $10 Powell's GC at every stop and a $25 Amazon GC at the end of her tour to one randomly drawn commenter.

After being trapped in an arson fire that destroyed her clinic and her memory, a doctor struggles to regain her courage as well as solve the mystery of why someone would want to kill her. A different kind of heat fills her life when she falls in love with the firefighter who rescued her, but can he protect her from the man determined to snuff out her life?
Shiloh stood in the sunshine trying to envision a medical clinic instead of the sagebrush and sun-dried grass. Yet all that formed in her mind were flames greedily consuming everything she had worked so hard to build.
"What do you think?" Jeremiah asked.
Shiloh forced a smile before she turned to face Jer. "It's hard to imagine a building on bare land."
"Maybe it's too soon."
Something akin to panic wiggled in Shiloh's belly. "No. I want to do this. I need to move forward."
"Do you have a building layout in mind or know how you want the exterior to look? We can take some photos of the land and then add a building and landscaping on the computer."
"Good idea." Shiloh nodded her head. Maybe her belly wouldn't churn with fear by looking at a computer mock-up. But how was she ever going to remember what happened the day her clinic burned if she continued to hide behind the fear?
She forced herself to lift the camera and look at the viewfinder. The mountains in the distance brought some measure of calm. If she could focus on the mountains carpeted purple-green with trees topped by a dollop of white snow at the top…
Instead of the burned-out remains of her clinic.
For years I've been fascinated by the puzzle of why some people collapse under life's traumas and others emerge triumphantly stronger. These triumphs of the human spirit over the ugliest of adversities became the basis for my stories. Yet my dramatic stories have always contained touches of humor, and sometimes I have great fun writing romantic comedy novellas. However, in all my stories, my passion for writing romance is an outlet for the powerful messages that people can overcome great difficulties, and true love can turn life's heartaches into happily ever after.

My Web site: www.GenieGabriel.com
My LEGACY blog: http://oshealegacyseries.blogspot.com/