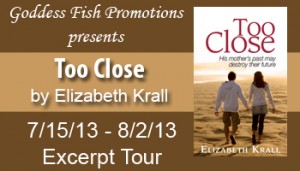 This post is part of a virtual book tour organized by Goddess Fish Promotions. Elizabeth will be awarding an eBook version of EACH of her three short stories to a randomly drawn commenter at each stop, plus a grand prize of an eBook version of her first novel, Ship to Shore, will be awarded to a randomly drawn commenter during the tour. Click on the tour banner to see the other stops on the tour.
What rules would you break for the one you love? What lies would you tell?

Three weeks before their wedding day, Nicola and Greg discover that they may have the same mother.

They met when Greg joined the San Francisco newspaper where Nicola is the travel editor. After six months, eager to start a life together and raise a family, they decide to marry.

When Nicola finally meets his family in Seattle, and mentions the circumstances of her adoption, Greg's horrified mother is forced to reveal the shameful secret she has kept for 36 years.

As they struggle to deal with her revelation, their relationship is challenged and strained. If his mother's suspicions are true, they will be forced into a devastating choice: break all of society's rules and fight for their love, or break their hearts and give each other up.

It will be the greatest test their newfound love has faced – and their love may not survive.
Excerpt:
Scene: Nicola and Greg met on Friday evening. The following Monday, Greg gets out of a taxi and spots her in the crowd leaving the office building.
She was half a block ahead and everyone between them seemed intent on getting in his way, but he closed the gap. Ten feet behind her, he was forced almost onto the road by a group of gawking tourists. His knee bumped hard against the corner of something solid, and he glared down. A planter full of marigolds looked back at him.
He finally caught up to her at a red light. "Hi."
"Oh! Hello, Greg," Nicola replied. She smiled at him, which he thought was a good sign. Or maybe she was just naturally polite. "Do you go this way too?"
His mind was blank. Great. I walk away from my boss and my boss's boss, chase this woman for two blocks, steal a flower, and now I can't think of a damned thing to say.
"Sometimes," he said weakly. Then he laughed, and said, "No, never. I wanted to give you this. It matches your jacket." He held out the yellow marigold.
Surprise, wariness, pleasure – they were all plain on her face. She looked at the flower, and then her eyes, as blue as the sea far from land, flashed up at him.
The light changed and the waiting crowd surged forward, jostling them.
Then she laughed, too, and took the marigold. "Thank you."
Greg watched her walk across the street, and all the witty, amusing, sweep-her-off-her-feet things he should have said crowded into his head. Too late. But she had accepted his flower, which was something.
About the Author: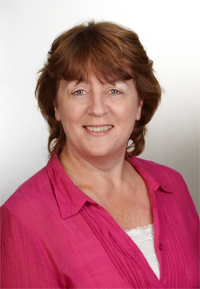 Elizabeth Krall grew up in Canada and lived in London, England, for many years. She has now settled in Sydney, Australia.
Most of her career was spent as an editor, but now she works as a print and digital graphic designer. An unexpected side-effect of leaving editing was the resurgence of an interest in writing. Her first novel, Ship to Shore, was published in February 2012; her second, Too Close, in January 2013.
She is also the author of an occasional series of short stories themed around holidays, called Holiday Romances.
Elizabeth's interests include travel, tall ship sailing and cocktails.
website/blog — http://elizabethkrallwriter.wordpress.com/
Pinterest — http://pinterest.com/elizabethkrall2/
video trailer for Too Close — http://www.youtube.com/watch?v=UVHKZHdBA08
Buy Too Close on Amazon, Barnes and Noble, or Kobo.