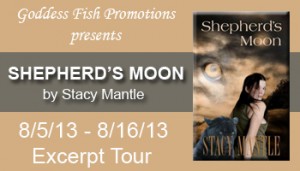 This post is part of a virtual book tour organized by Goddess Fish Promotions. Stacy will be awarding a $15 Amazon GC to a randomly drawn commenter during the tour. Click on the tour banner to see the other stops on the tour.
It's taken twelve years to earn the official title of Shepherd but she's now mostly trained, fairly effective, and the first female in over two centuries to hold the position as protector of animals. All animals…

The Territorial Council isn't thrilled with her new title of Shepherd, but they don't have any more control over the appointment than they have over her. All they can really do is wait for her to screw something up – which Alex is determined not to do.

Everything changes when a chance encounter with a genetically modified Shifter leaves Alex shaken and initiates a quest to locate its maker.Despite years of training, Alex finds herself woefully unprepared to tackle the new threat.

To make matters worse, she must work with a mysterious man who's been trying to kill her since the day they met…
Read an excerpt:
Lunging forward, he grasped the sleeve of my coat. I whipped my long leather jacket around his head, simultaneously pulling my arms from the sleeves and slipping it from my shoulders before twisting out of the way.
Temporarily blinded and restrained, the vampire finally released me.
By now, most newborns would have given up. Predators are opportunists, not hunters, and they weren't fond of victims that fought back. As he tore the coat from his head, tossing it to the ground, I groaned aloud. What was with this guy?
When he shifted his weight to lunge, I was ready. Flipping around, I met his impermeable jaw with a roundhouse kick that reverberated through my body.
A sharp pain shot through my leg and radiated into my stomach, but somehow I kept my feet beneath me as I caught a glimpse of reddish-blonde fur as a new threat loped into the alley. Dodging, I stumbled out of the way as Billy, in his coyote form, fell upon the Newborn in an angry rush of fangs and red fur.
"Richard wants him alive!" I called out. Or at least as alive as a dead man can be.
Billy stopped a split second from tearing the vamp's throat out, growling and baring his long white canines as he stood squarely on the creature's chest. The deep, threatening sound reverberated in the night.
If there is one thing a vampire fears, it's a shifter. As far as I knew, werecreatures are the only things capable of penetrating the concrete flesh of a Vamp.
Wrapping my scarf around my bleeding arm, I slid down the wall, my throbbing leg aching. Leaning forward, I rested my elbows on my knees with a sigh of relief, then slowly stood and wiped the rain and blood from my face with a trembling hand.
About the Author: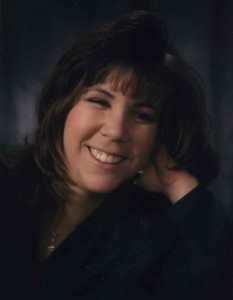 While Stacy Mantle is most well-known as the Pack Leader of the popular website, PetsWeekly.com, however she is rapidly gaining a fan base in the genre of fantasy with the publication of Shepherd's Moon, the first book in her Alex Wilde "Shepherd" series.
Stacy has a B.A. in English, a post-baccalaureate in Secondary Education, and an MBA with an emphasis on Marketing. She is active in animal rescue and is a nationally-known pet industry authority. She currently resides in the deserts of the Southwest with several cats, a few dogs, and a very understanding husband. You can learn more about her at www.StacyMantle.com, or visit her at Facebook, Twitter, Pinterest, or Google+.
Buy the book at Amazon: (Paperback and ebook)