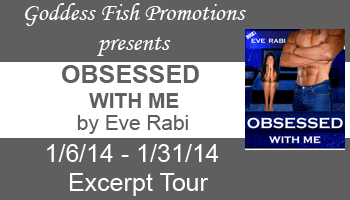 This post is part of a virtual book tour organized by
Goddess Fish Promotions
. Eve will be awarding a set of Obsessed with Me ebooks to five randomly drawn commenters during the tour. Click on the tour banner to see the other stops on the tour.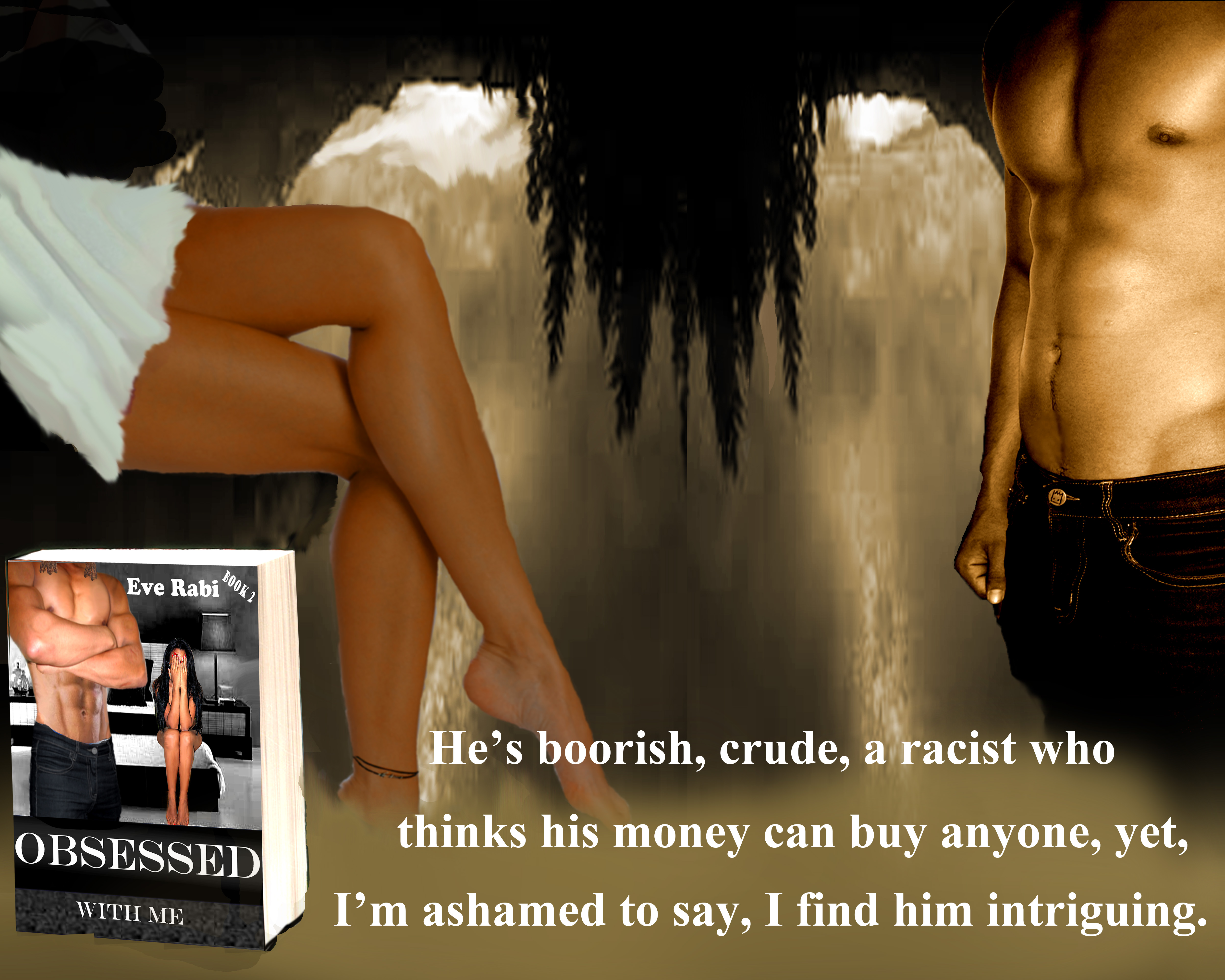 Tarago Jakobus was 6'4", intelligent, extremely wealthy with a Midas touch. He was also openly racist, politically incorrect and a chauvinistic pig who told offensive jokes. He loved to party and was used to women vying for his attention. So when his eyes fell on Tanin, he expected her to just melt into his bed and be grateful that he even looked her way.

To his utter surprise, she was totally unimpressed with his wealth, thought he was an uneducated buffoon and publicly rejected him. Of course he was shocked and humiliated by her response.

But no woman had ever turned Tarago down before, and he found her fascinating. He became obsessed with her and decided to win her over his way – destroy all that is precious to her, so that she would have no choice but to need him. If that didn't work, he'd switch to plan 'B' – take away her freedom and throw her ass in jail. And being the absolute bastard that he was, he did.

Obsessed With Me is a modern-day love story.
Enjoy an excerpt:
Tarago looks at Rheema's father. "Any problems with that bastard, call me."
"Thank you," Rheema's father says, appearing genuinely grateful.
Tarago looks outside the window at Ashwin and Rheema arguing.
I quickly grab Tarago's arm again. "Come with me," I say and quickly lead him into my bedroom.
It takes a while for him to simmer down. We eventually lie on the bed and face each other.
"Now, aren't you glad that I am a very good liar?"
I laugh and kiss his chest. "Yes. You're a loveable bliksam (bastard)."
He grins.
"I love you," he says as he gently tucks my hair around my ears.
"I love you, Tarago."
"Will you marry me? Fok up my peaceful existence? For real this time? Fok up my bachelorhood?"
"Yes!" I plant kisses on his lips. "Yes. And I want a big wedding. Huge."
"Anything for you, skat. Anything."
"Good, cos I'm gonna make you betaal (pay) through your arse."
He laughs.
"And I want three children."
He nods. "At the same time?"
I chuckle and hug him to me. "No!"
"I'm looking forward to it," he says. "I want …what you guys have here."
"Here?"
He nods. "I like the big family, the way you guys care for each other, your backward values…"
I smile and snuggle into him. "I like it too. And I like you."
About the Author: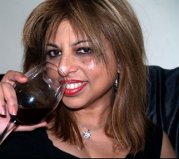 Eve Rabi lives in Sydney Australia, but was born in South Africa.
She is the author of 20 books and is known for her kick-ass leading ladies, her alpha males and her ability to make you cry and make you laugh as you fall in love.
She loves music and cannot live without it.
She also enjoys dancing, (was a Latin dance instructor years ago) and keeps her kids in line by threatening to bust a Zumba move in front of their school assembly.
Blog ~ Website ~ Facebook ~ Twitter ~ Smashwords ~ Amazon Author Page
Buy the book at Amazon. NOTE: (This is a two-part series and neither books are stand alone. Both books are currently available for purchasing)