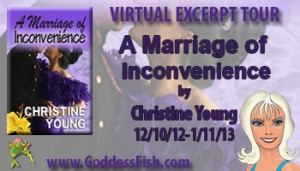 This post is part of a virtual book tour organized by Goddess Fish Promotions. Christine will be awarding a $25.00 Amazon Gift Card to a randomly drawn commenter during the tour, and a $15.00 Amazon Gift Card to a randomly drawn host. Click on the tour banner to see the other stops on the tour.
A REGAL BEAUTY

When the duchess decides to wed her to a wastrel and a fop, Ravyn Grahm takes matters into her own hands and declares her engagement to another man. Instead of fessing up and telling her great aunt what she has done, she goes through with the pretense. Aric Lakeland is the bastard son of an earl and has a dangerous reputation. But Ravyn is willing to do most anything to keep the duchess from discovering the lie.

A DEVIL-MAY-CARE SMUGGLER

He'd bought land in America, looking to put down roots and end his life of adventure, but Aric Lakeland got more than he bargained for when he encountered a beautiful heiress who made a promise she didn't want to keep. But the promise could not be undone and standing between them were more obstacles than either ever dreamed. Aric had made plans to spend the rest of his life in America and that was at odds with Ravyn's plan of living in England and running her father's estate. Now, he'll have to choose between his dreams and the woman he loves more than life.
Read an excerpt:
"Now," he cut a slice of bread and one of cheese, handing it to her with a graceful finesse. "Eat."

The food was a nice compliment to the brandy. She was hungrier than she had thought. She watched his fascination as Aric broke off a piece of bread and ate. His lips intrigued her as did every movement he made.

"I guess I was hungrier than I thought," she said.

He groaned and seemed to choke back words. Then he said, "This won't quench my hunger. Not in the least."

Ravyn had the strange feeling he was talking about something other than food. "You must be hungry. I'll get you something."

He stared hard at her, his gaze seeming to penetrate through the soft fabric of her shirt. And she remembered that only a moment ago her breasts were barred for his sight. She blushed and muttered something.

"Blushing again, Imp? Something you learned at the debutante balls?"

She looked up and slanted him a narrow look. "You're enjoying this," she accused. "I've never–" she stopped unable to think of anything else to say. Instead she inhaled a long deep breath, praying for courage.

Aric turned away but not before Ravyn saw him smile. He popped another bite of cheese into his mouth.

"Be careful," she said. "You might give yourself away. I might change my opinion of you."

"Don't worry. I've had lots of practice guarding my thoughts. What is your opinion?"

She laughed softly and confessed looking into the fireplace and watching the leap and dance of the flames. "I know. You're the only man I've ever seen who can find himself in a room full of gossiping debutante's and not get stung by their barbed tongues. I've always admired you."

Smiling, Aric coaxed the stopper from the brandy and poured them both another drink. "And you've known so many men."
About the Author: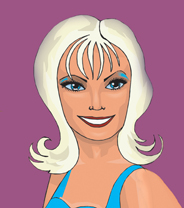 Born in Medford, Oregon, novelist Christine Young has lived in Oregon all of her life. After graduating from Oregon State University with a BS in science, she spent another year at Southern Oregon State University working on her teaching certificate, and a few years later received her Master's degree in secondary education and counseling. Now the long, hot days of summer provide the perfect setting for creating romance. She sold her first book, Dakota's Bride, the summer of 1998 and her second book, My Angel to Kensington. Her teaching and writing careers have intertwined with raising three children. Christine's newest venture is the creation of Rogue Phoenix Press. Christine is the founder, editor and co-owner with her husband. They live in Salem, Oregon.