This post is part of a Virtual Book Tour organized by Goddess Fish Promotions. Jennifer will be awarding a $10 Amazon gift card to a randomly drawn commenter during the tour. Click on the tour banner to see the other stops on the tour.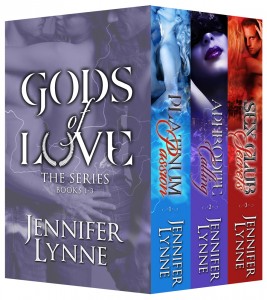 The Greek gods of desire are skilled at satisfying the erotic needs of mortals who cross their path. But where do the gorgeous erotes turn for sexual healing when loneliness strikes at each eternal yet world-weary heart?
Together for the first time in one anthology collection, these three critically acclaimed novellas show that even the gods themselves are not immune from the influence of love.
Platinum Passion
A night of ménage a trois passion will change three lives forever. Jeannie and Jake's platinum anniversary becomes an unforgettable experience when Pothos, god of sexual yearning, steps in to save their twenty-year marriage.
Aphrodite Calling
A god of sexual desire on the edge of burnout meets a woman with a unique and secret past…In the arms of transsexual woman Gina, has Himeros finally discovered the one with whom even a god of love could find fulfillment?
Sex Club Secrets
Sometimes love can flourish in the most unexpected places. Ella and her bisexual best friend Kade meet the erotic god Anteros in a celebrated sex club—but the challenges facing these potential friends-to-lovers could prove too much for the god of requited and unrequited love.
Content suitable for adult readers only.
Excerpt
Platinum Passion:
He came to her on the night of their twentieth wedding anniversary.
Jeannie was lying in bed, straining to read the last page of her book in the weak circle of light cast by the bedside lamp. Jake snored gently as he lay beside her fast asleep. She sighed with that mix of contentment and regret that she always felt when a good book ended, and was about to remove her reading glasses when he was just…there—standing in the doorway of her bedroom clad only in faded denim jeans.
She gaped, too stunned by his appearance to even think about being afraid, though afterwards she wondered what the hell was wrong with her that she hadn't made a sound. Not even a squeak of terror, though it wasn't terror she felt as she stared at the stranger in her house.
The stranger who had just stepped straight off the cover of the romance novel she was still holding was standing there smiling and beckoning.
The picture in front of her shook as she looked down and then back up at the real deal in her bedroom. Almost exactly the same, with unruly black hair curling down into eyes that pale emerald color of the sea on a fine day, sharply cut cheekbones that gave him a sensual air, and a darkly tanned body so honed to muscular perfection she could see why he was currently the most popular model of the day for romance book covers. Including the one in her suddenly vice-like grip.
She squeezed her eyes shut then popped them open again.Yep. Still there. Still looking as hot as an ancient warrior. In fact, far hotter in the flesh than he appeared on the printed page.
Her womb contracted in a sudden, pleasurable ache. One that she hadn't felt in a long time.
About the Author: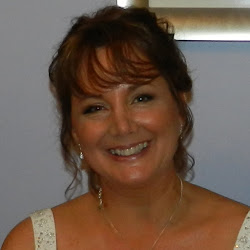 Jennifer Lynne is multi-published in sensual and erotic romance and writes from her home in Melbourne, Australia. She has a degree in literature and media studies and has worked as a business writer and journalist for companies both large and small. She has even worked in an optical store! She lives in hope that readers will continue to enjoy her novella-length tales of love and lust.
Find Jennifer on the web at
Website/blog                                          Twitter                                                              Facebook                                                         Goodreads
Buy the book at Amazon
.