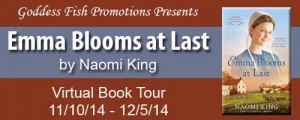 This post is part of a virtual book tour organized by
Goddess Fish Promotions
. Enter the Rafflecopter below to win a $50 Amazon or Barnes and Noble gift card. Click on the tour banner to see the other stops on the tour.
A special welcome to Naomi King who has agreed to answer a couple of questions for us. Naomi, have you developed a specific writing style?
It was an interesting thing, when I took on my second Amish series, because the NAL editor wanted to be in on the development of the characters and stories from the get-go, while my Kensington editor—for whom I'd written five books before—trusted my style and rarely asked for major revisions. So I completed SUMMER OF SECRETS in the homey, down-to-earth style I'd used for my earlier books, which included some Amish dialect and a breezier, light-hearted tone.
However, when my NAL editor read my first completed manuscript, ABBY FINDS HER CALLING, she asked for major changes in dialog, story, and even the way I phrased my sentences. It about knocked me out of my chair when I read her long revision letter, even though my agent had warned me that she works this way with all of her authors. I had to suck up a little pride . . . consider which revisions I wanted to make, and which I could not agree to (which yes, would probably affect my chances of getting another contract from her). Once I completed ABBY's revisions, however, I realized that my style had risen to a different level even as my confidence had taken a bit of a beating.
But isn't that how we learn and grow? And it's working out well, I think, because the Seasons of the Heart series, written by Charlotte Hubbard, is funnier and more folksy while the Home at Cedar Creek/One Big Happy Family series by Naomi King feels more substantial. It's quite all right that my two different names have different styles. It's a lot of work, this writing thing, but it's never boring.
How would you spend ten thousand bucks?
Matter of fact, I dropped a slightly larger wad than that one day a few weeks ago, paying for our 15-day Viking River Cruise on the Danube next spring. You have to pay those trips in full beforehand, so now our 40th anniversary celebration is all set up!
I was also fine with investing quite a large chunk in our town home when we moved to Minnesota three years ago—we stripped it down to the bare walls and subflooring and did a big update on the kitchen. This is the fifth home we've owned, and we've learned that if you don't maintain/update a house, you'll end up paying for a lot of nice new features right before you sell it to someone else.
But if someone just handed me $10K out of the blue? I'd stick it in my portfolio and put it toward my retirement, hands down. Writers' paychecks are so irregular, and you have no idea whether your next royalty check will buy you lunch at McDonalds or a new car, so I tend to tuck money away every chance I get. I've gone through many, many years when I barely covered my business expenses, so right now it's nice to be in the black. Who knows? Beyond the contract I just got, there might not be another sale.
Romance is in the air during the fall wedding season in the Amish community of Cedar Creek. But while one loving couple prepares to tie the knot, Amanda and Wyman Brubaker's large family faces a threat from outside their happy circle…and must learn to pull together.

Recently wed Amanda and Wyman Brubaker are thrilled that their children from previous marriages have blended together to form a strong family. But when the construction of Wyman's new grain elevator is delayed, making the project more expensive than anticipated, Amanda's determination to rally the kids into taking on work to improve the family's finances comes into conflict with Wyman's sense of responsibility as head of the household….

Meanwhile, as James Graber and Abby Lambright prepare for their long-awaited nuptials, folks gather from far and wide. Amanda's nephew Jerome has long been smitten with James's sister Emma and wants to seize this chance to woo her. But Emma's been burned once and is twice shy of trusting the fun-loving, never-serious Jerome. As Emma and Jerome struggle to understand each other, and find the courage to make a leap of faith, the Brubakers face a bigger challenge than they first anticipated and begin to discover just what it means to fight…the Amish way.
Enjoy an excerpt:
"Shall we get some lunch?" Jerome asked when they were seated in the rig. "There's a vintage-style diner just down the road—"
"Or we could go back to Cedar Creek," Emma remarked in a hopeful tone. "Between what Mamm and I fixed and what Amanda brought, there's plenty enough for us to join them."
Jerome smiled. "But you've spent your morning with me and saved me from making a lot of mistakes," he said gently. "I'd like to treat you to a meal you didn't have to cook yourself. Will that be all right?"
Emma smiled as the color rose in her cheeks. "Well, since you put it that way . . ."
He was thankful that once they were seated in a red leatherette booth with a chrome-edged table between them and a miniature jukebox on the wall, Emma took off her black coat and bonnet. In her honey-gold cape dress and a cream-colored apron that fastened behind her neck, she looked much more attractive and . . . inviting.
Jerome was pleased when she ordered a patty melt with fries and a side of tomato soup. At least she wasn't going to be finicky about her food, like some girls were. After he ordered the blue-plate special, which was meat loaf, he tapped on the wall-mounted juke box. "Pick a song, Emma. We can listen while we wait for our lunch."
As she flipped through the selections, Jerome fished out a quarter and put it in the slot. "F six," she murmured.
In a few moments, "See You Later, Alligator," filled the small diner. As Emma tapped her fingers on the tabletop, keeping time to the old rock-and-roll song, she looked as happy as Jerome had ever seen her. At last, he'd found something they both enjoyed, even if the church didn't allow them to play such music at home.
"Dat took James and Abby and me to a horse auction once, when we were around ten or eleven," she recounted. "We ate lunch at a place similar to this one, and Dat played this record on the jukebox—and it's stuck with us ever since. Even on days when he can't recall what he ate for breakfast, he knows every word to this song."
"It's a snappy tune," Jerome agreed, tapping his toes. Just for fun, he wanted to catch Emma's feet between his and give them a quick squeeze, but he thought better of it. "It's nice to have that memory from when your dat was younger and stronger. My mamm and dat died when our house burned to the ground, when I was just ten."
Emma's eyes widened. "And how was it that you didn't—I mean—"
The concern on her face coaxed Jerome to grasp her hand. "I was staying overnight at a cousin's house," he replied. "The firemen said the old furnace exploded, and because the house was built of very dry wood they'd saved from a barn they'd torn down, my folks were gone before they knew what hit them. That's when Aunt Amanda and Uncle Atlee took me in—and probably why I get such a kick out of your dat."
"You didn't lose any brothers or sisters, I hope?" Emma murmured. "If something happened to James, I'm not sure I could bear it."
Jerome felt comforted by her concern, even if the accident happened more than half his lifetime ago. "No, it seems they broke the mold when they made me," he said with a chuckle.
For a moment, Emma's gaze lingered on his. Such an unusual shade of brown her eyes were, similar to a mixture of honey and cinnamon. Too soon, she eased her hand away. "I'm sorry," she murmured. "That was a horrible thing to endure when you were so young."
About the Author:
Drawing upon her experiences in Jamesport, the largest Old Order Amish community west of the Mississippi, longtime Missourian Naomi King writes of simpler times and a faith-based lifestyle in her Home at Cedar Creek/One Big Happy Family series. Like her series heroine, Abby Lambright, Naomi considers it her personal mission to be a listener—to heal broken hearts and wounded souls—and to share her hearth and home. Faith and family, farming and frugality are hallmarks of her lifestyle: like Abby, she made her wedding dress and the one her mom wore, too! She's a deacon, a dedicated church musician and choir member, and when she's not writing, Naomi loves to travel, try new recipes, crochet, and sew. Naomi, whose real name is Charlotte Hubbard, now lives in Minnesota with her husband and their border collie, Ramona.
www.NaomiKingAuthor.com
Facebook
Buy the book at The Book Depository, Amazon, Barnes and Noble, Books-a-Million, Chapters, IndieBound, Powell's, Kobo, or iBooks.