This post is part of a virtual book tour organized by
Goddess Fish Promotions
. Emily Mims will be awarding a $10 Amazon/BN GC to a randomly drawn winner via rafflecopter during the tour. Click on the tour banner to see the other stops on the tour.
Emily's 'Must-Haves' for a Good Romance Novel
I began my career as a romance writer as an avid romance reader. I discovered Harlequin Romances back in the seventies and eagerly devoured both their books and their rivals Silhouette and Candlelight. I eventually wrote eighteen books for Candlelight. When that came to an end, I took some time off from romance novels until about ten years ago. I returned to the genre to find it much changed, with a more diverse and varied offering of subgenres to choose from. Nevertheless, all good romance novels must have certain elements to make it a compelling read for me. These became the elements that I strive to include in each and every one of my stories.
The first must-have for a good romance novel is an interesting story line. Sounds simple, right? But I don't know how many times I've come away from a story disappointed that there was simply no story to the book. Sure, sexual tension is great, hot love scenes are great, but something besides sex has to be happening for a story to work for me. A rule of thumb for me-if I took out the sex and there wasn't anything left, it wasn't a good book! In my own work, if the book is to be a full-length novel, I will frequently add an element of suspense around which I build my plot.
The second must-have for a good romance novel is a likeable hero and heroine. The reader must be able to empathize with both the hero and heroine or the story falls flat. A huge pet peeve for me is the harsh, cruel hero and the doormat heroine who falls for him anyway. Perhaps in reaction to this, my heroes are usually sweethearts (my editors rave over them)…but I have been instructed numerous times by numerous editors to make my heroines nicer and more loveable! Hopefully I have learned to do this.
Another absolute necessity is an ongoing conflict that is serious enough to keep these likeable characters at odds for most if not all of the story. This conflict, which can take many forms, must be compelling. No simple misunderstandings that could be resolved in a simple conversation. This conflict should be something they must work together to resolve in a way that will satisfy both them and the reader.
An important element of the story is the backdrop or setting. Almost any setting will work if, and only if, the story would believably take place in that environment. That was much of my motivation for setting the Smoky Blue series in Eastern Tennessee and not writing those stories as a continuation of the Texas Hill Country series. The characters are bluegrass and mountain music musicians and Acoustics is a bluegrass nightclub. While I love bluegrass and mountain music dearly, the genre is not popular in Texas and bluegrass music as a backdrop would be totally unrealistic.
The last element that is needed for a romance novel, or any written work, to be good is that it be well-written and painstakingly edited. A good novel is not written in a vacuum, and a professional author hopefully knows this. My stories are seen by more eyes than my own. They go first to a skilled beta reader and next to a professional content editor. These two people tell me that my hero wouldn't do or say that in a particular situation or that my manuscript is waaay too long! Then, after I have addressed their concerns, I have a copy editor who tackles spelling, capitalization and punctuation. I am grateful to my publisher, Boroughs Publishing, for the quality editing that helps me make my stories just that much better.
Of course, other authors would include other elements-humor, nail-biting suspense, maybe a hard-core villain or two, depending on what stories they write. But these are mine. If I pick up a book and these elements are present, I'm going to enjoy the story!
Thirty-year-old musician Leilani Mahuiki is in Tennessee to find Joe Barstow, the birth father whose bone marrow might save her daughter's life. She finds Bradley, too, Joe's adopted son. Against all odds, she and Bradley make wonderful music together, she on the ukulele, he on the banjo. And Bradley is everything else she's ever wanted in a man.

Bradley wants her, too. But is that enough? He needs a family of his own. Having grown up an outsider, he's always dreamt of something simple and old-fashioned. No entanglements. No complications. Just mom, dad, and the kids. Not something Leilani can ever offer. She already has the very complications and entanglements that he so desperately wants to avoid, and that are not going away any time soon. And yet, as he and Leilani pull out all the stops to save her daughter's life, he knows Leilani is the only woman for him. The most beautiful music in the world can sometimes happen when disharmony resolves—and a lonely Tennessee winter can become a tropical paradise.
Enjoy an Excerpt
He eased open the bedroom door and tiptoed down the hall to the landing, where he could see down the stairs into the living room. What in the world? Leilani carried a garbage sack across the room to her small dining room table. Bradley watched as she eased open the sack and started slowly withdrawing colored cups and spoons. It was the garbage from the club tonight, the cups and spoons they'd all used to eat the pudding and drink the Bay Breeze. His eyes narrowed as she zeroed in on the red and blue cups and the red spoon. He'd watched enough crime scene television shows to know what she was doing. She wanted somebody's DNA sample. But whose? And why?
Only one way he knew to find out.
Bradley tiptoed down the stairs and stood with his arms folded as Leilani carefully put the cups and spoon into a gallon-sized plastic sack and zipped it shut. Intent on her task, she didn't notice him until she'd loaded the rest of the garbage back into the sack and turned around with the sack in her arms. She stared at him in shock and the bag slipped out of her arms, spilling dirty cups and spoons all over the floor. "Shit, Bradley, you startled me." Her eyes widened and she looked like a deer caught in the headlights.
Bradley did not try to hide his suspicion. "Care to explain what the hell you're doing?"
She shrugged, looking resigned. "I may as well, you're all going to find out anyway. Help me get this mess cleaned up first. I don't want the sticky pudding soaking into the carpet."
"To hell with the carpet," Bradley said harshly. "Tell me what's going on."
"To hell with your attitude. The mess first, then the explanation." Leilani held two dishtowels under the tap and threw one at him, hitting him in the middle of his chest. "Help me clean up and I'll tell you all about it."
He gave her a go-to-hell look but started picking up the dirty cups and spoons. He sneaked a glance in her direction. Her face was expressionless, but her trembling hands gave her away. She was in the grip of powerful emotion, so powerful that she was hanging on by a thread. Whatever was going on was important to her.
They got the mess cleaned up. Leilani took the soiled dishtowel from him and motioned to the sofa. "This may take a few minutes."
Bradley sat down across from her. "Okay, spill. Whose DNA are you after and why?"
"Joe's. I have reason to believe that Joe Barstow is my father."
Bradley felt a river of ice gush down his back. "What the hell do you mean, you think Joe Barstow's your father? You're from Hawaii. Joe's never been to Hawaii."
"No, but Debbie Pickens has been to Tennessee. Mom used to sing on the bluegrass circuit. She was a damned fine dulcimer player."
"Which is why you know bluegrass music and play the dulcimer so well. She taught you."
Leilani smiled faintly. "We are the only two dulcimer players in Hawaii. Anyway, she got pregnant with me somewhere in Tennessee at a bluegrass festival. I figured out about when I was conceived and found an old festival flyer in her keepsake box. She'd circled her picture and the picture of The Barstows on that flyer. I don't know, obviously, but I think she and Joe hooked up that weekend. Here, let me show you." She ran upstairs and came back a moment later with an old flyer. "Take a look."
Bradley took the flyer from her with fingers that trembled, and stared down at the circled pictures of a pretty young woman and The Barstows as they appeared thirty-one years ago. A much younger Joe, the only original member of the band still performing, smiled up at him out of the picture. "So based on just a date and a flyer, you think Joe's your father? What else do you have that makes you think that?"
Leilani lifted her hands and pulled the hair up off her face, exposing the wide forehead and sharp widow's peak that so defined both Joe's and his brother's faces. And the cheekbones and the blue eyes. Bradley's breath caught in his throat. How could he have missed it? How could any of them have missed it? No wonder she'd looked so familiar the first time he'd laid eyes on her. Underneath all the hair she wore down around her face, she looked like Joe. Even more strikingly, she looked like Jake.
She looked like her dead brother.
She looked like her father.
About the Author: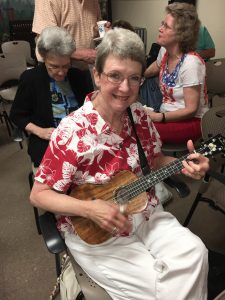 Author of thirty romance novels, Emily Mims combined her writing career with a career in public education until leaving the classroom to write full time. The mother of two sons and grandmother of six, she and her husband Charles live in central Texas but frequently visit grandchildren in eastern Tennessee and Georgia. She plays the piano, organ, dulcimer, and ukulele and belongs to two performing bands. She says, "I love to write romances because I believe in them. Romance happened to me and it can happen to any woman-if she'll just let it."
Website | Facebook | Twitter
Buy the book at Amazon.