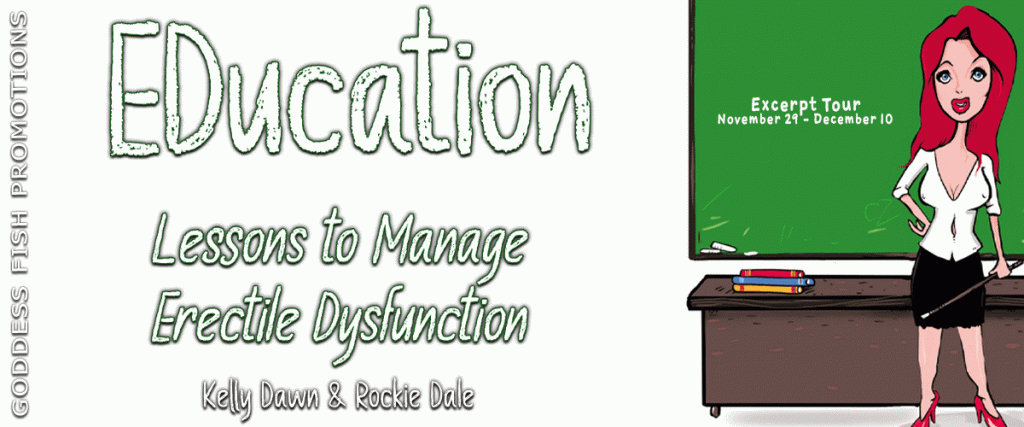 This post is part of a virtual book tour organized by Goddess Fish Promotions. Kelly Dawn & Rockie Dale will be awarding a $15 Amazon or B/N GC to a randomly drawn winner via rafflecopter during the tour. Click on the tour banner to see the other stops on the tour.
No man likes to see a doctor at the best of times, but when the diagnosis is erectile dysfunction, it can feel like a life sentence.

There was a time not so long ago when talking about erectile dysfunction was taboo and rarely talked about in public. That began to change in the late '90s, when advertisements for Viagra began to air on TV. Today, the erectile dysfunction business is a multi-billion-dollar industry with great promises and limited advice.

The authors of EDucation are a real-life couple who had to deal with erectile dysfunction early on in their relationship. They found a few books on erectile dysfunction, but they were very clinical in nature, so they wrote their own book filled with practical advice, like whisky dick is real and having a few before the lights go out is a bad idea.

EDucation is a light-hearted, helpful and fun view of erectile dysfunction for men and their partners!

Remember: it's all in your head!
Enjoy an Exclusive Excerpt
Make the Most of Every Hard-On
The hard-on defines a man from puberty until he dies. While men with ED can't achieve and/or maintain an erection for intercourse, they can still get hard for shorter periods of time.
Getting a hard-on is a signal that blood is still flowing to the penis and that's good news! Morning wood is a great sign that ED has left the bedroom. The brain has more issues with ED than the penis (See Chapter 11 – It's All in the Coconut).
There is nothing more satisfying to an ED sufferer than finding out the plumbing still works, even if it's not up to old standards.
It's a big relief to see it still functions, if only for a short time.
If ED has left the room and your partner is sleeping, you might want to wake them up. They will surely appreciate this milestone, so make the best of the moment!
If you don't use it, you'll lose it!
For the Partner: Never Waste a Hard-On
Never waste a hard-on. It doesn't matter if it's 3 a.m., 6 a.m., or mid-afternoon—make use of it. Your guy will be so proud of that moment of near normalcy that you'd be crushing him by not taking advantage of the situation.
To a man with ED, getting morning wood is like winning the lottery. Partners, be sure to make the most of this opportunity. It's important to your guy, so don't waste a minute! Sure, it's early and you're tired and the alarm won't go off for another 20 minutes, but your eagerness will help the little guy.
Your man does what he can for you, so do the same for him. Relationships are a two-way street. Go ahead, seize the opportunity! Like it on top? Go for it—he's already on his back!
Remember, you are fighting ED as a team! It may only be a couple of quick strokes this morning, but every one leads to a bigger, harder and longer adventure next time.
About the Authors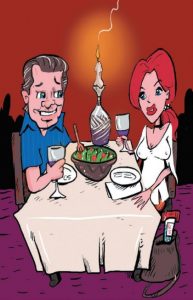 We are Rockie and Kelly, two people in their 50s, who met online after our marriages fell apart. The late 40s and early 50s are a difficult time for many couples, as the kids start to leave home and you wonder what the next chapter holds for you. There may be financial, career, relationship and — in particular — sex issues that suddenly rear their ugly heads.
We spent a long time talking and texting prior to meeting in person, and eventually, as our relationship grew, we were ready for intimacy. He was upfront from the beginning that he suffered from Erectile Dysfunction (ED). His honesty about ED helped us to deal with this and, as our relationship progressed, we found different solutions to improve our sex life. We also discovered that while there is a lot of information available about ED, most of the books on this topic are very clinical and serious. As time went on and we became better acquainted with ED, we decided that we wanted to take what we had learned and write a book that would be both helpful and humorous in order to help other couples.
You will notice that we have included a song at the beginning of each chapter. We felt the song lyrics had hidden meaning for us, from our point of view of ED. If you are not familiar with these songs, take time to listen to them and see if you can find or make the connection with Erectile Dysfunction.
It is important to note that we are not medical professionals, nor sex therapists, and do not offer a cure. We are here to give you fun and practical advice on how to live with ED and have a fulfilling sex life.
This book is meant for both men and women, whether new to the diagnosis of Erectile Dysfunction, or in the midst of dealing with it—married or otherwise. We hope it helps you find a new normalcy in the bedroom, and that you enjoy our straightforward and unconventional approach!
Website | Facebook | Instagram | Twitter | Goodreads
Buy the book at Amazon, Amazon CA, Bookshop, Indigo Chapters, Barnes and Noble, Book Depository, iBooks, or Smashwords.