This post is part of a virtual book tour organized by
Goddess Fish Promotions
. The author will be awarding a $20 Amazon or B/N GC to a randomly drawn winner via rafflecopter during the tour. Click on the tour banner to see the other stops on the tour.
Dueling personalities
"In your dreams you can have your eggs any way you want them, but you cannot eat them." ~ Anna Freud
Developing a good story is a lot like sex (in a snow globe).
The story starts as a small shiver of hope, a spark in my imagination. The tricky thing is, I can dream about my story all I like, but until pen is put to paper, it doesn't exist. Even then, getting from concept to satisfaction rarely happens in one stream of consciousness spill. Just like sex, it's a lot messier than that, full of wrong moves and embarrassing passages.
One process I use to get through all the confusing messiness is to recognize the difference between my creative inner voice and my inner critical voice. Each has its purpose, but at different stages of the process.
The artist's role is to feel out the scene rather than think it out, get into the skin of the characters, see the world from their perspective. That, is, they go into the snow globe and look around. Their job is to look in all directions, no matter how crazy. It's messy good fun.
I'll jot notes in a word document, on index cards, write by hand, draw little pictures, sometimes even writing with crayons on big pieces of paper. What colour is the room? What am I writing about? Details come in snippets: Is Josie in a rush, if so where is she going, what will she do there, what is she thinking as she hurries along? Thoughts, feelings, colours, textures, smells, essences. These are my artist swatches.
In this work I must banish the critic because she will always find some rule or such to ruin the party.
But eventually, I need the critic to pull on her glasses and take a look at the mess. Her job is to find the shape, the structure, the through-line. In some cases she gets all academic on me, looking up different story types or references, identifying the rules of storytelling. Is the story a rags to riches tale, or is it about conquering a monster? If so, what elements are required so I can make sure they are included. Like, a monster story isn't a monster story without a monster, right? Well, duh… (the artist tends to forget such picky details).
There are points where both roles need to work together. Say, when I'm looking at upping the drama ante. In a scene where two people decide to go out on a date, how I can make it so they reveal more of themselves to each other? Should I put them in a rain storm so the girl has to share her soggy but large newspaper with him? Does he spill a coffee on her in a most embarrassing way (and then, does she hold her purse over the stain, or insist on getting it wiped up immediately?)
Back and forth I go, from artist to critic. Big picture to details and back again. Inside the snow globe, outside the snow globe. It's a dance, a seduction, as we go back and forth looking at a single scene, or sometimes the entire work.
Before I discovered this ability to switch I was always at war with myself, not knowing when to dissect or when to freewheel it. I believe it's a part of any artist's job to develop this split personality awareness.
For readers out there, how does the overall journey of a story impact the words on the page you're reading right now? How does the relationship between the whole story and the individual moment you are reading right this minute affect your experience of the whole?
All Trisha wants to do is create something meaningful. Since she's living in Athens, GA, she brings four other women together and the rock band The Forty Watt Flowers is formed. But making good music isn't as easy as it sounds. From the jock atmosphere of the garage where they rehearse to the beer-soaked bars when they gig, these five young women struggle to find beauty in the mess of notes they try to play and the chaos of their lives.
Enjoy an excerpt:
First Rehearsal, Aline & Trisha
Trisha sat on the curb beside her. "Aline, I'm not an experienced musician or anything. I have no idea what we're doing. I'm just—"
"You're going to do very well at this, I can tell," Aline said.
"How?"
"I just can, that's all."
Their gazes met. Aline's smile was so open, like a warm bath.
Trisha asked, "When you write a poem, how do you do it?"
Aline bit her lip. "A poem for me …" She shook her head, started again, "The first thing I do is I get all quiet and I listen."
"Listen?"
Aline nodded. "I start with something that resonates with me," she said. "It's like I'm looking for the seed. That seed has to shake, like all of inside me is just going B-O-I-N-G-! B-O-I-N-G-!"
Trisha repeated, "Boing."
Aline sang, drawing it out, "B-O-I-N-G —I-N-G!"
Trisha repeated, "B-O-I-N-G —I-N-G!"
Aline smiled. "You got it." Then with eyes intent on that interior space of hers, she continued, "Well, that boing gives me a beat. Some days, there's nothing there. Other days, there's ten or twelve ideas screaming and it scares me. And then I—"
A thought rang like a chord, high and clear in Trisha's thoughts. She wasn't sure if it was because of what Aline had said, or if she'd just needed the space to let it appear. But there it was. She jumped up.
"Aline?" she said.
"Yes?"
"We need to get back in there."
About the Author: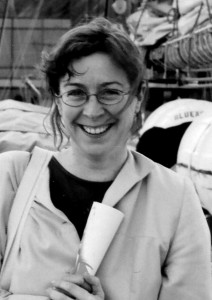 Colleen is award-winning editor who started her writing life as a playwright. She has had 7 plays produced across Canada and worked with the likes of Samantha Bee (yes, from The Daily Show) and Leah Cherniak.
Her plays include Back Alley Boys about the hardcore punk scene in Toronto, Eye am Hear which tells the tale of a luddite teenage squatters at some undetermined punkish time in the future, A Brief Case of Crack Addicted Cockroaches about the relationship between the media and politics featuring a city councillor who smokes crack (which was never produced because it was too off the wall) and Interbastation about the beauty in ugliness and the ugliness in beauty. Her novel Public Image tied for second in the Anvil Press International 3-day Novel competition.
In addition to her work as a playwright, Colleen puts on the dramaturgy, editor and script doctor hats for a range of publishers, producers and writer clients. She has a Master in Creative Writing from the prestigious UBC Department of Theatre, Film and Creative Writing and has taught play writing at the university level. She's also done the Board of Directors thing with the Playwrights Guild of Canada, The Playwrights Theatre Centre in Vancouver and other arts organizations.
She was managing editor of Taking the Stage: Selections from plays by Canadian Women which was selected as the "most saleable dramatic publication of the year" by the Canadian Booksellers' Association. She has also been awarded Arts Council grants by the province of Ontario and Nova Scotia. She has served on the judging panel of several internationl novel awards. Her one-person play Interbastation was selected as one of the top-10 best shows by CBC Winnipeg in 1998.
She lived in Athens from 1999 to 2001 and, while there, reviewed and edited manuscripts for Hill Street Press.
Colleen currently resides in her birthplace, Toronto, with three grey cats and a drawer full of lint brushes.
Website | Goodreads | Smashwords | Facebook | Twitter
Buy the book at Amazon or Barnes and Noble.