Long and Short Reviews welcomes Joe Cosentino, author of the Nicky and Noah mystery series. Post a comment about cozy mysteries. The one that tickles our whodunit bone the most will receive the code for a gift audiobook of DRAMA QUEEN (performed by Michael Gilboe and published by Lethe Press), the first Nicky and Noah mystery from the author Joe Cosentino.
What are your favorite TV shows?
I love watching reruns of Murder She Wrote, Hart to Hart, and The Hardy Boys. So you can imagine how thrilled I was when a reviewer called Drama Queen, the first Nicky and Noah mystery, "hysterically funny farce, Murder She Wrote meets Hart to Hart meets The Hardy Boys." Another reviewer said it was "a captivating whodunit with a surprise ending," One reviewer said it was the funniest book of the year! Who am I to argue?
What is your favorite meal?
I wrote it into Drama Muscle, the second Nicky and Noah mystery. There's a really funny scene where Noah tries to impress his meat and potato type parents from Wisconsin with his fine culinary skills and it backfires on him. Thankfully Nicky saves the day. The dinner is a blue cheese and pear tart with a fig and olive tapenade, avgolemono soup, pumpkin parsnip ravioli, roasted asparagus in a beet avocado reduction, chicken scarpariello, seven mushroom brown rice risotto, and flambéed vanilla-poached peer crepes with cinnamon.
If you were to write a series of novels, what would it be about?
I have written five series. The Nicky and Noah mysteries are farcical whodunits taking place at an Edwardian style New England college. In Drama Queen, college theatre professors were dropping like stage curtains and amateur sleuths/college theatre professors Nicky and Noah had to use their theatre skills, including impersonating other people, to figure out whodunit. When the ebook reached eighteen on the Amazon bestsellers list in its category and the paperback and audiobook (with all twenty-four roles played by Michael Gilboe) sold like tickets to Les Mis after the Tony Awards, it was time for another Nicky and Noah mystery. So in the current release, Drama Muscle, Nicky and Noah don their gay Holmes and Watson personas again to find out who is murdering musclemen in the Bodybuilding Department. In the novel Nicky is directing bodybuilding students in Treemeadow College's annual Bodybuilding competition on campus. Bodybuilding students and faculty drop faster than barbells until Nicky figures out the identity of the murderer, as well as Noah's secret revolving around Van Granite, one of the bodybuilding professors. Noah's hysterically funny parents visit from Wisconsin and are drawn into the action, and Nicky and Noah reach a milestone by the end of the novel. The third book (Drama Cruise not yet published) takes us on a cruise to Alaska for sights of glaciers and whales while Nicky directs a murder mystery dinner theatre show onboard ship. You guessed it, cast members drop overboard like anchors, and Nicky and Noah have to figure out whodunit. In each book Nicky and Noah's relationship grows stronger. Readers fall in love with them as they fall in love with each other.
My other mystery series is the Jana Lane mysteries. I created a heroine who was the biggest child star ever until she was attacked on the studio lot at eighteen years old. In Paper Doll (Whiskey Creek Press), Jana at thirty-eight lives with her family in a mansion in picturesque Hudson Valley, New York. Her flashbacks from the past become murder attempts in her future. Forced to summon up the lost courage she had as a child, Jana ventures back to Hollywood, which helps her uncover a web of secrets about everyone she loves. She also embarks on a romance with the devilishly handsome son of her old producer, Rocco Cavoto. In Porcelain Doll (The Wild Rose Press releasing in March), Jana makes a comeback film and uncovers who is being murdered on the set and why. Her heart is set aflutter by her incredibly gorgeous co-star, Jason Apollo. In Satin Doll (not yet released from The Wild Rose Press), Jana and family head to Washington, DC, where Jana plays a US senator in a new film, and becomes embroiled in a murder and corruption at the senate chamber. She also embarks on a romance with Chris Bruno, the muscular detective. In China Doll (not yet released from The Wild Rose Press), Jana heads to New York City to star in a Broadway play, enchanted by her gorgeous co-star Peter Stevens, and faced with murder on stage and off. Since the novels take place in the 1980's, Jana's agent and best friend are gay, and Jana is somewhat of a gay activist, the AIDS epidemic is a large part of the novels.
My two In Your Heart novellas, An Infatuation and A Shooting Star, did so well as e-books that Dreamspinner Press is releasing them together as a paperback this March.
Also, my fairytale stories, The Naked Prince and Other Tales from Fairyland, will be released as an e-book by Dreamspinner Press on January 27.
Finally, Nine Star Press is publishing my two novels that take place at a gay summer resort on the Jersey Shore: Cozzi Cove: Bouncing Back and Cozzi Cove: Moving Forward.
I know, my friends tell me I write faster than they can read!
Is there a writer you idolize? If so who?
I learned from the best! I've read every Agatha Christie novel and play many times. She is a genius at outlining when and where to give the reader what information. I love the inversion in her books, where she uses sleight of hand to lay out all the information, but not in a straight forward manner. The reader becomes the sleuth to put all the pieces of the puzzle together. I try to include plot twists and turns, hidden clues, and surprising yet justified endings in my mysteries. As in an Armistead Maupin novel, the characters in my novels are wacky, surprising, and endearing.
How did you come up for the title of this book?
Since Nicky and Noah are theatre professors directing the bodybuilding competition on campus, Drama Muscle seemed like the perfect title for book two in the series. I have always been fascinated with bodybuilders. The concept of eating protein every two hours, lifting weights for three hours a day, shaving every body part, spray tanning, and posing in tiny gold trunks is amazing to me. What dedication! Since I work out every day (yet see very little results!) and am enamored of the real bodybuilders who are so big they don't even need to iron their shirts, Drama Muscle holds a special place in my heart. I hope your readers will pick it up and enjoy!
I love hearing from readers, they can contact me via my website.
It could be lights out for college theatre professor Nicky Abbondanza. With dead bodybuilders popping up on campus, Nicky, and his favorite colleague/life partner Noah Oliver, must use their drama skills to figure out who is taking down pumped up musclemen in the Physical Education building before it is curtain down for Nicky and Noah. Complicating matters is a visit from Noah's parents from Wisconsin, and Nicky's suspicion that Noah may be hiding more than a cut, smooth body. You will be applauding and shouting Bravo for Joe Cosentino's fast-paced, side-splittingly funny, edge-of-your-seat entertaining second novel in this delightful series. Curtain up and weights up!
Enjoy an excerpt:
Noah opened his mouth to say something, but Rodney Towers interrupted. "Professor, I was thinking about what Professor Abbondanza mentioned."
Noah sighed. "Which of the numerous things said by Professor Abbondanza are you referring to, Rodney?"
"The thing about Zeus and Ganymede getting it on." Rodney looked as if someone had held his nose and poured vinegar into his mouth.
Noah tried to speak again, and Maria Ruiz (our Athena) interrupted. "Homophobe anyone?" Maria stood nose to nose with Rodney. "What's wrong with you, Rodney?" She pointed to the twins at the other end of the line. "Tim and Kim are playing Hercules and Adonis. Everyone knows they were a couple. You don't hear them complaining."
"Um now that you like mention it, Kim would rather, you know, play another part," said Tim.
"Um so would Tim," added Kim.
Posed with their hands on their hips, the twins looked like an advertisement for The King and I in double vision.
Let me explain. Kim and Tim Sim (Try saying that three times fast), as identical twins, can read each other's minds. I could never read my brother's mind when we were kids. That's why I had to read his diary, listen in on his phone conversations, and bug his book bag.
The muscles on Rodney's massive back curled as if snarling. "Let me make myself clear, Maria. I'm not happy playing Zeus, because I don't want any part of an unnatural lifestyle."
Maria shot him dagger eyes. "And pumping iron three hours a day and spray-painting our bodies is natural?"
"Maria knows all about being natural. Don't you, Maria?" said compact Jonathan Toner (Achilles) with a smirk on his pimply face.
"Shut up, Jonathan," replied Maria as if swatting a pesky fly.
Rodney said to his workout partner, "Maria, don't rag on me because I believe in the Bible."
"Then you better get to work in the fields, 'cause you're a slave, honey," Maria answered with a wave of her muscular arm and snap of her strong fingers.
"Kiss my muscular black ass."
"Kiss my muscular Latina ass."
Noah said, like a referee at an A.D.D. Little League game, "Okay, let's talk about your character, Maria. Athena was the goddess of wisdom, courage, and justice. As you think about your poses—"
"Try to incorporate those feelings into your performance," I said.
"Right," Noah added with narrowed eyes in my direction.
I mimed buttoning my lips and rested my back against the wall.
Noah continued, "And Jonathan, Achilles was shot in the heel, the only weak part of his body."
"Hence the term 'Achilles heel,'" I added, then placed my hand over my big mouth.
Jonathan flexed his small, high-peaked biceps. "There's no part of me that's weak."
"Except your brain," said Maria.
Waving his stubby finger under her square jaw, Jonathan said, "Careful, Maria. You don't want to piss me off."
Like a substitute teacher on the last day of school, Noah tried to keep control. Noticing Mack Heath (Ganymede) standing quietly, Noah said, "Let's talk about Mack's character."
Middle weight, fair, perfectly proportioned, and amazingly cut, Mack said, "Didn't Ganymede represent youth and beauty?"
"Correct!" I said then covered my mouth with both hands.
Jillian Flowers (our Aphrodite), a raving blonde beauty, gazed at Mack with lust in her violet eyes. "You um totally are like Ganymede, Mack."
Mack's cheeks grew flushed. "Thanks."
"For what?" Jillian asked.
"You just said I'm like Ganymede."
Jillian said, "Um isn't that like who you are, you know, playing?"
Poor Jillian. Last year, while working out, a barbell accidentally fell on Jillian's head, leaving her with poor short-term memory.
"Let's talk about your character, Jillian," said Noah, clearly hoping to get things back on track. "Aphrodite is the goddess of beauty—"
"And love," I added, then hid my face underneath my blazer.
Jillian batted her long lashes at Mack, then rested her strong hand on his mountainous shoulder. "Did um Aphrodite and Ganymede ever like, you know, hook up?"
"No, they didn't, Jillian." Mack slid his shoulder out of her clutches.
"Who didn't what?" asked Jillian in confusion.
"Aphrodite and Ganymede were never a couple," Mack explained, then walked away.
Jillian responded, "Who said they were?"
"Tim is like getting, you know, bored," said Kim.
"Kim um wants to like get back to, you know, rehearsing," added Tim.
Having lost his patience, Jonathan walked past each of his classmates with a smirk on his pockmarked face, like a carnival sharpshooter wiping out a row of rubber duckies. "Jillian, Mack isn't into you. Mack isn't into anybody, except Mack. Tim and Kim, you don't need this competition. Stay home and wait for Daddy Big Bucks Sim to kick the chop suey. Maria, you don't want to tick me off, and you know why. Rodney, join the twentieth century."
About the Author: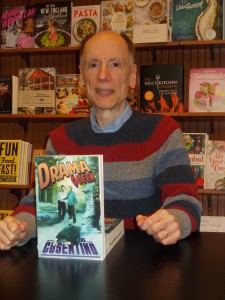 Amazon Bestselling author Joe Cosentino wrote Drama Queen and Drama Muscle Nicky and Noah mysteries (Lethe Press), An Infatuation, A Shooting Star, A Home for the Holidays, The Naked Prince and Other Tales from Fairyland (Dreamspinner Press), Cozzi Cove: Bouncing Back (Nine Star Press), Paper Doll (Whiskey Creek Press) and Porcelain Doll (Wild Rose Press) Jana Lane mysteries, and The Nutcracker and the Mouse King (Eldridge Plays and Musicals). He has appeared in principal acting roles in film, television, and theatre, opposite stars such as Bruce Willis, Rosie O'Donnell, Nathan Lane, Holland Taylor, and Jason Robards. His one-act plays, Infatuation and Neighbor, were performed in New York City. He wrote The Perils of Pauline educational film (Prentice Hall Publishers). Joe is currently Head of the Department/Professor at a college in upstate New York, and is happily married. His upcoming novels are Drama Cruise Nicky and Noah mystery (Lethe Press), Satin Doll and China Doll Jana Lane mysteries (Wild Rose Press), and Cozzi Cove: Moving Forward (Nine Star Press).
Website | Facebook | Twitter | Goodreads | Amazon Author Page
Buy the book at Amazon or the publisher.