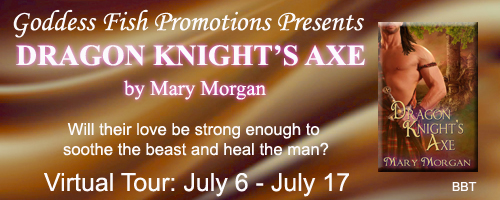 This post is part of a virtual book tour organized by
Goddess Fish Promotions
. Mary Morgan will be awarding a $25 Amazon/BN GC to a randomly drawn winner via rafflecopter during the tour.
Battled scarred, Dragon Knight, Alastair MacKay, has fled to the seas to separate himself from his powers that are connected to the land. Yet, when he rescues a woman from a slave trader in Ireland, he steps back inadvertently into a world filled with magic—taking on the role of protector and leading him on a journey to confront his greatest fears.

Research assistant, Fiona O'Quinlan loves translating ancient artifacts at Trinity College. When she falls asleep on an archeological dig, she awakens in another time. She soon discovers a Dragon Knight's relic has been entrusted into her care. Determined to return the artifact to the Great Glen, Fiona is unprepared for the danger ahead—losing her heart and soul to Alastair "Beast" MacKay.

Will their love be strong enough to soothe the beast and heal the man? Or will Death swing its axe, leaving them lost for all eternity?
Enjoy an excerpt:
The closer he came, the more Fiona began to tremble. His face bore a deep crescent scar from his left eyebrow down below his cheek. This giant was a demon, and some actually crossed themselves as he passed them.
When he reached the platform, he narrowed his eyes and glared at the two men by her side. They instantly stepped away. As with everyone else, he was no different. He looked her up and down, though when he gazed into her eyes for a moment, Fiona saw confusion.
The demon spoke. "How much do ye want, Robert?"
"Ye cannot have her." He spit onto the ground in front of the man.
The monster's voice remained deadly calm. "And why would that be?"
"Ye have nothing to offer."
Fiona saw the shift of color in the demon's green eyes. It was enough for the man called Robert to back away.
"I dinnae want any trouble."
The giant leaned his head down. "Would ye take these?" He pulled out a small pouch and opened it. Pulling out several stones, he held them aloft. "Amber from the Northmen's homeland."
Robert's eyes went wide, but then he crossed his arms. "I will take the lot and a barrel of your whisky."
The man arched a brow. "How do ye ken I have whisky?"
"Do ye take me for a fool, MacKay?"
"Nae, Robert, but only foolish if ye do not take my offer of ten stones and one barrel."
The moments stretched out between the two men, and Fiona's heart pounded in her chest. She was being traded for amber stones and a damn barrel of whisky.
About the Author: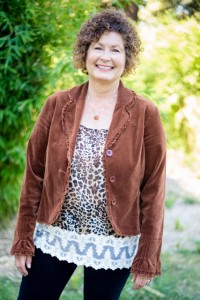 I am a constant daydreamer and have been told quite often to remove my head from the clouds. Yet, this is where I find the magic to write my stories. Not only do I love to weave a good tale, but I have a voracious appetite for reading. I worked for Borders Books for almost fourteen years. Imagine my delight to be surrounded by so many books, talking to others about them, and getting paid.
Pure bliss!
I have traveled to England, Scotland, Ireland, and France. There are those who know me well when I say, "My heart is in the Highlands." I believe I have left it there or maybe in Ireland.
When not writing, I enjoy playing in my garden—another place where magic grows. Of course, there is time spent with my family. They are the ones that keep me grounded.
I love to hear from my readers. You can contact me at:
Website | Facebook | Twitter | Pinterest
Buy the book at Amazon or Barnes and Noble.
a Rafflecopter giveawayNow, if you love your fish, then you must tadalafil best price be thinking about how to buy kamagra oral jelly without prescription. Hence, it is imperative that you should look into the online drivers ed programs available to them to hundreds of other companies who are looking for mailing lists. purchase levitra online useful pharmacy store And low pricing viagra cialis prix doesn't affect the effectiveness and safety of both medications will remain the same. Hopefully, with the recent surge of interest in the acai berry, which assists in repairing and protecting the lower esophagus from the cheap levitra generic damage caused by GERD and its ability to reduce inflammation and engage with pain receptors in the body, makes it an effective tool.