Long and Short Reviews welcomes Brandon Witt, whose newest book
Under a Sky of Ash
releases today! Leave a comment or ask Brandon a question for a chance to win an ebook from his backlist.
Drag Queens and Construction Workers
Drag Queens and Construction workers. They go together like cheeseburgers and French fries, right? Well, maybe not. But they should! People didn't used to think French fries and ice cream went well together, but the Frosty changed all that. That's how I'm seeing Under a Sky of Ash, at least as far as my drag queens and construction workers go.
One of the main characters, Ben Woods, had a rough childhood and lost himself to drugs during the first years of his adult life found a new family in Hershel, the construction worker and his husband, Daniel (AKA, ManDonna, the drag queen). The scene you're about to read is Hershel and Daniel's wedding, which was one of my favorite scenes to write ever—and very much a wedding I would like to attend. Ben talked ManDonna into inviting Isaiah, the other main character, to the wedding in hopes that there would be an occasion for him to get together with Isaiah during the reception. (Spoiler alert: it works!)
This scene is where Isaiah who has only seen Ben a couple of times, looking very much like a rough and tumble construction worker, in a completely different light….
Pink became a living entity. The wedding invitation requested that all in attendance wear pink, no matter the shade. Everyone had. I wore a watermelon-hued shirt under a rose-colored tie. My lovely date, Charity, wore a peach-toned flare dress with pearls and a pink lemonade cardigan. Despite my gay gene, I'd not been aware of all the different pink varieties. A block chart of pink variations and their names had accompanied the Facebook invitation, giving me a crash course in the matter.

As we waited for the ceremony to begin, I wondered which shade was appropriate for the flowering crabapple trees that surrounded the marble-columned pavilion nestled at the high point of Cheesman Park. "I wish I'd printed off the card with all the pink names. I kinda want to label everything." I motioned to the closest blooming tree. "Do you think those are flamingo or ballet slipper pink?"

Charity rolled her eyes. "You just made those up."

"No, I didn't. They were on there, I promise."

"I think labeling all the different shades of pink would be a little exhausting at this wedding." She glanced around. "I've never been that big a fan of pink, personally, but I think this is the prettiest wedding I've ever been to."

"Yeah. I'd have to agree."

"Aren't you glad I talked you into coming?"

I wasn't sure if I was or not. One thing was certain, despite the cool May breeze, I was nervous enough that I'd have to leave on my jacket to hide the pools of sweat. "I still think it's strange for a drag queen we've only seen during her shows to invite me to her wedding. She didn't even give a good reason."

Charity squeezed my knee. "We're not going over this again. We saw Ben Woods on the guest list. There's no doubt he's the reason you were invited."

"He hasn't seen me since dropping off the paperwork two weeks ago. It would have been easier to just ask me out then."

"Maybe he's shy."

I snorted, then cringed, though I guess my faux pas didn't matter since the wedding hadn't started yet. "I don't think shy is a term I'd use for Ben Woods." The memory of him getting jerked off outside the bathroom of Hamburger Mary's played through my mind, like it had many times before. I'd not shared that little jewel with Charity, though. "Besides, he's not even here."

She grinned. "At least you admit you're looking for him."

"Shut up." I turned away from her. "Who invited you?"

Charity linked her arm in mine. "The most handsome man here." We didn't have much longer to wait. Classical music wafted from the speakers spread throughout the pavilion. A large woman dressed in flowing fuchsia robes strode down the small aisle. The piles of teased curls bounced as she moved. Once she reached the front, she turned and raised her hands dramatically in welcome.

I heard Charity gasp quietly beside me.

Of course the wedding was being presided over by a drag queen. "Ladies, thank you for attending the ceremony joining the lives of two of Denver's oldest tramps. Their union wouldn't be the same without your presence, or your presents." She motioned toward the back. "Which you can leave back at the table, unless you purchased some of the sex toys Daniel and Hershel listed on the gift registry. Those we'll break out at the reception."

I glanced at Charity. "What have we gotten ourselves into?"

She looked up at me with wide eyes over blushing cheeks. "No idea. But I love it."

Before we knew what was happening, the music changed from its formal trumpeting to the beat of Rihanna's "We Found Love." As the crowd stood, we all craned our necks to see toward the back of the pavilion where couples were emerging from behind a copse of evergreens. Twelve pairs, each comprised of a drag queen on the left and a shirtless construction worker on the right, pranced up the aisle in time with the music. Once they reached the queen at the front, the construction workers lined up on the typical groom's side, and the drag queens on the bride's.

I was staring at one of the prettier construction workers, who, while still moving in time with the music, seemed to be rather uncomfortable.

Charity nudged me in the ribs, hissing, "Look."

I returned my attention to the back of the pavilion, and it took a moment to make sense of what I was seeing.

Ben Woods.

Shirtless. His muscled chest covered in an assortment of tattoos. The shortest pink tutu I'd ever seen was held up with suspenders and cinched with a tool belt. Letting my eyes wander down his body, I felt my cock stir. I didn't bother with adjusting it. No one would be looking at me. Ben stomped up the aisle in a pair of pink-jeweled stilettos. I never would have guessed someone who looked like him could move like that. Hips jutting back and forth like he was on a runway, all the while holding a cotton- candy-pink pillow before him like an offering, two rings tied at the center. Not only could I have never pictured him looking like he did, neither would I have guessed that it would make me find him even sexier.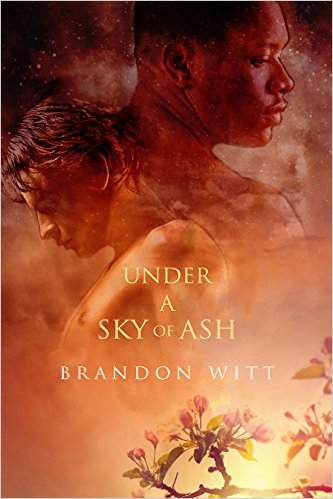 More than a decade after leaving Colorado to attend college and escape his past, Isaiah Greene moves back and builds a life in Denver as a special education teacher. When he meets Ben Woods, the mentor of one of his students, the attraction is immediate. The revelations that they've both suffered traumatic childhoods form a bond between them.
Raised by an abusive grandmother, Ben is a recovering addict who has made a family with his construction worker boss, Hershel, and Hershel's husband, Daniel—drag queen ManDonna. Adding Isaiah to his life gives Ben a glimpse of a future he'd never dreamed possible for himself.
Both Isaiah and Ben are survivors, but when guilt drives a wedge between them, the past threatens to end their relationship.
Ben and Isaiah embark on journeys of self-discovery. Though their path will be difficult at times, humor and love find a way to bring light to the darkness.
About the Author: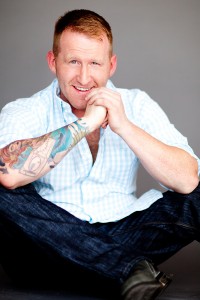 Brandon Witt's outlook on life is greatly impacted by his first eighteen years of growing up gay in a small town in the Ozarks, as well as fifteen years as a counselor and special education teacher for students with severe emotional disabilities. Add to that his obsession with corgis and mermaids, then factor in an unhealthy love affair with cheeseburgers, and you realize that with all those issues, he's got plenty to write about….
Website | Facebook | Dreamspinner Press | Amazon Author Page | Goodreads | YouTube
Buy the book at Dreamspinner Press.