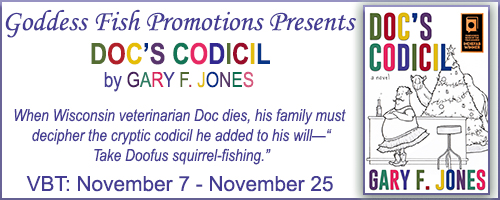 This post is part of a virtual book tour organized by
Goddess Fish Promotions
. Gary F. Jones will be awarding a $20 Amazon or Barnes and Noble GC to a randomly drawn winner via rafflecopter during the tour. Click on the tour banner to see the other stops on the tour.
Doofus
I've frequently been asked how I came up with Doofus, Doc's clueless mentor in Doc's Codicil. The idea came to me in 2006 while I was driving to work and listening to the news. I realized that it would be nearly impossible to explain the national and international current events—of that time or any other—to a five-year-old. At that age teachers and parents would have been telling kids to be kind to one another, to leave the toys of other kid's alone, to share, and to tell the truth. And always listen to adults, because they know what to do.
Yeah. Right.
It would have been cruel and unusual punishment to explain hypocrisy to a kid that age—sort of like coming clean on Santa, the Easter Bunny, and the Tooth Fairy while insisting that adults are honest, trustworthy, and knowledgeable. That's when I thought of Doofus, the cow-flop fairy, patron fairy of wishful thinking and bad judgment, councilor to presidents and advisor to kings.
I was proud of my idea. Insert Doofus in history and a lot of it makes sense. He'd be the kind of advisor who would have thought cornering the silver market in 1980 made sense, or have been the one who advised Franz Joseph to invade Serbia in 1914. "It will only be a small war."
I can picture a drunken Doofus counseling the teenage Paris of Troy. "Go ahead. Tell those three arrogant goddesses which one is the real beauty. Great way to make friends. And with your looks, you could run off with Helen, that girl you've been dreaming about. It'll be a great weekend."
As individuals or small groups, we humans have accomplished remarkable things, but for every Einstein we've produced ten thousand bone-headed dolts. The more I reviewed the stupid mistakes I've made and seen others make, the more I'd like to blame an eager but misguided advisor. Then I could say, "It wasn't my fault. It was Doofus."
When Wisconsin veterinarian Doc dies, his family learns that to inherit his fortune, they must decipher the cryptic codicil he added to his will—"Take Doofus squirrel-fishing"—and they can
only do that by talking to Doc's friends, reading the memoir Doc wrote of a Christmas season decades earlier, searching through Doc's correspondence, and discovering clues around them. Humor abounds as this mismatched lot tries to find time in their hectic lives to work together to solve the puzzle. In the end, will they realize that fortune comes in many guises?

Doc's Codicil is a mystery told with gentle humor. It tells the story of a veterinarian who teaches his heirs a lesson from the grave.
Enjoy an Excerpt:
It was late November, and every breath turned to fog, as I waited and watched a five-hundred-pound calf sniffing a trail of cow patties leading from his pen to a narrow chute. The chute, fifty feet long and bordered by steel rails, curved gently to the right and ended in a head gate that would catch and hold the calf. Once we released the calf, another alley would return him to his pen.
We'd been trying to turn a group of calves into the chute, and they'd been deftly avoiding it. I stood quietly, getting cold and hoping "Sniffer" would decide he'd found a trail used by other cattle and follow it. Two other calves watched their companion and lunged to get ahead of him. They weren't sure about the alley, but they'd be damned if they'd let Sniffer go there, or anywhere else, ahead of them.
Sniffer bolted toward the chute to stay in the lead. Now, we had three calves stuck in an opening two calves wide. All we wanted to do was vaccinate them and send them back to their pen, which should have taken ten seconds per calf, but we'd been working for half an hour and hadn't vaccinated one. This is why cattlemen learn to weave torrid tapestries of profanity.
A few minutes of prodding and profanity and Sniffer pushed ahead of his mates and raced down the alley, pursued by the others. He'd gone barely five yards before he skidded to a halt and desperately tried to back up . . .

About the Author: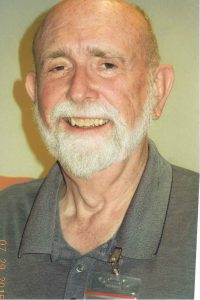 According to Gary Jones, his life has been a testament to questionable decisions and wishful thinking. His wife of forty years, however, says she knows of nothing in the record to justify such unfettered optimism. Jones says the book is a work of fiction; that's his story, and he's sticking to it.
He's part of the last generation of rural veterinarians who worked with cows that had names and personalities, and with dairymen who worked in the barn with their families. He's also one of those baby boomers, crusty codgers who are writing their wills and grousing about kids who can be damned condescending at times.
Gary practiced bovine medicine in rural Wisconsin for nineteen years. He then returned to graduate school at the University of Minnesota, earned a PhD in microbiology, and spent the next nineteen years working on the development of bovine and swine vaccines.
Doc's Codicil is the bronze medal winner of Foreward's INDIEFAB Book of The Year awards, humor category.
Website | Goodreads
Buy the book at
BQB Publishing
,
Amazon
, or
Barnes and Noble
.