This post is part of a virtual book tour organized by Adrienne Giordano to celebrate the release of Dog Collar Knockoff, the second book in her Lucie Rizzo series tomorrow. Enter the Rafflecopter at the end of the post for a chance to win one of two $25.00 gift cards or a swag pack.
Catering to the pampered paws set took Lucie Rizzo from unemployed to entrepreneur. With her dog walking/chic pet accessory business on the verge of success, Lucie's ready to make a name for herself. One not tarnished by her dad's mobster rep.

When an art deal she brokered between clients turns suspicious, it's up to Lucie to sniff out the truth. She might not know the difference between Monet and Manet, but Rizzos are no strangers to jail time—and Lucie refuses to be someone's prison bitch.

Unless that someone is a tall, blond and Irish cop. Detective Tim O'Brien certainly knows how to get Lucie hot under the rhinestone collar. And with her on-again-off-again relationship with Frankie Falcone currently off, O'Brien isn't shy about making her feel wanted, mafia ties and all. Even joining her crack—or crackpot—team on the trail of two paintings with equally shady origins.
Enjoy an excerpt:
Lucie paused in front of the Lutzs' garage while the door made its ascent. The heat from the tiny cobblestone driveway scorched right through the bottom of her sneakers, and she rocked back on her heels. For what this brownstone cost, the driveway should have come with air-conditioning. After all, Chicago in August? The humidity alone could suffocate her.
Once the door silently halted, Lucie pointed toward the interior door. "Stay alert, Lauren. This is where it gets tricky."
The newest part-time member of Lucie's dog walking team studied the door and waited for instructions. Lauren seemed like a nice kid. Well, at twenty, she wasn't really a kid. Lucie was only six years older. Still, Lauren was new to Coco Barknell and needed to understand the intricacies of working with the dogs.
Particularly this dog.
"The door," Lucie said, "is your friend. Otis is the deadly combination of a jumper and a runner."
Lauren scrunched her face. "What?"
"When you open the door, you have to do a body block so he doesn't squeeze through. He's an eighty-five pound Olde English bulldog. If you're not careful, you will either A) wind up flat on your butt with Otis on top of you or B) be chasing him around the neighborhood. I've done both and it's not fun. Plus, it'll destroy your schedule."
And with the number of clients Coco Barknell serviced in a day, the schedule was the Bible. As happy as Lucie was about the growth of her dog walking and upscale-dog accessory business, she hated turning the dogs over to others. Of course, she'd done a thorough background check on Lauren, but these animals were almost her babies and she couldn't trust just anyone with them.
Lucie stepped to the door and planted her feet, weight on her heels. "Are you ready?"
"Ready."
Lauren smiled and maybe that smile had a bit of lady-you're-a-fruitcake in it, but the first time Otis did one of his Underdog leaps, she would learn.
Lucie opened the door and the howling began. "Hi, boy," she said, her voice firm and level, no excitement that would cause a doggie mindmelt. "I'm coming in."
Slowly, she inched the door open and slid through with Lauren bringing up the rear. Otis did his normal jumping and Lucie steadied herself for the onslaught. "Off!"
Finally, he sat, but he tracked Lauren with his eyes. Then—here we go—unable to withstand the pressure of a new person in his space, he leaped, his long tongue flying in search of a cheek to lick.
"Off!"
But Lucie would never be Cesar Milan when it came to making Otis understand who the alpha was. That was Joey's specialty. It helped that he was six-foot-four and weighed somewhere in the vicinity of two-thirty.
"Sit, Otis," Lauren said, her voice calm, yet assertive in a truly enviable way.
Otis sat.
Dressed in micro shorts, a tank top, and sneakers, Lauren epitomized the wholesome, yet sexy college co-ed. Her heart-shaped face and long blond hair only added to the morphing of girl-next-door and sexy vixen. If Lucie wasn't careful, the girl might drive Coco Barknell's male clients insane.
But the risk was worth it. So far she'd been a responsible employee who showed up on time, ready to work.
Lucie led her through the kitchen to the utility closet, strategically placed in a nook between the kitchen and the adjoining dining room. Otis's leash and various other dog supplies—poop bags, treats, shampoo—were all stored there and it made Lucie's life a whole lot simpler. Too bad all her clients weren't this organized.
"Whoa. Is this an Arturo Gomez?"
About the Author: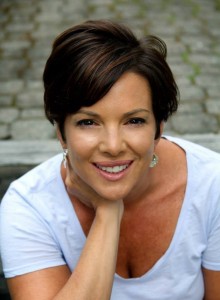 USA Today bestselling author Adrienne Giordano writes romantic suspense and mystery. She is a Jersey girl at heart, but now lives in the Midwest with her workaholic husband, sports obsessed son and Buddy the Wheaten Terrorist (Terrier). She is a co-founder of Romance University blog and Lady Jane's Salon-Naperville, a reading series dedicated to romantic fiction.
Website | Newsletter | Facebook | Twitter | Goodreads | Street Team
Buy the book at Amazon or Barnes and Noble.