Welcome to the excerpt tour for Adrienne Giordano's newest book (Follow the tour to read a different part of the excerpt each day, as they are all part of Chapter One and in chronological order. You can find the list of blogs participating here.) One randomly drawn commenter via the Rafflecopter at the end of the post will win a $20.00 Gift Card plus a Swag Pack from Adrienne and a second commenter will win a $20.00 Gift Card.
Mafia princess turned canine couturier Lucie Rizzo knows dogs are woman's best friend. Thanks to her fashion-forward four-legged clients, Lucie's dog walking/designer pet accessory business is booming. And for once her love life isn't far behind.

Lucie devotes her days to building the Coco Barknell brand, but her nights are all about roguishly sexy Tim O'Brien. At least they will be if she and Detective O'Hottie finally take their relationship to the next level. But bring an Irish cop home to her mobster father? Fuggetaboutit.

Lucie's knack for finding trouble lands her in the doghouse—and on the six o'clock news. Someone's absconded with a million-dollar piece of cinematic costume history, with Lucie the only witness to the crime. Not to mention the prime suspect. To clear her name, she'll need an assist from her entire wacky crew: friends, family…and future (hopefully) lover.
Enjoy the excerpt:
Lucie stood on the sidewalk under a soothing stream of October sunshine while Fin, an eight-month-old Australian shepherd with more energy than a horny frat boy, sniffed at a giant maple tree on Chicago's West Side. After this stop, she'd call it a day. As soon as she got horny frat boy off the tree.
Not always an easy task.
Time to break out some Alpha Lucie. "Okay, Fin. Finish up. No more stalling."
Fin swung his head around, stared at her with his one blue and one green eye, and Alpha Lucie crumbled. Just completely melted. I'm useless to the Alpha population.
In her own defense, Fin's eyes—shades of tropical seas—could take down an entire army. She simply could not get mad at this dog.
Even when he hurled himself at her, blasting her in the chest with both front paws and knocking her on her butt. Or when he decided to stop, plop his furry bottom on the sidewalk and bark—woof, woof, woof.
Three rapid-fire barks meant, at least in Fin's mind, playing fetch. Which he could do for 90 percent of his waking hours.
But she'd been working on him. Giving him a treat every time he kept pace with her. He might be fifty pounds overweight by the time she finished with him, but he'd be a dog walker's dream. A graduate of Coco Barknell.
On the street, a car rolled by, slowing as it went. Probably someone looking for a parking space. They wouldn't find one on this block. Every parked car was squeezed bumper to bumper.
Fin's ear went up, and he barked at the car. Her hero. She bent low, gave him a nuzzle. "You make me crazy, but I love you."
About the Author: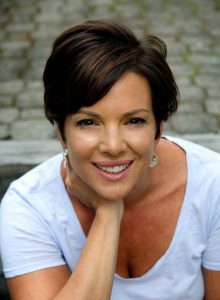 USA Today bestselling author Adrienne Giordano writes romantic suspense and mystery. She is a Jersey girl at heart, but now lives in the Midwest with her workaholic husband, sports obsessed son and Buddy the Wheaten Terrorist (Terrier). She is a co-founder of Romance University blog and Lady Jane's Salon-Naperville, a reading series dedicated to romantic fiction.
Website | Newsletter | Facebook | Twitter | Goodreads | Street Team
Buy the book at Amazon, iBooks, Barnes & Noble, or  Kobo