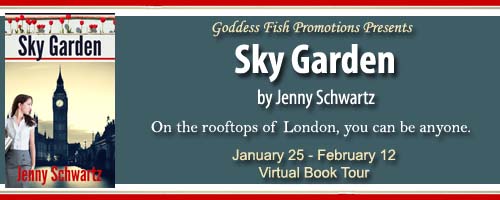 This post is part of a virtual book tour organized by
Goddess Fish Promotions
. Jenny Schwartz will be awarding a $25 Amazon or Barnes and Noble GC to a randomly drawn winner via rafflecopter during the tour. Click on the tour banner to see the other stops on the tour.
Do you believe in ghosts?
In Sky Garden, the heroine is a former stage medium. Lanie's performance used to be one of revealing to audiences how the illusion of communicating with a departed spirit was achieved…and yet, there's an ambiguity to the question. Lanie believes her stage experiences were a performance, but they were also something more. Something that possibly saved her from a serial killer.
Do I believe in ghosts? No, but I'm not an emphatic and convinced sceptic. I believe with Shakespeare that "there are more things in heaven and earth, Horatio, than are dreamt of…". So Sky Garden explores that border country, just a little.
I wonder sometimes why I don't believe in ghosts. Perhaps it's that I haven't had an eerie, inexplicable experience. I haven't felt that tingle at the back of the neck, the sudden chill, a voice on the edge of hearing…
Or is it that I do believe in ghosts but that they scare me so much that I'm whistling in the dark, pretending they're not real?
Not far from where I grew up is a neo-gothic, gorgeous building that houses the local Arts Centre. But originally, the building was the Lunatic Asylum and is reportedly well-haunted. Certainly, people suffered there. I've walked through the building and you can feel that the walls have echoed with agony of mind and body (I won't tell you what the so-called "treatments" of the nineteenth century mentally ill included). Perhaps I simply want to believe that death is an ending, and ghosts don't exist, continuing to suffer as they did in life.
Do you think ghosts are restless spirits, souls of the departed who have unfinished business, or are you a sceptic? Have you encountered a ghost?
On the rooftops of London, you can be anyone.

A year ago, Lanie Briers escaped a serial killer. She grew up in a theatre family and her act was mediumship, but not anymore. Life, now, is a hidden retreat above a quirky Bloomsbury museum, where she waits and watches.

Nick Tawes is an unexpected intrusion. He's a landscape architect filming a television series on roof gardens, and he intends to build one in Lanie's aerial territory. He has his own demons, old family troubles, that lure Lanie out of her refuge and into living again.

But as summer progresses and the sky garden grows, Lanie's enemy is closing in–because some secrets must go to the grave.
Enjoy an excerpt:
Stories fed identity—and changed it.
Lanie had used stories to shock and survive. She'd used them carefully, crafting her old stage act of mediumship to draw out people's stories and reflect them, eliciting gasps of awe at her insight. Magic, went the murmur. But it wasn't magic. They were the same tricks conmen used.
And she'd used those tricks brutally, as the one weapon left to her. Survival had cost her the joy of performing.
But that was the past. She forced the memories away. Here was safe harbor, the library that was a sea captain's final berth. A fantasy, but a comforting one.
She was searching for a spy glass to add to the photos she'd take when the electronic beep from the front door signaled the entrance of a visitor.
Showtime.
A tug at her jacket and a pat to her hair—Good, the chignon doesn't wobble—and she was ready to perform.
About the Author: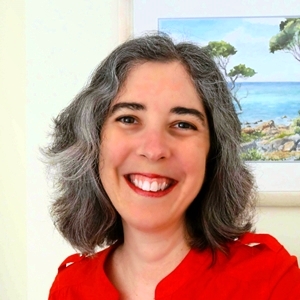 Jenny Schwartz is a hopeful romantic with a degree in Sociology and History — people watching and digging into the past. She lives in Western Australia and is working towards her dream of living by the sea. Jenny writes romantic suspense, as well as contemporary and paranormal romance.
Website | Facebook | Twitter
Buy the book at Amazon for only $0.99 during the tour.