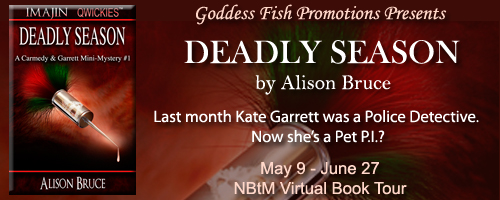 This post is part of a virtual book tour organized by
Goddess Fish Promotions
. Alison Bruce will be awarding a $10 Amazon/BN GC to a randomly drawn winner via rafflecopter during the tour. Click on the tour banner to see the other stops on the tour.
Discovering Characters
By Alison Bruce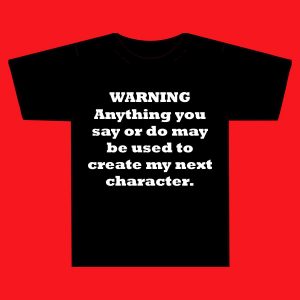 I don't create characters—at least not my main ones—so much as I discover them. They seem to breed in the petri dish of my unconscious mind. They are the offspring of family, friends, enemies, frenemies; people in movies, on TV shows and out of books. I should wear a t-shirt warning people: "Anything you say or do may be used in the creation of a character."
I have literally dreamed up some of my favourite characters, including Kate Garrett and Jake Carmedy of Deadly Legacy and Deadly Season.  When we dream, our minds churn up random thoughts and images then strings them together in new ways. Other people may sleep on a problem and wake up with an answer. I wake up with a character—or the beginning of one.
Once I've discovered my new characters, I have to investigate them. We're all shaped, not only by our genetic code, but by the time, place and culture of where we live. That can be researched.
Kate and Jake haunted my dreams for a few nights before I decided I had to write about them. I knew Jake was a warrior. (In my dreams he was Wolverine of the X-Men.) I decided to make him a former soldier. I researched the Canadian Armed Forces. Me being a bit of a research junkie, I covered all branches including Special Forces. (This came in handy when I wrote A Bodyguard to Remember.) Then I started looking at some of the worst places Canadians have served. Jake hasn't talked about his tours of duty, but I have to have a sense of what he was doing before he became a private investigator.
Kate started off being me if I was a police detective. (My dream, remember?) The trouble was, I knew much more about the Canadian Armed Forces than I knew about Canadian Police practices. I had briefly been a soldier. I had never been a cop.
I knew I had to talk to a real police officer. While I tried to hunt one down, I read everything I could about the RCMP, OPP, and Guelph and Toronto Police Services. This is not an easy task. When I finally managed it (a story for another time) other characters came to me. Once I got started, there was no stopping me. I was button-holing cops in coffee shops, parking lots and, once, at a family funeral. Mostly I'd ask specific questions that wouldn't take up too much of their time. None of my law enforcement characters are based on any one person I interviewed, but their stories, appearance and mannerisms got added to the petri dish that would spawn several characters in three of my books, but especially the Carmedy and Garrett Mysteries.
Last month Kate Garrett was a Police Detective. Now she's a Pet P.I.?

Kate recently inherited half her father's private investigation company and a partner who is as irritating as he is attractive. Kate has been avoiding Jake Carmedy for years, but now her life might depend on him.

Kate and Jake are on the hunt for a serial cat killer who has mysterious connections to her father's last police case. Kate's father had been forced to retire when he was shot investigating a domestic disturbance. Is the shooter back for revenge? And is Kate or Jake next?
Other Books by Alison Bruce
Deadly Legacy
Under A Texas Star
Hazardous Unions (with Kat Flannery)
A Bodyguard to Remember
About the Author: Alison Bruce has had many careers and writing has always been one of them. She is the Canadian author of mystery, romantic suspense and historical western romance novels. Three of her novels have been finalists for genre awards. Deadly Season is a finalist for the Arthur Ellis Awards – Best Novella.
Author and Business Website | Facebook | Blog |
Twitter | Pinterest
Buy the book at Amazon, Kobo, Chapters,
or Smashwords.