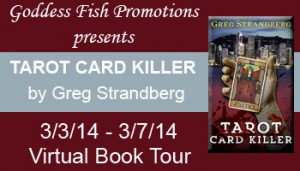 This post is part of a virtual book tour organized by
Goddess Fish Promotions
. Greg will be awarding a $20 Amazon GC to a randomly drawn commenter during the tour. Click on the tour banner to see the other stops on the tour.
Ten Things about Greg Strandberg
1. I have 28 books selling on Amazon right now, 8 novels, 3 novelettes, 1 box-set and 16 non-fiction books.
2. I lived in Shenzhen, China, for 5 years teaching English. Shenzhen is right across the border from Hong Kong.
3. In 2009 I took a train from Hong Kong to Beijing, up through Mongolia, and into Russia. I went across Russia on the Trans-Siberian Railroad to Moscow and then St. Petersburg.
4. That same year I went to Pamplona, Spain, and took part in the Festival of San Fermin, or the Running of the Bulls. I got knocked down, blacked-out, and woke up on a stretcher as they put me in an ambulance. If you watch this YouTube video you can see me get run over about 1 minute in.
5. After getting to the hospital I had to have a bunch of stitches in my right ear and above my right eye. My white clothes were also ruined, so they gave me a paper shirt.
6. After getting out of the Pamplona Hospital I had to take a bus back to the center of the city to get my stuff. I felt a little silly in my paper shirt and ruined pants, but there were many people looking stranger than me.
7. I'm married to a Russian woman named Evgenyia and we have a 3-year old son named Paul. Last summer we moved from China to America.
8. I work as a writer full-time. Most of the time I do content marketing, but I also do a lot of ghostwriting as well, mainly sci-fi novels. The money from my own books helps pay the rent as well.
9. I'm currently running for the Montana House of Representatives out of Missoula, Montana. If I win the June 3 primary race I'll be unopposed in the general election, pretty much guaranteeing me a 2-year spot in the 100-member body.
10. I like blue.
About the Author: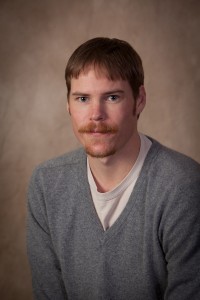 Greg Strandberg was born and raised in Helena, Montana. He graduated from the University of Montana in 2008 with a BA in History.
When the American economy began to collapse Greg quickly moved to China, where he became a slave for the English language industry. After five years of that nonsense he returned to Montana in June, 2013.
When not writing his blogs, novels, or web content for others, Greg enjoys reading, hiking, biking, and spending time with his wife and young son.
Smashwords ~ Website
Jim Sharpe is sick of life, sick of being a cop, and most of all sick of Hong Kong. He's one of the few not on the take, yet he's being charged with corruption. By the end of the week he'll be kicked off the force – no matter what.

All that changes when a dead body's found next to Victoria Harbour, a bloody Tarot card in its hand. Jim's called onto the case, and what he discovers promises not just to upend his world, but the whole city as well.
Buy the book at Amazon.