Long and Short Reviews welcomes back Megan Slayer who has stopped in to chat with us today.
Did I Rescue Them or Did They Rescue Me?
My latest release,
Wild Card
, is about a guy in porn who just so happens to be trying to get out of that line of work. He wants to be in mainstream movies. That probably won't be an easy feat. Then there's the guy he's lusting after. He'd love to hook up with the guy, but would the guy really want to be with someone in porn? The not-so-easy feat just got exponentially harder.
But this post isn't about the people in the book. Not really. It's about a side character who happens to be vital to the main character. Kris, the porn star, lives next to a person who has a dog. I'd say owns, but the person is a real piece of work and mistreats the dog. Kris feels for the dog and adopts Nugent.
That's what this post is about. Pets. I'm a huge animal lover, like Kris. I don't want to see any animal harmed. It churns my stomach. I might not have rescued my pets in the same manner as Kris, but I did rescue critters—six to be exact.
One cat came via an ad. I saw an ad for two orange kittens at one of the local stores. I told DH and it happened that he knew the woman who'd rescued them. She kept one, but the one with the crooked tail came home with DH. He might have a crooked tail, but he's sweet and loyal and he's much happier than how he was found—covered in muck and fleas by the side of the road.
Cat #2 came via the neighbors. They seem to be a Mecca for unwanted cats. Since they don't believe in fixing those cats, kittens are born. One kitten, a little black one, took to my DS. The spunky kitten thought he was a dog, too and became fast friends with the dogs. This cat is DS's best bud.
Cat #3 was the product of me trying to help a friend. She took in the mother cat and didn't realize momma was preggers. Oops! I volunteered to take one of the babes. He's a pistol, but I love him.
Then there are the dogs. #1 came along because we wanted to get a dog to grow up with DS. She swears she's a person and that DS is her baby. Oh and she's ultra-protective of DS and DH.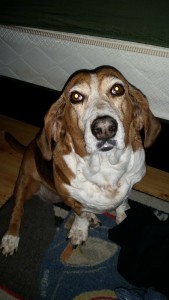 Dog #2 is all mine. I say that because well, she adopted me. I wanted a beagle or a Bassett hound. She's a little of both and so loyal, but so stubborn. She decided I was her person and she's got wicked separation anxiety. Yeah, I have to call my dog to reassure her if I go away.
Now Dog #3 is well…he's original. We got him because we wanted a noisy dog. Seriously. He fits the bill. He's also, for a black lab, a horrible swimmer. Yeah. He HATES water. Loud noises are a no-no for him, too. But like the others, he's loyal. He loves DS. He might be a little pushy—he is 110 lbs of dog, but his heart is in the right place.
See that's the thing about my dogs and cats. We rescued them, but they really rescued us. They're the best companions and loveable. The house wouldn't be the same without all of them. I know the time will come when they'll eventually leave us—that's how life works—but I'm glad we've had them all.
That's how Kris feels about Nugent. They're kindred souls. Nugent was neglected and abused. Kris was, too. The porn industry isn't exactly kind. When they get together, they save each other. That's what I loved about writing these characters. I saw myself, so to speak, in them. I hope you do, too.
Want to know more about Wild Card? Here you go!
Following his heart and passion will be his biggest role of all.

Kris Hunter wants out. He's done pornographic films for the last six years. The pay's been good, but his creativity is nearly dead. His passion is to act and to be a star on the big screen in mainstream films. When he auditions for famed casting director, Zayn Mason, he's convinced he's on the right path. He doesn't want to take the casting couch route to success, but he certainly wants Zayn in his bed. Can he follow his dreams and the man he desires or will forces beyond his control derail his progress?

Zayn Mason sees the potential in Kris. As a casting director, he looks for the right actor to fill the roles in movies. He's seen plenty of talent come and go, but no one stirs his soul both creatively and physically like Kris. But Zayn knows the pitfalls of the movie industry. Crossing over from porn isn't easy and Hollywood isn't always forgiving. Besides, he's got demons of his own. Can these men get beyond their pasts and find a future together under the bright lights of the silver screen?

Reader Advisory: This book contains scenes of voyeurism and intimacy with multiple partners.
About the Author: Megan Slayer, aka Wendi Zwaduk, is a multi-published, award-winning author of more than one-hundred short stories and novels. She's been writing since 2008 and published since 2009.Her stories range from the contemporary and paranormal to LGBTQ and BDSM themes. No matter what the length, her works are always hot, but with a lot of heart. She enjoys giving her characters a second chance at love, no matter what the form. She's been the runner up in the Kink Category at Love Romances Café as well as nominated at the LRC for best author, best contemporary, best ménage and best anthology. Her books have made it to the bestseller lists on Amazon.com and AllRomance Ebooks.
When she's not writing, Megan spends time with her husband and son as well as three dogs and three cats. She enjoys art, music and racing, but football is her sport of choice.
Website | Blog |  Twitter | Amazon |  Goodreads | Newsletter
Buy the book at Pride Publishing.