Hello to everyone at LASR.   I hope you're enjoying the beautiful autumn season. Here in Michigan it's already getting cold and they are predicting another long, snowy, below-zero winter like we had last year (one of the worst in my memory!) so it's a good thing I drive a Jeep Grand Cherokee 4WD! But right now it just beautiful outside, with magnificent colors, pumpkins and corn stalks and "crispy" air and deep blue skies and what I call perfect weather because I love this time of year!
I'm Rosanne Bittner, visiting you in reply to your invitation. Thanks so much, and I hope you will all pick up a copy of my September book, DESPERATE HEARTS! DESPERATE HEARTS is my 59th published novel. Or you can leave a comment on this post and you might win a copy (US/Canada only). I've been writing over 30 years and have won numerous writing awards. It's a great "wild-west" action romance set in the little gold town of Alder, Montana, and you will love the hero, Mitch Brady, a vigilante who is tough on the outside but so caring on the inside. Mitch is sometimes a ruthless, unforgiving lawman when it comes to men who harm others for no good reason, especially those who harm women! Along comes heroine Elizabeth Wainright, who arrives in Alder under mysterious circumstances. Beautiful and alone, Mitch decides he needs to watch out for this young woman who has managed to grab at his heart. He wants her for himself, but little does he know that Elizabeth is running from the law and a cruel relative back in New York City! Through the story Elizabeth has to learn to trust Mitch, and he in turn has to learn the truth about this woman with whom he's fallen in love.
            You asked about writing tips:
WRITE WHAT YOU LOVE! That's it. WRITE WHAT YOU LOVE! That love will shine through and make you write a great story! And most writers want to know when I "find time" to write. I think that's backwards. What you "find time" for is everything else! Writing comes first! I squeeze writing into every nook and cranny of my day, and believe me, although I no longer "punch a clock," I am a very busy woman! I have 3 grandsons, and I work a good 6 hours a day doing bookwork for a family business – and the social networking end of my writing has become very time-consuming – and then there is research, research, research – the general daily chores of any woman – a lot of traveling for research and giving talks and attending conferences – so no, it's not easy to "find time" to write. You just don't look at it that way. You just WRITE in every spare moment you have, and sometimes you put off other things in order to get another chapter done!
Thank you so much for inviting me to your blog! Happy reading, and be sure to pick up DESPERATE HEARTS and watch for DO NOT FORSAKE ME next summer!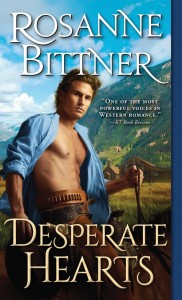 Elizabeth Wainwright is on the run. Accused of a murder she didn't commit, she has no choice but to cut ties with her old life and flee West. The last thing she wants is attention, but when her stagecoach is attacked, she suddenly finds herself under the fierce protection of one of Montana's famed vigilantes…whether she likes it or not.
***
Lawman Mitch Brady is sworn to uphold justice. He's never met a man he's feared, and he's never met a woman more desperately in need of his help. Something's shaken the secretive Elizabeth, but as he gets to know the beautiful city belle, he finds the only thing he wants more than her safety…is her trust. Elizabeth longs to give herself to Mitch, but when her past finally catches up with her, can she truly trust her life to the vigilante who's stolen her heart?
Rosanne Bittner is an award-winning novelist who is highly acclaimed for her thrilling love stories and historical authenticity. Her epic romances span the West—from Canada to Mexico, Missouri to California—and are often based on personal visits to each setting. She lives in Michigan with her husband and two sons. You can find her at www.rosannebittner.com.
Buy Links:
Amazon: http://amzn.to/1qk9EaK
Chapters: http://bit.ly/1BudkQ1
IndieBound: http://bit.ly/1sPDWIE
iTunes: http://bit.ly/1v8RxbW
Kobo: http://bit.ly/XvlKXR