I tend to write mix genre, or, what I dub fiction on the fringe of genre.
My new release, Demon Inhibitions, threads sci fi, urban fantasy, suspense, romance, horror and mystery.
I usually anchor my novels in science fiction but find it fascinating and almost impossible not to blend these other genres into the mix. You could compare it to a meal. While there's nothing wrong with eating a piece of fish by itself day after day you might find it more tasty to add broccoli (horror), rice (mystery), salad (romance), bread(fantasy) and dessert (suspense).
To be more precise, Demon Inhibitions consists of:
Sci fi:
Agent Caitlin Diggs believes a genetically made soul stealer is responsible for recent murders.
Horror: The soul stealer has escaped custody and crosses a parallel universe dragging Diggs with him via wormhole.
Urban Fantasy: Diggs is assisted by a Wiccan investigator and a succubus. In her parallel universe, demons outnumber humans and a preternatural branch of the FBI deals with their crimes.
Romance: Diggs enters an altered reality and a love triangle emerges. Her new boss Charles Grant is beyond handsome but the other version of her friend Stanford Carter is stirring feelings she never had for his alternate.
Hitches: Grant doesn't know 'his' Diggs has been killed by the soul stealer.
Alternate Carter has been turned into a demon. Would romance with Carter change her as well?
Mystery: Why is the soul stealer hell bent on eradicating a teen whose singing voice inhibits demon violence?
Suspense: Diggs faces the prospect that conventional weapons will not subdue her fugitive. Can her newly acquired paranormal abilities give her a fighting chance?
I'm sure we've all read great stories that brought some or all of these elements together. They usually get boxed under one category for sales purposes. Maybe someday a multiple-genre tag will be born. After all, paranormal romance is still a fairly young genre and is ever growing.
Change does happen.
ABOUT THE AUTHOR: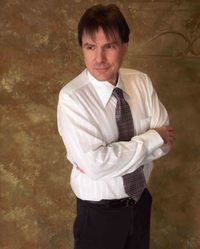 Gary Starta is a former journalist who studied English and Journalism at the University of Massachusetts in Amherst.
His love for science fiction compelled him to write his first novel What Are You Made Of? published in 2006. Inspired by Isaac Asimov, the science fiction novel focuses on intelligent artificial life and whether sentient androids should possess the same rights as humans. The androids in Starta's novel are created as hybrids – part machine, part human – further blurring the line between human and machine. Starta foresees a near future where humans will be forced to decide if intelligent machinery is indeed a life form. Possibly, in this near future, some humans will possess computer enhancements to overcome disabilities becoming hybrids themselves. The line between biological life form and mechanical life form continues to be examined in 2010's Gods of the Machines.
Demon Inhibitions along with its preceding Caitlin Diggs (series) novels, Extreme Liquidation and Blood Web are reminiscent of the The X-files television/movie series. Contemporary authors Laurell K. Hamilton, Rachel Caine, Jim Butcher and Kelly Armstrong also fuel his aspiration to create paranormal suspense.
Starta's crime novella ' Murder By Association' blends mystery with forensic investigation. It is a departure from previous books because it contains no science fiction or paranormal elements. Its follow up is 2012's Kindred Killers. Additionally, Starta foresees his 2008 novella ' Alzabreah's Garden ' – a fantasy romance – as another out-of-the-box effort.
Chasing a soul stealer in her reality, psychic investigator Caitlin Diggs inadvertently travels through a portal to another reality and witnesses her fugitive kill her alternate self in DEMON INHIBITIONS. Assuming her alternate's life as an agent of the FBI's Preternatural Crime Division, Diggs believes her position might help her capture the soul stealer until she finds he may be part of a sinister terrorist plot to keep humans and demons living in segregation. A girl, whose singing inhibits the evil urges of demons, is on the terrorist's hit list and Diggs will ultimately learn her fugitive is neither supernatural nor demon, but a genetically engineered hit man incapable of being enthralled.