Long and Short Reviews welcomes Danielle Thorne as she shares a guest blog with us.
The Trouble with Man-eaters
Stop. Right. There. You've jumped to the wrong conclusion. Today, we are talking about cannibals — flesh-eaters — those frightening societies prevalent in the South Pacific that early explorers claimed would not hesitate to stew up a good sailor and eat him for lunch. Those other man-eaters, the ones in short skirts and spiked heels; they are another post for another day.
Imagine my surprise over the years of my West Indies research to find that the idea of cannibals in the Caribbean is a misnomer. Despite Captain Jack Sparrow's experience in Pirates of the Caribbean: Dead Man's Chest, there is no veritable record of man eaters in the Caribbean. Lecturer Dr. Basil Reid of the University of the West Indies insists there is no physical or archeological evidence, and that the legends were exaggerations or misinterpretations of language and culture from early explorers.
Instead, the West Indies were populated with the Arawak and Carib tribes. The Arawaks are described as a kind and almost innocent people. They are noted as so courteous, that it was easy to conquer them for slavery or exterminate them with disease. It did not take long before the people were extinct. The Caribs, on the other hand, were more violent and bloodthirsty. The propaganda of cannibalism by these warriors made it easy for the Europeans to rationalize using them for slavery or simply wiping them out of the New World.
Today, there are few left in the Caribbean who have the blood of the Carib racing through their veins, but the islands have been and continue to be influenced by the culture, language and tradition of these long ago tribes that were some of the first victims in the New World.
Alas, horrifying cannibals would have been a wonderful element to write into my new proper romance, Proper Attire, but as research would have it, it just wasn't possible. You might just find them, however, in the guise of a stereotype projected upon the heroine, but how that's all cleared up, you're just going to have to read the book to find out.
Proper Attire is the seventh novel in a line of clean, romantic adventure reads and has already made the Amazon top 100 list in Historical and Caribbean fiction. I hope you'll check it out for some quirky fun and Regency romance.
Pressured to marry for money, Julia Scott flees England and a cruel stepmother to determine if the West Indies is the paradise of her dreams. Attacked by pirates and desired by island natives, the only person she can trust is John Smith — if that's her rescuer's true name. Reaching her uncle's station in English Harbor, Julia must find a way to face her feelings and deal with her traitorous family, a dashing new suitor, and the guardian angel, John Smith, who has no qualms sporting counterfeit names and less than what is proper attire.
Excerpt:
She looked, hoping against all hope for salvation. To her utter surprise, John Smith stood a few feet away, his dark, cropped hair tamed somewhat with a bit of wax, and his face clean and shaven except around his ears. He wore acceptable attire for polite society, at least a fresh pair of breeches, white linen shirt, and a tailored brown coat. His boots shined as bright as an officer's.
"Good heavens," scolded Julia through her watery eyes. "What are you about now?"
"Miss Scott," he said with a formal bow. "It seems that once again, I am destined to rescue you from distress." He made it sound like a joke.
"But…" Julia couldn't very well shout out the fact that he was a sea rogue. Yet the amusement she detected in his dark, green eyes made her want to shriek out like a lunatic. She was who she said she was. This John Smith, this wild savage, this Mr. Greenway who dressed like a gentleman, was not. And the most maddening thing of all was her heart pattered with happiness as if she should be happy to see him!
Buy Link: http://www.amazon.com/dp/B00NX7LKMO
About the Author: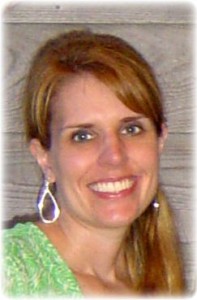 Danielle Thorne writes from south of Atlanta, Georgia. She is the author of sweet romantic adventure books, both historical and contemporary. Danielle has published poetry and short fiction as well as novels.
Danielle is a former editor for Solstice and Desert Breeze Publishing. Her popular blog, The Balanced Writer, focuses on life and the pursuit of peace and happiness. Currently, she is a freelance copywriter in-between working on her next book and pursuing a second degree.
www.thebalancedwriter.blogspot.com
Twitter: @DanielleThorne