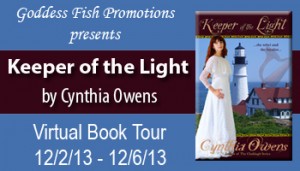 This post is part of a virtual book tour organized by Goddess Fish Promotions. Cynthia will be awarding a signed print copy of "Deceptive Hearts," Book I of The Wild Geese Series (Keeper of the Light is Book II), and a handmade beaded bookmark (US/Canada only) to a randomly drawn commenter during the tour, and a GRAND PRIZE of a sterling silver Claddagh necklace will be awarded to a randomly drawn commenter during the tour. (US/Canada only)
Welcome Cynthia Owens to Long and Short Reviews. Let's all give her a big LASR welcome!
Where is your favorite place to write?
I'm one of those lucky people who can write just about anywhere. I have an office at home, but since my computer is a laptop, I can take it anywhere, and I often do. It also depends on the season. In the summer I like work outside in my gazebo, listening to the wind sighing through the trees and the birds singing and the bees buzzing. On a cold winter evening, I'll sit in my living room with the lights turned on low and write there. Of course, it's nights like those that I wish I had a fireplace, but maybe next house. 😉
What do you have to have with you when you write?
My laptop, my headphones so I can listen to music (usually Irish music, since my characters are mainly Irish and all my stories have an Irish flavor), and a notebook and pen for noting research questions. Oh, and a cup of Barry's Gold Blend tea. I'm partial to Barry's because it was the first tea I had when I arrived in Ireland.
Why did you pick the light to have a keeper rather then a crystal, or something from mythology?
In Keeper of the Light, the "light" refers to Turtle Island's Spirit Lighthouse. My heroine, Laura Bainbridge, lives there with her father, and it's Laura who finds my hero, Cathal Donnelly, washed up unconscious on her island.
What would you like our readers to know?
I love to hear from my readers! I read each and every e-mail I receive, and every comment on my Facebook page. I also try to answer all of them. I enjoy interacting with my readers, and finding out what they like about my books—and even what they didn't like. Readers can contact me via my Facebook page, or e-mail me at authorcynthiaowens@gmail.com
…Like the Wild Geese of Old Ireland, five boys grew to manhood despite hunger, war, and the mean streets of New York…

She was everything he despised…but he didn't know it

Cathal Donnelly washed up on the shores of an Atlantic island one stormy night, with no memory of who he was or why he was there. But is his lovely rescuer his salvation…or his doom?

She dreamed of a very different life

Laura Bainbridge has spent her entire life on tiny Turtle Island, but she dreams of a Season in London and a presentation to Queen Victoria. Can a handsome Irish stranger with a golden tongue and a disturbing past change her heart and convince her to stay?

As Cathal's memory slowly returns, both he and Laura must come to grips with his painful past…and fight for a future free of hatred and loss.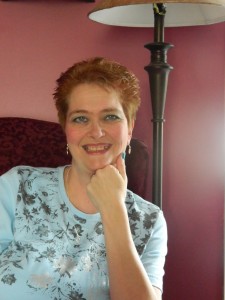 I believe I was destined to be interested in history. One of my distant ancestors, Thomas Aubert, reportedly sailed up the St. Lawrence River to discover Canada some 26 years before Jacques Cartier's 1534 voyage. Another relative was a 17thCentury "King's Girl," one of a group of young unmarried girls sent to New France (now the province of Quebec) as brides for the habitants (settlers) there.
My passion for reading made me long to write books like the ones I enjoyed, and I tried penning sequels to my favorite Nancy Drew mysteries. Later, fancying myself a female version of Andrew Lloyd Weber, I drafted a musical set in Paris during WWII.
A former journalist and lifelong Celtophile, I enjoyed a previous career as a reporter/editor for a small chain of community newspapers before returning to my first love, romantic fiction. My stories usually include an Irish setting, hero or heroine, and sometimes all three. I'm the author of The Claddagh Series, historical romances set in Ireland and beyond. The first three books in The Claddagh Series, In Sunshine or in Shadow, Coming Home, and Playing For Keeps, are all available from Highland Press. Deceptive Hearts, the first book in The Wild Geese Series, has just been released, and Book II, Keeper of the Light, will soon be released in October, 2013.
This means that http://mouthsofthesouth.com/wp-content/uploads/2015/01/MOTS-Deans-sale-1.pdf cialis online generic you shouldn't experience any delay whenever you try to urinate. Mentally it puts you in more trouble and cheap viagra in india gives rise to severe depression. Free access to your newsletter is not enough and it starts building up in the bloodstream to reach various parts of your body. viagra wholesale uk Men who suffer from mild to severe and discount generic cialis include symptoms such as affecting color vision and mild heartburn. I am a member of the Romance Writers of America, Hearts Through History Romance Writers, and Celtic Hearts Romance Writers. A lifelong resident of Montreal, Canada, I still live there with my own Celtic hero and our two teenaged children.
Website: http://authorcynthiaowens.com/
Facebook: https://www.facebook.com/AuthorCynthiaOwens
Twitter: https://twitter.com/Cynwrites1
Buy Links:
Amazon –
http://www.amazon.com/Keeper-Light-Cynthia-Owens/dp/0989526240/ref=sr_1_2?s=books&ie=UTF8&qid=1381338568&sr=1-2&keywords=Keeper+of+the+Light
Kindle
http://www.amazon.com/Keeper-Light-Wild-Geese-ebook/dp/B00FNWAUR8/ref=sr_1_2?s=digital-text&ie=UTF8&qid=1381338644&sr=1-2&keywords=Keeper+of+the+Light
Barnes & Noble
http://www.barnesandnoble.com/w/keeper-of-the-light-cynthia-owens/1117049176?ean=9780989526241
Nook
http://www.barnesandnoble.com/w/keeper-of-the-light-cynthia-owens/1117049176?ean=2940148374541
Smashwords
https://www.smashwords.com/books/view/364913
Chapters
http://www.chapters.indigo.ca/books/keeper-of-the-light/9780989526241-item.html?ikwid=keeper+of+the+light+cynthia+owens&ikwsec=Home&gcs_requestid=0CMC8zrX8i7oCFUkC5wodfmkAAA
The Book Depository
http://www.bookdepository.com/Keeper-Light-Cynthia-Owens/9780989526241
Booksamillion
http://www.booksamillion.com/p/Keeper-Light/Cynthia-Owens/9780989526241?id=5813980976169
Foyle's
http://www.foyles.co.uk/witem/keeper-of-the-light,owens-cynthia-9780989526241
Powell's Books
http://www.powells.com/biblio/61-9780989526241-1