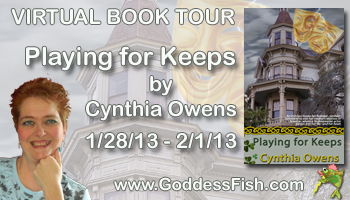 This post is part of a virtual book tour organized by Goddess Fish Promotions. Cynthia will be awarding a sterling silver Claddagh pendant (US/Canada only) to a randomly drawn commenter during the tour, and a second randomly drawn winner will receive winner's choice of an autographed copy of either Cynthia's first or second book (In Sunshine or in Shadow, Book 1, or Coming Home, Book 2)(US/Canada only). Click on the tour banner to see the other stops on the tour.
Cynthia Owens on Creating Characters
My stories are driven by my characters. You can have the best plotline in the world, but if it isn't populated by a cast of characters the reader can care about and root for, the story will inevitably fall flat.
Since my characters are so important to me and my stories, I have a long series of exercises which I go through to create them. My methods might not work for everyone, but I've had enough compliments on my characters to make me believe they're effective.
Choosing a name
But first things first, and the first thing in creating a character is finding the perfect name. Is your hero or heroine of a certain ethnic background? There are many "Name the Baby" books available that give not only the meaning, but the ethnicity of the name and sometimes when it came into being. There are also many websites you can search, not only for given names, but for family names, too. Since most of my characters are of Irish descent, my favorite website is Baby Names of Ireland.
Just as you do when naming a child, it's important to choose a family name that will sound good with the first name. You might not want a three-syllable first name with a four-syllable family name. Of course, if you do, that's perfectly acceptable. You just want the name to fit the character.
Description
Okay, you've chosen the perfect first and last names for your characters. Now you have to decide what they look like. Blond hair with blue eyes? Tall, dark and handsome? Small, wizened with little black eyes and a pointed nose? The possibilities – and the choices – are endless, and entirely up to you.
I determine my characters' appearance by the names I choose for them. Okay, that probably sounds a little weird, but it's true. Pick a name, any name, and a picture of what that person looks like instantly pops into my head. Siobhán had to have red-gold hair and green eyes. Cavan? Tall, dark and handsome of course. Brendan? Medium height, lean, red-brown hair and sharp grey eyes with a dark glitter.
Character Traits
Just like real people (and I could argue that characters are real people), the people who populate our books have to have unique traits and quirks. It's another of the many things that makes the three-dimensional.
Rory O'Brien, hero of In Sunshine or in Shadow, Book I of the Claddagh Series, had suffered a leg injury when he was shot in New York City, and as a result, he walked with a cane. Well, I decided he needed not one cane, but many. So I gave him a collection of fifty-seven canes. One, a dicer cane, had a set of dice in the head. Another had a concealed compass. His heroine, Siobhan Desmond's favorite exclamation was "Sweet Mother Mary!"
In Playing For Keeps, I made my hero, Lucas Davenport, a bit of a dandy. A handsome man with golden hair and amber eyes, he decided to complete the "gilded god" look by wearing gold-colored clothes and riding a golden palomino horse. I loved that about him, especially since, as an actor in a new theatre in town, he needed to make himself noticed. And Maggie Twilight, his co-star onstage, loved the everything pink and fluffy.
In giving your characters their own quirks and expressions, interests and mannerisms, you're making them real and much more memorable. And your readers will appreciate that.
Interview
One of the best ways to get to know someone is to ask them about themselves. It's also the best way to get to know your characters. When creating a character, I have a whole laundry list of questions I ask them. Some are as simple as "What's your favorite food?" Others are more complicated, such as "What is your most important childhood memory?" Or, "If you were granted a single wish, what would it be?" Then there's the really fun one, "What are your greatest strength and weaknesses?"
I love to ask these and other questions and then answer them "in character" –whatever character I happen to be creating. Sometimes the answers are predictable, and come easily to me. Other times, I really have to think about it, and when the answers arrive, they're a complete surprise. But no matter how complicated the process might be, it's always fun to "get to know" a new character!
Character sketches
By this time, my characters are fairly well-developed, and I move on to the final stage in their creation: the character sketch. Using the answers to the questions I've already asked, I write short sketches, or scenes, to illustrate them.
In In Sunshine or in Shadow, I asked my hero, Rory O'Brien, about his most significant childhood memory. He answered that by telling me about an incident when his father caught him teaching himself to read. It turned out his father resented the fact that his son could read when he couldn't, and he beat him mercilessly for it.
In Coming Home, Book II of the Claddagh Series, Ashleen O'Brien remembered the first time she met her step-sister, Katie, heroine of Playing For Keeps. And Katie's fondest memory was when her father hosted the St. Brigid's Day ceilidh at Ballycashel House. That was the first time she felt she belonged to the village.
Creating a memorable character can be a long and involved process, but there's no denying it's also fun and exciting. It's been said there are no new stories out there, only new ways to tell them. And one of the best ways to tell a story is to have unforgettable characters living it.
About the Author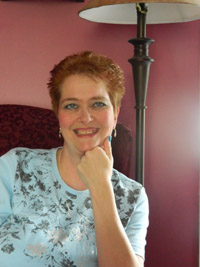 I believe I was destined to be interested in history. One of my distant ancestors, Thomas Aubert, reportedly sailed up the St. Lawrence River to discover Canada some 26 years before Jacques Cartier's 1534 voyage. Another relative was a 17thCentury "King's Girl," one of a group of young unmarried girls sent to New France (now the province of Quebec) as brides for the habitants (settlers) there.
My passion for reading made me long to write books like the ones I enjoyed, and I tried penning sequels to my favorite Nancy Drew mysteries. Later, fancying myself a female version of Andrew Lloyd Weber, I drafted a musical set in Paris during WWII.
A former journalist and lifelong Celtophile, I enjoyed a previous career as a reporter/editor for a small chain of community newspapers before returning to my first love, romantic fiction. My stories usually include an Irish setting, hero or heroine, and sometimes all three. My novels, In Sunshine or in Shadow and Coming Home, set in post-Famine Ireland, are available from Highland Press. Playing For Keeps, the third book in the Claddagh series, will also be published by Highland Press.
I am a member of the Romance Writers of America, Hearts Through History Romance Writers, and Celtic Hearts Romance Writers. A lifelong resident of Montreal, Canada, I still live there with my own Celtic hero and our two school-aged children.
Website: http://authorcynthiaowens.com/
The Claddagh Series: http://thecladdaghseries.com/
Facebook: https://www.facebook.com/AuthorCynthiaOwens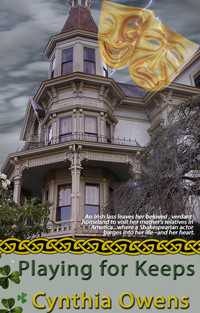 He fled life in the shadows for a life in the limelight

Never as dutiful as his older brother, Lucas Davenport was a thinker, a dreamer of dreams. When tragedy overtook his family, he fled to the bright lights of the stage. Can he make the Shannon Theatre Troupe a success – or is he doomed to once again be "the other son?"

She sought the past she barely remembered.

Mary Kathryn O'Brien returns to the genteel world her mother left behind – but can Irish Katie ever truly hope to belong? Or will old wounds and new rivalries destroy the threads of family forever?

Lucas and Katie must battle prejudice and buried secrets before they can learn to trust each other. Is their love just a brief intermission, or are they Playing For Keeps?